The Danish Peace Academy
GANDHI AND NORDIC COUNTRIES
Collected by E. S. Reddy - EReddy@aol.com and Holger Terp
CORRESPONDENCE BETWEEN ESTHER FAERING (MENON) AND MAHATMA GANDHI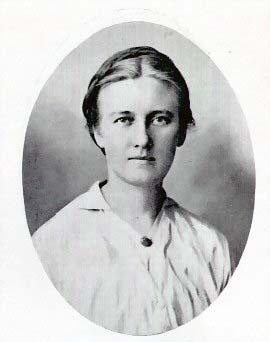 Ester Faeing came to India in 1915. Source: missionær-Album, 1919.
Ahmedabad,
January 11, 1917
Dear Esther,
I was delighted to have your note from Bombay. I assure you that we miss you both very much. You were hardly guests to us; you had become members of the family. Hope Miss Peterson is quite herself again. I redirected a batch of letters yesterday and am doing likewise today.
With regards to both of you,
Yours sincerely,
M. K. Gandhi
Source:My Dear Child, page 3; Collected Works, Volume 13, page 327
The note is not available. Miss Faering and Miss Petersen arrived at the ashram on January 6, 1917. This note must have been sent soon after they left.
Ahmedabad,
January 15, 1917
Dear Esther,
I was pleased to receive your nice letter and hear that Miss Petersen had thrown off her cold entirely.
I am glad you found peace in the ashram. Yes, both of you we regard as members of the family. You will come whenever you wish to and can.
Ramdas is a noble boy. He is the one going to South Africa. I feel sure that he will give a good account of himself there. By way of preparation he has been attending a printing press here, practising at the compositor's desk.
I have learnt enough of you to know that you will put your whole heart into your studies and soon be talking enough Tamil for your purpose.
Pray keep the rules as long as you like. There is no occasion to hurry over sending them.
With kind regards,
Yours,
M. K. Gandhi
Source:My Dear Child, pages 3-4; Collected Works, Volume 13, page 329
Ahmedabad,
March 20, 1917
Dear Esther,
I have an English lady friend and her sister's children who during the hot weather are to live at some hillside place. You are going to some such place. Could you befriend them if they went to the same station as you? Of course they will bear their own expenses. The thing wanted is good companionship. And I thought of you. If you will befriend them, will you please tell me where you would go, when you would leave, where you would stay and whether they could reside and board at the same place as you will? You will also please give me an idea of the expenses there. You have heard of Mr. Polak. The friend is his sister-in-law. While Mr. and Mrs. Polak travel on public business, they are anxious to locate their children in some hillside place where Mr. Polak's sister-in-law could find suitable company. She is a stranger to India.
With much love from us all,
Yours sincerely,
M. K. Gandhi
The Polaks leave Ahmedabad probably on Monday. I would like you please therefore to wire to me. If you will address
Gandhi,
Ahmedabad,
the wire will reach me.
M. K. G.
Source:My Dear Child, pages 4-5; Collected Works, Volume 13, pages 357-58
See also Graham Polak, Millie: Mr. Gandhi : The Man. London, 1931.
Ahmedabad,
March 31, 1917
Dear Esther,
I am putting you to a lot of trouble on behalf of Mrs. Polak's sister. But you have chosen the privilege of letting me be your brother. And I have the credit for being most exacting of those who are nearest and dearest to me. Having made the choice, you must be content to suffer.
Miss Graham, that is the sister's name, may be able at once to go to Ooty. It is necessary for her and young Polak to be on a hillside without delay. I much fear that I shall not be able to go to Madras in April. If I am able to do so at all this year, it will be after your descent from the hills.
With love to you and Miss Peterson from us all,
Yours sincerely,
M. K. Gandhi
Source:My Dear Child, page 5; Collected Works, Volume 13, page 360
Motihari,
Champaran
April 15, 1917
Dear Esther,
Your sweet letter has followed me all the way here. I am almost at the base of the Himalayas. I am studying the condition of the people working under the indigo planters. My work is most difficult. My trust is in God. We can but work and then be careful for nothing.
Pray do not worry about Miss Graham. She has been fixed up at Ooty.
You may address me as Bapu if you like. It means father. In the ashram it has become a term of endearment. I value your affection very much indeed. You may continue to use the Ahmedabad address.
With love,
Yours sincerely,
M. K. G.
Source:My Dear Child, page 6; Collected Works, Volume 13, page 364
My dear Bapu,
In the last night in my old year, I got your letter, and I wish that love and truth may become very real factors in my New Year. And today, when I look back on the past year, my heart is filled with thanks for God's manyfold gifts to me, but most of all I thank Him, because He sent me to the ashram; amongst all the gifts and joys the past year brought me, this is the greatest, and next to God I thank you Bapu for all, what it means to me, that I may have a home and find friends in the ashram.
Last night, when I had a great sorrow my friend Miss Elise (we have been together nearly always) said: "I do wish I could make you happy and see you glad tomorrow on your birthday, and I really know only one way to make you glad, and that is, if I could send you to the ashram, and that is impossible." Will those few lines shall only tell, that I do share the ashram's joy in having you back, even it is only for a short time, may it be a time of rest and joy and give strength for the coming work.
With love to all from
Yours thankful Esther
Source: SN6363
Notes
---
---
Fredsakademiet.dk