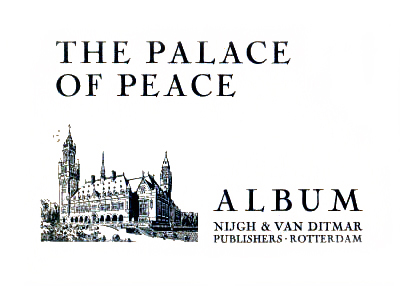 Fredspaladset / The Peace Palace
I Haag. Forslået oprettet i forbindelse med den internationale fredskonference i Haag, 1899. Efter financiering af Andrew Carnegie færdigbygges Fredspaladset i 1913. I 1922 åbnes Folkeforbundets internationale domstol i forbindelse med Fredspaladset og i 1923 etableres Haags akademi i international lov i tilknytning til samme sted.
Omfattende bibliotek over litteratur af og om fredsbevægelser fra 1600 og fremefter. Blandt ansatte i Fredspaladset kan nævnes bibliotekar Jacob ter Meulen, 1924-1952.
International Water Law: Selective Bibliography 2014. / : R. Steenhard. Peace Palace Library, The Hague
- http://www.peacepalacelibrary.nl/ebooks/files/377545473.pdf
'This bibliography has been compiled exclusively from materials available in the Peace Palace Library. Originally published in 2014, its bibliographic content has been extended and updated. Thursday, 17 July 2014.
Vredescollectie.
---
Send kommentar, email eller søg i Fredsakademiet.dk