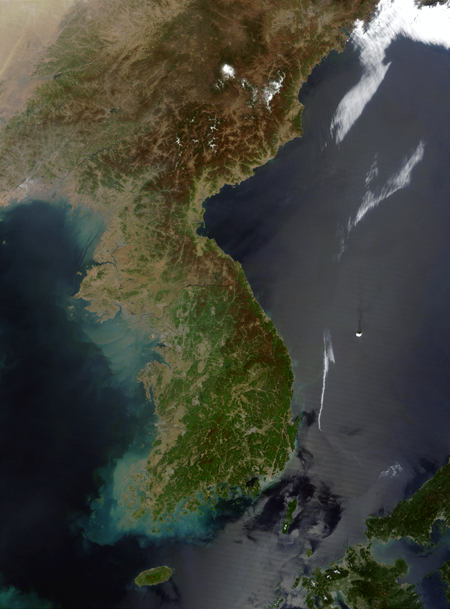 Geografi ; natur ; demografi ; historie ; kultur ; musik ; politik ; forsvar ; fredsbevægelser ; religion ; sociale forhold ; uddannelse ; økonomi.
Geography; nature; demographics; history, culture, music, politics, defense, peace movements, religion, social issues, education, economy.
Géographie, la nature, la démographie, histoire, la culture, la politique, la défense, les mouvements pacifistes, la religion, les questions sociales, l'éducation, économie.
Geografía, naturaleza, demografía, historia, cultura, política, defensa, movimientos por la paz, la religión, las cuestiones sociales, la educación, la economía.
Geographie, Natur, Demographie, Geschichte, Kultur, Politik, Verteidigung, Friedensbewegungen, Religion, Soziales, Bildung, Wirtschaft.
Geografi: Officielt østasiatisk demokratisk folkerepublik, men reelt militærdiktatur med grænser til Kina, Rusland og Sydkorea og med søgrænser til det Japanske Hav, den Koreanske Bugt og det Gule Hav. Floder: Yalu og Tumen. Sibirien. Den demilitariseret zone ved den 38 breddegrad, herunder Hwacheon-gun, Korea / Verdensfred klokkeparken i Hwacheon Amt, 2007 -.
Geografihistoriske fremstillinger: The Pernament Committee on Geographical Names: NORTH KOREA: The Land of the Morning Calm. 2003. - 12 s.
Geography: Officially an East Asian democratic people's republic, but in reality a military dictatorship with borders to China, Russia and South Korea and maritime borders to the Sea of Japan, the Korean Bay and the Yellow Sea. Rivers: Yalu and Tumen. Siberia. The demilitarized zone at the 38 latitude. Hwacheon-gun, Korea / World Peace Bell Park, DMZ, Hwacheon County, 2007-.
Geography Historical presentations: The Pernament Committee on Geographical Names: NORTH KOREA: The Land of the Morning Calm. 2003. - 12 p
Natur, klima. Fauna og flora: Fisk. Fugle. Koralrev. Vådområder.
Flora and fauna: Fish. Birds. Coral reefs. Wetlands
Flore et faune: Poissons. Oiseaux. Les récifs coralliens. Les zones humides.
Flora y fauna: Fish. Pájaros. Los arrecifes de coral. Los humedales.
Flora und Fauna: Fisch. Vögeln. Korallenriffe. Feuchtgebiet, Feuchtbiotop.

Geologi: Bjerge, vulkaner, jordskælv og ørkenområder:
Geology: Mountains, volcanoes, earthquakes and desert areas
Géologie: Montagnes, volcans, tremblements de terre et les zones désertiques
Geología: Montañas, volcanes, terremotos y zonas desérticas
Geologie: Berge, Vulkane, Erdbeben und Wüstengebiete
Demografi: D P R Korea 2008 Population Census. National Report. Central Bureau of Statistics.
- Pyongyang, DPR Korea. 2009. - 278 s.
The International Bank for Reconstruction and Development / The World Bank: Migration and Remittances Factbook 2011.

Indvandring
Udvandring: Japan, Sydkorea.
Minoritetsgrupper: Japanere, kinesere, vietnamesere.
Deltagelse i krige / Participation in wars / Participation à des guerres / La participación en las guerras / Beteiligung an Kriegen
Koreakrigen (1950-1953), den internationale kvinde-delegation til Korea 1951: Kompendium af artikler om Koreakrigens menneskelige omkostninger hovedsageligt fra tidsskrifterne Frit Danmark og Vi Kvinder
Vietnamkrigen

How Do You Solve A Problem Like Korea? New Archive Document Collection Sheds Light on Nixon's Frustrating Search for Military Options. National Security Archive Electronic Briefing Book No. 322 / Robert Wampler, PhD. Posted - June 23, 2010.
- http://www.gwu.edu/~nsarchiv/NSAEBB/NSAEBB322/index.htm

Internet enemies. Reporters Without Borders (Paris), 2009.
- http://www.rsf.org/IMG/pdf/Internet_enemies_2009_2_.pdf
Tekst:
TV
Tekst:
Aviser / Newspapers / journaux / Prensa / Tageszeitungen
Tidsskrifter, periodica / Journals, periodicals / Revues spécialisées, périodiques / Revistas, publicaciones periódicas / Zeitschriften, Periodika
Kunst / Art
Film:
Musikhistorie ; Aktuelle og historiske musikorganisationer ; Pladeselskaber ; Komponister ; Musikgrupper - og solister ; Country & Western ; Folkemusik ; Jazz ; Klassisk musik ; Opera ; Pop ; Rock ; Arkiver ; Litteratur
Music history; Current and historical music organizations; Record companies; Composers; Music groups - and soloists; Country & Western; Folk music; Jazz; Classical music; Opera; Pop; Rock; Archives; Literature
Musikundervisning og pædagogik / Music Education and Pedagogy:
Aktuelle og historiske musikorganisationer
Historiske pladeselskaber:
Tekst:
Aktuelle pladeselskaber:
Tekst:
Folkemusik, spillemandsmusik og -viser.
Musikeksempler
Aktuelle og historiske politiske partier / Current and historical political parties
Den Almindelige Sammenslutning af koreanske Beboere i Japan / Ch'ongryon
Cheondoist Chongu Partiet eller Chondoistpartiet / Ch'ondogyo Ch'ong'u-Dang
Den Demokratiske Front for genforening af Fædrelandet
Koreansk socialdemokratiske parti / Choson Sahoeminju-Dang
Koreas Arbejderparti / Choson Rodong-Dang - 1949-., tidligere Nordkoreas Arbejderparti og Sydkoreas Arbejderparti
Nordkorea er medlem af FN.
Forsvar / militær: SIPRI: Militærudgifter / Military expenditure of the Democratic People's Republic of Korea.
Værnepligt: WRI: Country report and updates: the Democratic People's Republic of Korea.
Nordkorea er siden 2006 medlem af atomvåbenklubben. Atomvåbenforsøg / Nuclear weapons tests: 2006, 2009, 2013.
CRS: North Korea's Nuclear Weapons: Technical Issues. / : Mary Beth Nikitin. February 12, 2013. -35 s.
CRS: North Korea's Nuclear Weapons Development and Diplomacy. / : Larry A. Niksch. 2010. - 33 s.
'Siden august 2003 har forhandlingerne om Nordkoreas nukleare våbenprogrammer involverede seks regeringer: USA, Nordkorea, Kina, Sydkorea, Japan og Rusland. Efter at forhandlingerne begyndte, har Nordkorea et fungerende nukleart anlæg på Yongbyon og tilsyneladende har produceret plutonium til våbenbrug som anslås tilstrækkeligt til 5 til 8 atomvåben. Nordkorea har afprøvet en plutonium atombombe i oktober 2006 og tilsyneladende en anden enhed i maj 2009. Nordkorea indrømmede i juni 2009, at man har et program til at berige uran. / Since August 2003, negotiations over North Korea's nuclear weapons programs have involved six governments: the United States, North Korea, China, South Korea, Japan, and Russia. Since the talks began, North Korea has operated nuclear facilities at Yongbyon and apparently has produced weapons-grade plutonium estimated as sufficient for five to eight atomic weapons. North Korea tested a plutonium nuclear device in October 2006 and apparently a second device in May 2009. North Korea admitted in June 2009 that it has a program to enrich uranium.'
Implications of the U.S.-North Korea nuclear agreement : hearing before the Subcommittee on East Asian and Pacific Affairs of the Committee on Foreign Relations, United States Senate, One Hundred Third Congress, second session, December 1, 1994 (1995). - 112 s.
- http://archive.org/details/implicationsofus00unit
Sociale bevægelser, herunder miljøorganisationer:
Økonomi: Den Internationale Bank for Genopbygning og Udvikling, Verdensbanken /
International Bank for Reconstruction and Development: Country at a Glance, 2011.
- http://go.worldbank.org/YB2ATM3HY0

Naturresourcer: Der er store forekomster af mere end 200 forskellige mineraler i Nordkorea: kul, jern, magnesit, guld, sølv, zink, kobber, kalksten, molybdæn, og grafit.
Chinese Infrastructure and Natural Resources Investments in North Korea. / : Daniel Gearin. U.S.-China Economic and Security Review Commission Staff Backgrounder. October 20, 2010. - 11 s.
'Investments made by Chinese companies in North Korea have increased dramatically over the past decade. Detailing the full extent of the People's Republic of China's (PRC) investment in North Korea is difficult, as the North Korean government provides little information on the subject. While the government of the PRC publishes data regarding Chinese outward-bound foreign direct investment (FDI), it is unclear whether the official data provide a complete picture of the level of PRC investment in North Korea. However, according to China's Ministry of Commerce, investments by Chinese companies have risen dramatically in recent years: the amount of investment reported for 2008 was $41.23 million U.S. dollars (USD), compared to only $1.2 million USD in 2003'.
Erhverv, handel og industri: Atomkraftværker.
Våbenfabrikker, våbenhandel og våbentransporter / Weapon Factories, arms trade and -transport / Les fabriques d'armes, le commerce des armes et de transport: Import af våben fra Rusland.
---
Send kommentar, email eller søg i Fredsakademiet.dk