Det danske Fredsakademi
Kronologi over fredssagen og international politik 24. April 1957 / Time Line April 24, 1957
Version 3.0
23. April 1957, 25. April 1957
---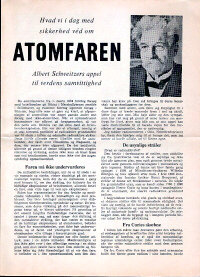 04/24/1957
Nobelpristageren Albert Schweitzer udsender gennem norsk radio en indtrængende, gribende appel, Declaration of Conscience, om at skabe en folkestemning, der tvinger statsmændene til at standse atombombeforsøg, skriver Pacifisten.
Appellen fører til dannelsen af den britiske fredsgruppe Campaign for Nuclear Disarmament.
Litteratur: Schweitzer, Albert: Fred eller atomkrig?


I: Dansk Udsyn, 1958:3 s. [131]-138.
Vi Kvinder, juni/juli 1957.
04/24/1957
Operation Project 57
Amerikansk atomvåbenforsøg i Nevada.
Kilde: United States Nuclear Tests, July 1945 through September 1992.


U.S. Department of Energy Nevada Operations Office, DOE/NV--209-REV 15, December 2000.
---
---
Send kommentar, email eller søg i Fredsakademiet.dk