Det danske Fredsakademi
Kronologi over fredssagen og international politik 11. september 1973 / Timeline September 11, 1973
Version 3.5
10. September 1973, 12. September 1973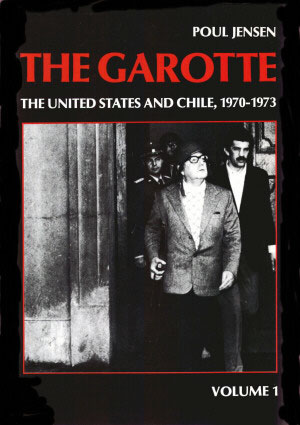 ---
09/11/1973
USA inspireret militærkup i Chile.
Det andet militærkup i landet. Under militærkuppet bombarderes præsidentpaladset af chilenske, i Storbritannien købte Hawker Hunter jagerfly, hvorunder præsident Salvador Alliende dræbes. Militærjuntaen tiltog sig den lovgivende, dømmende og udøvende magt, indførte krigs- og belejringstilstand og beordrer omfattende anholdelser, drab og tortur af den demokratiske regerings medlemmer og medarbejdere, hvoraf mange anbringes i koncentrationslejre. Mindst 3000 mennesker menes at være dræbt eller forsvundet i årene frem til 1990.
Militærjuntaen lukkede parlamentet, besatte universiteter og brændte biblioteker og valgregistre. Fra den kolde krigs begyndelse havde Chile været en stor aftager af våben fra USA.
Kilde: Chile - om den fredelige overgang til socialismen. Politisk Revy, 1974.
Church Report: Covert Action in Chile 1963-1973. 94th Congress 1st Session Committee print. United States Senate, December 18, 1975. Printed for the use of the Select Committee To Study Governmental Operations With Respect to Intelligence Activities. - Washington: U.S. Government printing office 63-3721975
Note: Since the December 4, 1975 hearing the Select Committee has, in the course of its continuing investigation received new information which supplements the following sections of the Staff Report on Covert Action in Chile: Section III.A.4, the Role of Multinational Corporations; Section IV.B.1.e, Intelligence Estimates and Covert Action; and Section IV.C, Congressional Oversight. All pertinent information on the above will be reflected in the Select Committee's Final Report to the Senate.
Senate select committee to study governmental operations with respect to intelligence activities. Franck Church, Idaho, Chairman.
- http://foia.state.gov/Reports/ChurchReport.asp
Cile: la strage di Pinochet - http://archive.org/details/CileLaStrageDiPinochet
Erfaringen fra Chile : En antolgi om muligheden for en fredelig overgang til socialismen. Gyldendal, 1974.
De hememelige ITT dokumenter : Fotokopier af de originale dokumenter med dansk oversættelse. Tiden, 1974. - 92 s.
Jensen, Poul: The Garotte : The United States and Chile, 1970-1973. Aarhus University Press, 1988 vol I+II.
Kornbluh, Peter: Chile and the United States: Declassified Documents Relating to the Military Coup, September 11, 1973.
National Security Archive Electronic Briefing Book No. 8.
http://www.gwu.edu/~nsarchiv/NSAEBB/NSAEBB8/nsaebb8i.htm
Supplying Repression : U. S. Support for autoritarian Regimes Abroad / Michael T. Klare ; Cunthia Arnson. - Washingtom D. C. : Institute for Policy Studies, 1981.
---
| | |
| --- | --- |
| | |
---
Send kommentar, email eller søg i Fredsakademiet.dk