Det danske Fredsakademi
Kronologi over fredssagen og international politik oktober 1983
Version 3.0
---
10/01/1983
To dages seminar om Demokrati og militarisme arrangeret af Ildfolket, og Militærkritisk magasin Forsvar på Borup Højskole.
10/04/1983
Blandt årets modtagere af the Right Livelihood Award er Ibedul Gibbons og Palaus befolkning.
10/06/1983
Kinesisk atomvåbenforsøg, Lop Nor.
10/06/1983
Sovjetisk atomvåbenforsøg.
10/08/1983
Frankrig leverer de første militærfly til Irak, oplyser TV-avisen.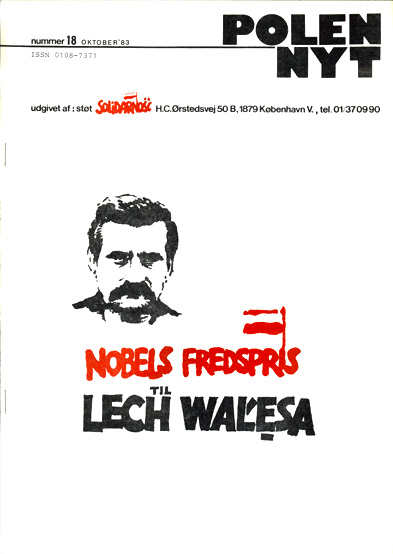 10/10/1983
Årets Nobelfredspris tildeles Lech Walensa, Polen.
10/13/1983
Norsk demokrati - Ikkevoldssagen
Natten mellem den 13. og 14. oktober stormer Politiets Efterretningstjeneste i Norge - under ledelse af kriminalchef i Oslo, Arne Huuse, redaktionslokalerne hos Norsk Ikkevold. Også de 12 redaktionsmedlemmers hjem ransages. Efterretningstjenesten beslaglægger store mængder dokumenter, eksempelvis Folkereisning mot Krig og Norges Naturfredningsforenings medlemskartoteker og Ikkevolds abonnementsarkiv. I andre hjem beslaglægges adresselister over aktive mennesker i freds- og miljø-organisationer.
Kilde: Norsk Ikkevold, 1983:9/10.
10/14/1983
Folkereisning mot Krig kræver overfor den norske rigsadvokat, at medlemskartoteker og abonnementsarkiv tilbageleveres. Det sker også senere på dagen, hvor den norske statsadvokat indrømmer, at medlemskartoteker og abonnementsarkiver er blevet kopieret har fundet sted, men at dette er sket ved en fejltagelse.
10/16/1983
Partiet De grønne stiftes.
10/20/1983
Den norske justitsminister Mona Røkke beklager i Stortinget, at medlemskartoteker og abonnementsarkiver er blevet beslaglagt.
10/20/1983
Militærkup i Grenada.
10/21/1983
In the first public action of the new Seattle Nonviolent Action Group (SNAG), 12 people blockade the Boeing Cruise Missile plant in Kent; none are arrested.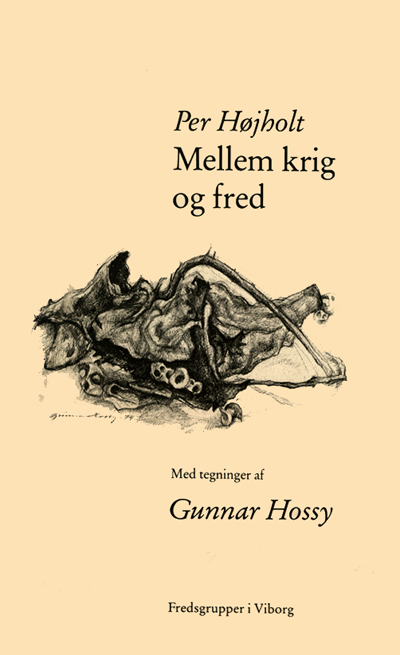 10/23/1983
Demonstrationer mod mellemdistanceraketter i Europa
500-600.000 mennesker demonstrerer mod udstationering af kernevåben i Europa i Rom. Samtidig demonstrer 400.000 i London, 400.000 i Bonn, 250.000 i Stuttgart, 20.000 i Paris, 150.000 i Madrid, 80.000 i Stockholm.
10/23/1983
Demonstrationer mod mellemdistanceraketter i Europa
Mere end 300.000 mennesker demonstrerer mod udstationering af kernevåben i Europa i Brusselles.
10/23/1983
Beirut International Airport Terrorist Act
A truck laden with the equivalent of over 12,000 pounds of TNT crashed through the perimeter of the compound of the U.S. contingent of the Multinational Force at Beirut International Airport, Beirut, Lebanon, penetrated the Battalion Landing Team Headquarters building and detonated. The force of the explosion destroyed the building resulting in the deaths of 241 U.S. military personnel. This report examines the circumstances of that terrorist attack and its immediate aftermath.
Kilde: Report of the DoD Commission on Beirut International Airport Terrorist Act, October 23, 1983 20 December 1983.
(The Long Commission Rpt.)
http://www.ibiblio.org/hyperwar/AMH/XX/MidEast/Lebanon-1982-1984/DOD-Report/index.html
10/24/1983
200 Musicians take on nuclear arms tonight
The violinist Itzhak Perlman and the sopranos Jessye Norman and Kathleen Battle will band together tonight at Avery Fisher Hall with 200 players and singers from the New York Philharmonic, the Metropolitan Opera, the City Opera, the American Symphony and a score of smaller groups as Musicians Against Nuclear Arms. Presiding will be Zubin Mehta, music director of the New York Philharmonic. The sponsors intend that this musical fusion will bring in $500,000 for the New York Chapter of Physicians for Social Responsibility and the Nuclear Weapons Education Fund, skriver New York Times.
10/25/1983
Operation Urgent Fury
Amerikanske marinesoldater og deres caribiske allierede invaderer Grenada.
Litteratur: Cole, Ronald H.: Operation Urgent Fury : the planning and execution of joint operations in Grenada, 12 October-2 November 1983. - Washington, DC : Joint History Office, Office of the Chairman of the Joint Chiefs of Staff, 1997. - 93 s.
- http://www.dtic.mil/doctrine/doctrine/history/urgfury.pdf
10/26/1983
Sovjetisk atomvåbenforsøg.
10/28/1983
Jurister mod atomvåben indrykker annonce i DJØF-bladet.
10/29/1983
Fredsdemonstration i Haag. Mellem 550.000 og 600.000 deltagere.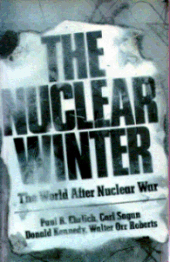 10/30/1983
Atomisvinterteorien
Den internationale konference, the World after Nuclear War : the Conference on the Long-Term Worldwide Biological Consequences of Nuclear War, starter i Washington med fem hundrede deltagere og 100 mediefolk blandt tilhørerne. Anledningen til konferencen er, at en international videnskabelig undersøgelse, ledet af den amerikanske astronom Carl Sagan, viser, at de biologiske følger af en eventuel atomkrig vil være meget værre end man hidtil har forestillet sig.
---
---
Send kommentar, email eller søg i Fredsakademiet.dk