The Danish Peace Academy
GANDHI AND NORDIC COUNTRIES
Collected by E. S. Reddy and Holger Terp. - Editors and publishers E. S. Reddy and Holger Terp.
NOTES ON PEOPLE IN NORDIC COUNTRIES WHO CORRESPONDED WITH GANDHI
BITTMANN, Rev. [John] Johan Edvard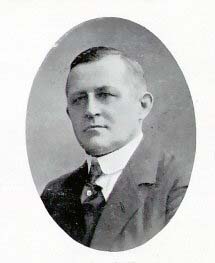 Born August 20, 1869. Died April 4, 1939. Married Helene Sodemann Born June 12, 1872. Died 1959.
Johan Bittmann came to India on December 14, 1895. He was in 1921 a senior member of the Danish Mission in India [Det Danske Missionsselsab, now Danmission], and lived and worked in Madras (now Chennai) to 1936. Address in the 1920s was: 38 Broadway, Madras (now Womens Students Christian Hostel).
He was unfailingly understanding and sympathetic with Esther Faering.
He allowed her to visit Gandhi's ashram whenever she was free. Gandhi ask in a letter to Ester Faering in the spring of 1917: "Do, pleace, renember me to Mr. Bittmann and thank him on my behalf for permitting you to come to the Ashram whenever you are free". (Hansen page. 27).
He visited Gandhi in December 1927 together with Anne Marie Petersen.
Bittmann wrote on behalf of a lady in Denmark who wished to translate Gandhi's autobiography into Danish. (CW 30:81). Gandhi answered him on March 5, 1926. (CW46:214).
Notes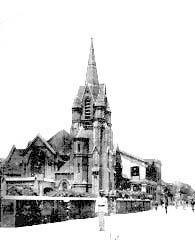 (My Dear Child, page 15, footnote).
Other references to him: CW13:452, 15:394, 16:59, 62, 46:157.
Horup, Ellen: Johannes Bittmann, Indiens Ven. Mennesket og Magten. 1939, no. 4 pp. 8.
Meddelelser fra Bittmans Missionsarbejde blandt indiske Studenter, 1924-1936.
BJERRUM, Mr. Hans H. and Mrs. Emilie
Hans born September 2, 1879. Died October 1950. Emilie born March 14, 1886.
A Danish missionary couple. They were connected with the Danish India Mission and the United Theological College, Bangalore, (CW36). Hans teologisk kandidat 1903. Hans Bjerrum came to India in 1904. From 1006 to 1921 missionary in Kallakurchi. After a short employment at a teachers college in Cuddalore, Hans Bjerrum were at the præsteskole in Bangalore 1924-1929. From 1935 he worked in Cuddalore. They were close friends and supporters of Anne Marie Petersen even after her break with the Danish Mission Society. Hans Bjerrum was a good philologist and spoke Arabic, Hindustani, Sanskrit, Tamil and Urdu as well as other languages. They met Gandhi in July 1927. (For report on interview, see CW34:163-4 and C. F. Andrews: Mahatma Gandhi's Ideas, 1929 p. 357.).
They were at Gandhi's prayer meeting in Bangalore on August 28, 1927, and sang a hymn. The Bjerrums returned to Denmark. At the time of his death, Hans Bjerrum was translating the Bible to Tamil.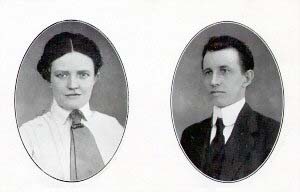 Emilie and Hans H Bjerrum.
Source: Missionaer-Album, 1919.
Gandhi wrote a letter to Mrs. Bjerrum on May 21, 1928 (CW36:304-6 - SN13221, 15365) in reply to a letter from her asking several questions about prayer at the Ashram.
Gandhi wrote to Rajaji, his associate, on April 22, 1933: "They (Bjerrums) are very fine people… they are stationed in Pudukottah."
(CW54:496)
References to them (CW37:206-7, 273).
Bjerrum, Hans: Fra Kallakurichi. 1922.
BUNDGAARD, Tage
Born 1903.
Social inspector of Silkeborg, Denmark. Sent birthday greetings to Gandhi in 1929 and invited him to Denmark (SN15660). Gandhi replied on October 12, 1929 (CW41:552 -SN15185).
Danish References: Portrait in the article: Sjuskeri, at Bornebidrag er en Samfundsudgift. Interview of Tage Bundgaard in : Jyllands-Posten, October 1, 1958.
DALSGAARD, Dr. Henning
Lecturer in Political Science, Elsinore. He sent a letter from International People's College in 1931, inviting Gandhi. He knew Esther Menon and her husband. Gandhi replied to him on June 7, 1931. (CW46:350-1 - SN17253).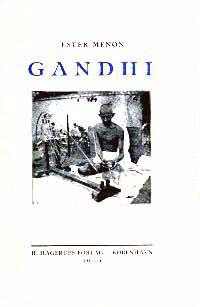 H. Haagerup, 1930.
FAERING (MENON), Esther
Born June 22, 1889. Died 1962
Student from Komtesse Moltkes Skole. Educated teacher in religion at Frk. Zahles Seminarium in Copenhagen. Missionary studies at Carey Hall Missionary Training College. A Danish missionary and teacher. Esther Faering came to India in November 1915 (Anker-Møller, Rasmus: Porto Novo Missionen, 1940, p. 208.). She visited Gandhi's Ashram on January 6, 1917 with Miss Petersen and was very much influenced by him: "Anne Marie Petersen selected me to join her visiting schools around India, although I was the youngest. It was them we met Gandhi. My discontent and uneasines about being a part of an organised society originated from this meeting. He utterly fascinated me and his ideal was mine too from my very youth." (Larsen pp 28) She stayed in the Ashram for some time in 1920.
She became a devotee of Gandhi. Gandhi treated her as a daughter and wrote around 150 letters to her. These letters were published in 1956 in a book, Dear Child, which is now out of print and is republished here.
The Government soon considered her presence in India undesirable and tried to deport her under the new Memorandum A, B and C on mission to India from the Indian Office, London, from 1918. On August 22, 1919, Gandhi first wrote to the Governor of the Bombay (now Mumbai) Predicency, Lord Willingdon, requesting him not to deport her. Then he wrote to the governor of the Madras Presidency. Soon after Gandhi also sendt his friend, the English missionary, Charles Fraser Andrews, to the govenor to speak about her case. On October 22, 1919, he informs the Government of Madras that she arrived in the Ashram. (Gandhi - a Detailed Chronology, Smidt Hansen p. 296 ff. International Review of Missions, vol. 8, 1919 p. 334 ff.).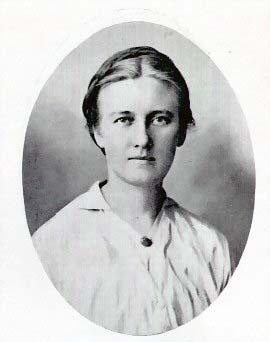 Ester Faering came to India in 1915. Source: Missionaer-Album, 1919.
In 1921 she was betrothed to Dr. E.Kuhni Menon (Born, May, 14, 1896-dead 1971), and that provoked much criticism within the Danish Mission Society as well as from hindus. She left for Denmark in March 1920 and married Menon in Denmark July 1, 1921. The British Government, for some time, refused her permission to return to India. However, they returned without permission to India in late December 1922 and were some time helping Anne Marie Petersen with the school and the ashram she established in Porto Novo Mr. Menonwas overseeing the building of the school and when it was finisted in January 1924, he was awarded medical tools for 2000 kr. by the support group of Anne Marie Petersen. (Hansen p. 180).
They then moved to Kotagiri, a hill station in Nilgris. Dr. Menon helped poor patients and did not make much money. Both the Menons salery were paid by the support group of Anne Marie Petersen.
On March 10, 1923 Gandhi was arrested on a charge of sedition and sentenced to six years. The correspondence of Esther with Gandhi was interrupted since Gandhi only were allowed to send four letters a year. She wrote in her Gandhi biography, that a letter from her was returned because "the prisoner Gandhi was not allowed to recieve letters" (pp 33). Gandhi was released in January 1924 because of illness. Esther Menon and Anne Marie Petersen traveled to Poona and were at his bed side, when the news of his release was made public. They were together with him for eight days.
Esthers two daughters, Nan(Ann) and Tangai(Sarawati Ellen), were born in september 1923 and 1926. But the hot climate began to affect the health of Mrs. Menon from this time. Right after the birth of Nan, Esther got malaria. The Menons left for Denmark again because of Mrs. Menon's ill-health and Mr. Menon was in England from 1927 to 1933 as he studied surgery at Birmingham, while Mrs. Menon and her children were in Denmark. In 1931 Esther Menon visited Gandhi for two weeks, when Gandhi was in London (Menon, Esther: En Dag med Gandhi i London. Porto Novo, 1931 no. 11 pp. 160-167 and Af et Brev fra Fru Menon. Porto Novo, 1932 no. 1 pp 5-8). Mr. Menon was associated with the Woodbrooke Settlement, a Quaker institution in Birmingham which Gandhi visited in 1931 and lived at Selly Oak, Birmingham.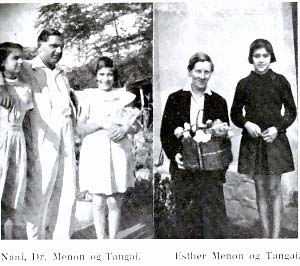 The Menon's 1938. Source: Porto Novo 1938 no. 3 pp. 50.
They returned to Porto Novo February 10, 1934. Mr. Menon established a hospital. After the second world war Esther Menon and her girls returned to Denmark, where Esther died in 1962.
Notes
The original letters from Gandhi to Ester Menon are at Håndskriftafdelingen the Royal Library, Copenhagen. Files no. Ny Kongelig Samling, 2251 and 4308 - 2° :
Håndskriftafdelingens Erhvervelser 1924-87:
FORFATTER: Menon, Ester, f. Færing
TITEL: Breve fra Mohandas Karamchan Gandhi
SIGNATUR: NKS 2251, 2°
FORFATTER: Gandhi, Mohandas Karamchan, 1869-1948, Ind. politiker
TITEL: 2 breve til Tangai Christoffersen, f. Menon
SIGNATUR: NKS 2251, 2°
FORFATTER: Menon, Ester, f. Færing
TITEL: 1 brev fra Tagore Sonrindro Mohun
SIGNATUR: NKS 4308, 4°
FORFATTER: Menon, Ester, f. Færing
TITEL: Telegram fra Gandhi 4/3 1920, 2 breve fra Mahadev Desai, 3 breve fra Sourindro Mohun Tagore
SIGNATUR: NKS 4308, 4° .
Some of the letters are introduced and rpt., by Professor Karl Baago: Mahatma Gandhi's Dear Child in Frede Hojgaard (ed.) Friends of Gandhi: Inter-war Scandinavian Responses to the Mahatma (NIAS Report No. 7), 1991. See also: Baago, Kaj: Mahatma Gandhis kaere barn. In : Kikka Molgaard (ed.) Indien - Danmark : Forbindelser og Samarbejde . Copenhagen, 1983 pp. 54-71.
Esther Faering (Menon) translated the authobiography of Tagore into Danish in 1921?.
Thomsen, Niels: Menon, Esther Emilie. Dansk Kvindehistorisk Leksikon, Vol. ? pp. 551-552
Faering, Esther: Et Besøg i en indisk Ashrama (Klosterskole). Dansk Missions-Blad, 1917 pp. 771-774
Faering, Esther: Det første Aar i Indien. Dansk Missions-Blad, 1917 pp. 95-100
Faering, Esther: Kostskolen i Siloam. Dansk Missions-Blad, 1919 pp. 382-384.
Menon, Esther: Brev fra Chidambaram. Porto Novo, 1924 no. 5 pp. 14-16.
Menon, Esther: Brev fra Fru Menon. Porto Novo, 1932 no. 2 pp. 13-19.
Menon, Esther: Af et Brev fra Fru Menon. Porto Novo, 1932 no. 5 pp. 72-77.
Menon, Esther: Brev fra Fru Menon. Porto Novo, 1934 no. 3 pp. 41-44.
Letters to Ester Faering
HINDHEDE, Mikkel
Born 1862.
Doctor and professor from Copenhagen. He sent a letter and some pamphlets on diet to Gandhi in 1929. Gandhi replied on October 3, 1929. (CW41:502 - SN15197)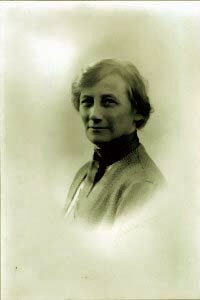 Ellen Horup, October 1930. Source: Junker-Jensen. In the files of Holger Terp
HORUP, Ellen
Born December 31, 1871. Died March, 25 1953. Journalist, feminist and pacifist. Daughter of Viggo Horup, an anti-militarist who founded the Copenhagen daily Politiken. She became interested in Gandhi in the mid-1920s while living in Rome. She visited India with Miss Cathinca Olsen, in the winter of 1928-29 and stayed at his ashram for over a week. She visited India again in the winter of 1930-31 with Mr. Carl Vett and Ms. Caroline (Bokken) Lasson of Norway and met Gandhi in Allahabad. Hørup published a book about the journey to India, Gandhis Indien ("Gandhi's India"). She and Olsen was with Gandhi in London during the Round Table Conference on Indian constitutional reform at the end of 1931. Mrs. Horup was active in informing European public about India's struggle for independence and promoting support. She set up Indiens Venner (Friends of India Society) in Denmark in October 1930. Miss Anne Marie Petersen, Esther (Faering) Menon, and Mr. and Mrs. Johan Bitterman, who corresponded with Gandhi, were among the members of the organisation which was active for several years. Mrs. Horup also established the "International Committee for India" in Geneva in 1932 and moved there soon after. The Committee held three international conferences in support of Indian freedom (Horup, Ellen: "The Third International Conference for India at Geneva", in: Modern Review Calcutta, November 1933). After India became independent, she became a member of the board of the Danish-India Friendship Union, founded in 1948.
Mrs. Horup wrote to Gandhi from Rome on May 2, 1929 (SN15215), enclosing two articles she wrote about India and Gandhi. In the letter she refers to her meeting with Gandhi, in India. Gandhi could not reply as he did not have her address.
She wrote to him on November 4, 1931 (SN18243) inviting him to Denmark, on behalf of Friends of India.
Gandhi wrote to her from prison on February 23, 1933 (CW53:378 – SN20335). This was a reply to a letter from her.
Notes
For further information about Mrs. Horup, please see Holger Terp "Ellen Horup and Mohandas Gandhi" Horup, Ellen: "Remarks on Gandhi" and Cathinca Olsen, "Om natten hos Gandhi" in Indiens Venner, 1931, no. 12, page 3.
Horup, Ellen: Mohandas Gandhi .
Letters from Gandhi to Ellen Horup
Letters from Ellen Horup to Gandhi
KNUDSEN, Aksel J.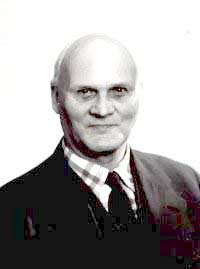 Aksel J. Knudsen, 1961.
Brande Lokalhistorisk Arkiv.
Born 1892. Died October 7, 1976.
Missionary, teacher and editor. Educated at Skaarup Statsseminarium 1917. Employee at Ullerslev Realskole to 1919, headmaster of Hvidbjerg Realskole og Præmilininærkursus 1919-1921. From 1921 inspector at Skjern private Realskole. Cousin of Anne Marie Petersen. He spoke at the ceremony when Gandhi laid the foundation of Anne Marie Petersen's girls' school at Porto Novo in 1921. Knudsen and his whife Grethe were in India from 1923 to 1927, where Knudsen led a school in Madras. He wrote to Gandhi in 1926 for permission to translate his autobiography. (Knudsen was then in Kodaikanal. He had visited Gandhi earlier.) Gandhi replied on April 24, 1926. He wrote again to Gandhi in 1928 from Skern, Denmark, asking for an article; Gandhi replied on December 7, 1928 conveying regret. (CW30:351, 38:173).
East and Vest
Knudsen and Rev. Hans Magle published the monthly Quaker inspired magazine Oest og Vest : Tidsskrift for moderne Aandsstroemninger mellem Folkeracerne / East and Vest, 1929. The first half part of the now rare magazine dealt with the religious, culturel and political situation in China and India from Christian missionaries point of view. The second part gave much room for international and Danish peace movements. No articles of Gandhi in the magazine. From 1950 member of the Danish chapter of the One World Movement, Een Verden.
Notes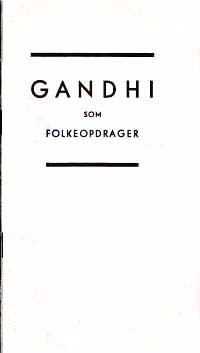 Brande Bogtrykkeri 1943.
Knudsen, Axel J.: A. J. Knudsen. Porto Novo, 1923 pp. 9-10.
Returning to Denmark Knudsen lived in the small Danish town of Brande. In : Gandhi som Folkeopdrager ; Brande, 1943, he writes: Gandhi began publishing his autobiographical notes in Young India in 1925 "while I was in India" p. 4. Soon aftter Knudsen disagrees with the others in Porto Novo over the Indian Christians rights to become members of the board of the mission and returns home in 1926/1927.
KNUDSEN, Miss Elizabeth
Was she Danish or Norwegian?
A Johannesburg masseuse, she offered to train a few Indian women and visited Gandhi in Tolstoy Farm on March 2 and 3, 1912. (CW11:27, 373).
She apparently visited India later, and stayed in Adyar, Madras. (Was she a Theosophist?). On Gandhi's invitation, she stayed at Sabarmati Ashram for some time in February 1928. Gandhi wrote to her later in April and October 1928 - to Karachi where she was with a doctor. (CW35:516, 36:60, 250, 37:353 - SN13059 etc.)
Manniche, Peter
(1889-1981) MA in English and Danish. Founder of The International Folk High School Elsingore in 1921 and principal from 1921 to 1954. The college should promote peace between members of countries who had been former enemies and promote international understanding. Letter to Gandhi in 1931 inviting him to Denmark. Reply from Gandhi. Met Gandhi in London 1931.
Sources
Lawson, Max: The International Peoples College 1921-1996. - ISBN : 87-735-09-5
Moeller, Chris
Wrote to Gandhi on September 24, 1931 (SN17845) offering to assist him if he was visiting Denmark.
OLSEN, Cathinca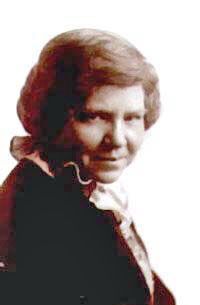 Born August 3, 1868. Died 1947.
Ceramist and artist. She travelled to India with Mrs. Horup and meet Gandhi. Active in the Friends of India 1930-1939.
According to Gandhi's Diary, he wrote a letter to Olsen from prison on December 24, 1932. The letter is apparently not available
There is one letter from her to Gandhi, dated May 28, 1933 - 3 pages.
Summary: Glad the fast is broke. Hope no such occasion will arise in future. On reading Harijan, I feel I am in your presence.
There is a post card to Olsen from the secretary of Gandhi from 1936 suggesting futher corrrespondance.
PETERSEN, Anne Marie
Born August 1, 1878. Died in India January 9, 1951.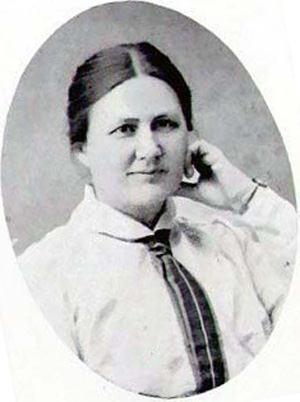 Teacher and missionary. Attented the first women folk high school in Denmark at Frederiksborg Folk High School in 1896. In 1900 she graduated from Vejle Forskoleseminarium as teacher. She came to India in December 1909 to join the mission of Eduard Loeventhal (1841-1917), who had asked for more women missionaries. She was sendt out by Valgmenighedskirken in Ryslinge on Fyen. Early she wanted to establish her own national Christian ashram and school for Indian children and women. Member of the Danish Missionary Society in India in November 1912 (Rieman, P.: Anne Marie Petersens ny Stilling. Fra Løventhals Mission, 1912 no. 6 pp. 4-8). During World War I she took over the the oversight of two Danish missionaries educational programmes. On a research journey around the country collecting information about Indian Schools, where Miss Faering worked as her assistant, they met Gandhi for the first time on January 6, 1917. Also Miss Petersen became attached to Gandhi, who wrote many letters to her.
In Denmark on vacation from june 1917 to August 1919. After the death of Edvard Loeventhal in 1917 she took over and continued his mission.
In August 1920 Miss Petersen participated in a meeting at Vellore, where Gandhi was the main speaker. Anne Marie Petersen wrote in Højskolebladet: "I hoped to be able to hide in one of the fringes in the crowd, but it turned out to be impossible. My peculiar figure caught the eye of one of the leaders, a white women wearing an Indian dress, and whether I liked it or not, I had to take one of the chairs near the platform. I felt very strange as the only women and only European in this large crowd of people. And he - the great - worshipped like a saint in India - put both his hands to his forehead and greeted me… The leaders standing by stared at me with wonder. I was so embarrased that I did not know where to hide. But Gandhi waved at me: "Come over here Miss Petersen." "No, no!" I said with a deprecating gesture. But the people standing close to me whispered: "Gandhi wants it, Gandh wants it". So there was no excuse. I had to climp the platform. And there in front of the gazing crowd, he took both my hands in his and said: "I am so happy to see you"" (Højskolebladet, 1920 colums 1383-1384. Larsen pp. 75.)
Dissatisfied with Mission's policy on equel rights and its policy towards her school, she left the Danish Mission, and founded on September 17, 1921 an ashram - and a school for poor women and girls (The Christian National Girls' School) - at Porto Novo / the Indo-Danish Mission, also named Sevamandir (temple of service). Her Danish support group was led by Reverended P. Reimann (1848-1928).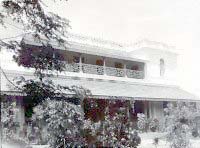 Gandhi visited Porto Novo on September 17-18, 1921, and stayed that night at Petersen's home.
"The "Dedication" sermony of the Christian National Girls' school was performed last Sunday morning at PortoNovo, writes a correspondent. Mr. and Mrs, K[n]udsen Messrs. V. Chakkari, Chenchiah, Balasundaram, VeluChetti, Ester Menon, Solomon, Sister Anne Marie and V. A. Sundaram were present at the sermony. The foundation of this national institution was laid by Mahatma Gandhi three years ago. The "Sevamandir" as it is called owes it incription to Sister Anne Marie of Denmark, whose love & devotion for India has captured the heart of Mahatma Gandhi himself. The proceedings commenced with meditation. Prayers were offered in Sanskrit, Tamil, Danish and English .
Hymns were read from the Gita".
Sources : The Hindu, January 23, 1924 page 14, colum 5. Cited from: Hansen page 339.
She visits Gandhi December 30, 1921 (Hansen p. 203). After a pilgrimage to the mountains of Himalaya during 1922 Anne Marie Petersen introduces Sundar Singh to Gandhi in Sarbamatu near Ahmedabad.
She called on Gandhi in Yeravda jail on April 1, 1923. (Gandhi - a Detailed Chronology).
Gandhi and Anne Marie Petersen later met often. In 1924 together with Esther Menon. Before she returned to Denmark on Holiday in June, 1926. When Anne Marie Petersen wanted to return to India in November 1927, she couldn't get her visa. Mrs. Petersen traveled thrugh the continent to Armenia, where she meet the Danish Missionary-teacher Karen Jeppe. On December 8, Anne Marie Petersen was back in India, just in time to the yearly congress of the Indian Congress Party at Madras. December 16, 1928 Ellen Horup and Cathinca Olsen came to Porto Novo. Before Gandhi was arrested at the National Congress Party's congress in Madras, January 4, 1932, Anne Marie Petersen meet Gandhi twice. Around November 1, 1933 Anne and Gandhi meet at Gandhis Sevagram Ashram, where Mrs. Petersen wanted to meet C. F. Andrews. In January 1945 they meet at a pedagogical conference at Sevagram and the year after they met at the National Congress Party's 60 year jubelee. Petersen assisted at one of the working sessions of the Congress.
In 1936-1937 Anne Marie Petersen was in Denmark. For the second time the british authorities refuses her visa to India in december 1937.
During World War II Anne Marie Petersen was in India. Her support group continued to collect money for her and the school, but Mrs. Petersen could not recieve them before October 1945. Even trough she did get a little money from Americans Seva Mandir was falling into decay and Anne Marie Petersen were tired because of waiting for the war to end.
June 23, 1946 Anne Marie Petersen came to Denmark on a holiday which lasted to December 1947.
On August 15, 1947 Mother India got liberated. As a part of the liberation there came freedom of religion, but not for the Christian missionaries. All of them, including Anne Marie Petersen had to repport to the autorities once a month and if they were taking a journey this also should be repported to the police.
After she died, Harijan wrote: "There was a peculiar spiritual understanding between herself and Gandhi, who used to call her, "My Anni Marie"… To the last she remained a devote admirer and follower of Gandhi and she belongs to the blessed groups of foreign friends, who served India in complete harmony" (Harijan, March 24, 1951, Larsen pp. 219).
PILLE, Axel
Journalist, editor and publisher. Pacifist and founding member of the Danish Chapter of the War Resister's International / Aldrig mere Krig in 1926. Vegarian and a chose friend of Ellen Horup. Established a Danish chapter of the German Vandrevogelbewegung and edited their magazine Nye Veje / New Ways.
Pille wrote to Gandhi on May 29, 1929 (SN15222) about his proposal to translate Gandhi's Autobiography into Danish, and requesting Gandhi's representative or message for his camp for youth.
In the Danish edition of C. F. Andrews: Mahatma Gandhi's Ideas : Including selections from his writings, the Danish Quaker and translater B. Kjaerulf Nielsen writes that he and Axel Pille translated Gandhi's autobiography into Danish. Pille also published it. It was not a good business. Pille went bankrupt after the publication of the first volume.
VETT, Carl Christian
1871-1956.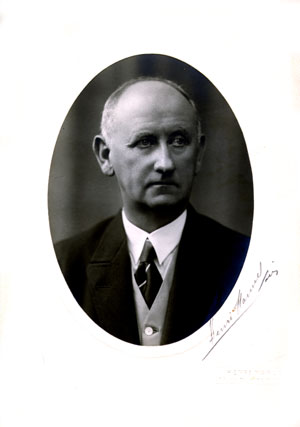 Danish businessman who inherited the half of the department store Magasin du Nord in Copenhagen. Friend of Ellen Horup. Translated and published Rudolf Steiner's The future society / Fremtidssamfundet, 1919. Converted to Islam. Carl Vett visited India in 1925 and was at the Congress meeting in Dawupur. He visited Gandhi for several days and had talks with him. During these Gandhi expressed admiration for Denmark and the freedom which rules there. Gandhi considered the social conditions of Denmark as a model for India. Carl Vett went again to India with Ellen Horup and Bokken Lasson in 1930.
Vett sent a telegram to Gandhi on September 25, 1931 (SN17848) conveying expression of admiration by a public meeting organised by the Friends of India in Copenhagen. Vett emigrated to USA around the time of World War II.
Source
Vett, Carl: Dervish Diary. - Los Angeles : Knud K. Mogensen, 1953. - 193 pp.
Vett, Carl: Gandhi og den indiske Revolutions Metoder, pp 10 and 14.
Møller, Aage: Carl Vett. In: Bien, Danish Weekly, February 16, 1956 p 4..
HOLST, Karen (?)
Of Trondhjem. Wrote letter to Gandhi on November 19, 1929, requesting information on his life and work in recent years. (SN16276)
KONOW, Sten
Born April 17, 1867. Died June 29, 1948.
Norwegian Indologist, epigraphist and publicist. Visiting professor at Santiniketan, 1924-25. He had an interview with Gandhi on March 2, 1925, a silence day of Gandhi.
Literature
Konow, Sten, India : Land og folk. - Oslo : Museet, 1944 - 132 pp. 2 bl. : ill. - (Håndbøker / utg. av Etnografisk museum ; 1)
LASSON, Caroline (Bokken)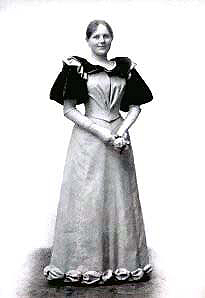 Caroline Bokken Lasson, 1894
1871-1970.
Singer and actress. Travelled to India with Ellen Horup and Carl Vett in the winter of 1930-31; Horup and Lasson had an interview with Gandhi. In 1931, she published a book about the journey to India, Oestens smil og tårer / Smiles and Tears of the East. Norwegian authobiography "Slik var det dengang", 1938.
Founded Friends of India in Norway in 1931.
Rogler, H. J.
Wrote to Gandhi on September 22, 1931 (SN17821) inviting him to visit Norway as guest of the Norwegian Vegetarian Society and give a lecture.
Wrote again on October 9, 1931 (SN18034) again inviting Gandhi to Norway and, if that was not possible, requesting him to send a message to vegetarians of Norway.
SCHJELDERUP, Dr. Kristian
Of the University of Oslo. He wrote to Gandhi in 1931 requesting an article on Christ for his journal, Fritt Ord / Free Words. Gandhi replied on Sept. 29, 1931, that he was too busy. (CW48:89 - SN17810)
BRUNSKOG, Carl J.
Died April 3, 1935.
Of Stockholm. Pacifist. Founded the Swedish Information Bureau on Peace Questions and International Cooperation in 1929. Wrote to Gandhi asking about best ways to promote peace. Gandhi replied on May 24, 1931. (CW46:215 - SN17134)
FORELL, Rev. Birger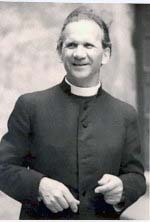 Birger Forell
Born September 27, 1893. Died July 4, 1958.
Pastor of the Swedish Church in Berlin.
In 1927, he went on a research journey to India as assistant to Professor Rudolf Otto. They met Gandhi in three days. Forell was soon called home from India because of the sudden death of his two children.
He presided over a gathering of Swedish friends of India in Berlin in September 1931 and sent a telegram to Gandhi wishing him success in the mission he undertook to London. Gandhi replied on September 30, 1931. (CW48:95)
During and after World War II Forell helped German prisoners of war and refugees in England and Scotland. He was called the father of prisoners of war and the brother of refugees.
Source
Koenigswald, Harald von: Birger Forell : Leben und Wirken in den Jahren 1933-1958. Eckart, 1962. pp. 42.
HASSELROT, Rev. Per
Per Hasselrot of Svenska Kyrkans Diakonistyrelses Bokförlag, Stockholm, wrote to Gandhi on February 8, 1928, for permission to publish a translation of the first volume of his autobiography (My Experiments with Truth), and offering 10 pounds as royalties for the first edition (SN15033). Gandhi replied on June 8, 1928, giving permission (CW36:377 - SN15024). Rev. Hasselrot wrote again on September 27, 1928, as he did not receive Gandhi's letter (SN12783) and Gandhi again on October 26, 1928. On November 8, 1929, Gandhi sent a receipt for the royalties received (a little over 11 pounds) and gave permission for the translation of the second volume of the autobiography. (CW42:120 - SN15652)
KARLMARK, Mrs.
Was at the Church of Sweden mission in Madurai, South India. On September 29, 1929, she sent a letter with greetings and best wishes on Gandhi's birthday (on 2 October). (SN15622)
ROCKMAN, Ruth
Of Stockholm. Wrote to Gandhi on October 17, 1932 (SN18588) expressing admiration.
ROSENGREN, Ada
(Also spelled "Rosengreen" and "Rasengren" in Collected Works).
From Lindigo. She wrote to Gandhi in 1926 and sent an article on causes of World War I. Gandhi did not publish the article, but sent a copy to G.A. Natesan as requested. He explained in his reply of April 23, 1926. (CW30:346-7).
She wrote to Gandhi again on September 28, 1927, asking for permission to translate his book on "Self-Restraint v. Self-Indulgence" into Swedish. (CW35:373).
Wrote another letter in 1928 that she was sending a German book on causes of World War I, and asking if Gandhi would be visiting Europe. (CW37:49 - SN12466,12541, 14346)
She translated Satyagraha in South Afrika, which Svenska Kyrkans Diakonissesstyrelses Bokförlag published in 1933.
SANDEGREN, Rev. Paul
Agent for Svenska Kyrkans Diakonistyrelses Bokförlag. Prominent churchman in Sweden. Wrote to Gandhiji in 1926 about translation of autobiography into Swedish. Visit of Sandegren and Rohde to Gandhi. (CW Supplementary Volume I: 375 - SN32257). Gandhi answers on July 9 1926.
STRÖMBERG, G.
Wrote to Gandhi in 1926.
Swedish boys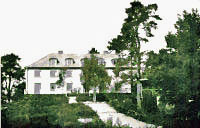 Swedish boys at Viggbyholmskolan wrote to Gandhi and received a reply (Indiens Venner, 1936 nr. 8 pp [4]). The head master of Viggbyholmskolan was Per Sundberg. In 1933 the school had opened its doors to political and religious refugees. The pupils were also learning during their free time. Some of them, led by teacher Sten Sternberg, published a paper, and earned 50 kr. The money was placed in a bank account. The pupils hoped to earn more money, but the competition from older pupils made them give up the idea. Four years later the class wanted to use the money in Gröna Lund, an amusement park in Stockholm. One of the boys remembered what they had just read about India. It had made a big impression on them – on what little wages the average Indian had to live - and they talked about Gandhi. The boys thought that the money for a happy evening at Gröna Lund could pay a whole year's wages for an Indian and agreed that the money should be sent to Gandhi. The money, a letter and some drawings from Sweden were sendt to Gandhi. He was then ill, answered through his secretary; he asked the class to write again. Another letter and a home made map of Sweden resulted in a friendly letter and thanks from Gandhi himself. That contact stimulated a growing interest for India and its people (Ekström,Torsten: Stiftelsen Viggbyholmskolan 1928-1953 - Stockholm : 1954, Tryckeri AB Björkmans eftr pp. 35-36).
One of the boys at Viggbyholmskolan were Gunnar Sundberg (born 1922, son of Per Sundberg), who in, Towards Pacifism, wrote: "In our class we were proud and happy about our contact with Mahatma Gandhi and our correspondance with the Hindu school which he had chosen for us."
Sundberg, Gunnar: Toward Pacifism. - Wallingford : Pendle Hill, 1950. - p. 5.
---
| | |
| --- | --- |
| | |
---
The Danish Peace Academy.