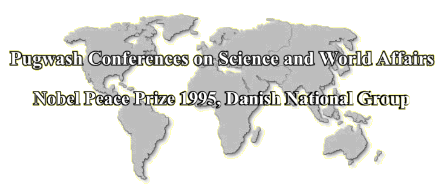 Pugwash Conferences on Sciences and World Affairs
x
Pugwash konferencer om videnskab og verdensanliggender.
International pacifistisk fredsbevægelse af videnskabsfolk grundlagt i 1955 af Albert Einstein og Bertrand Russell. Navn i 1957 efter en international konference om farerne ved atomvåbenforsøg, kontrol med atomvåben og forhindring af krig i den canadiske by Pugwash efter initiativ fra den canadiske rigmand Cyrus Eaton.
Anden internationale konference afholdes i september 1958 i Kitzbühl i Østrig.
Møde i København 2004 om kernevåben.
Blandt medlemmer af Pugwash og deltagere i organisationens konferencer kan nævnes John Avery, Anders Boserup, David Christopher Kelly, Mogens Pihl, Joseph Rotblat. Nobels Fredspris, 1995. Pugwash udsender Newsletter 1963-.
Litteratur

En erklæring fra 65 vidensakbsmænd. I: Dialog, 1958:7 s. 15-18.
Lenz, John R.: Pugwash and Russell's Legacy.
In: The Bertrand Russell Society Quarterly, no. 89 (Feb. 1996), pp. 18-24.
Pugwash Conferences on Science and World Affairs: A critical moment for the Non Proliferation regime.
Vinding, G.: Konferencen i Pugwash. I: Dialog, 1958:5 s. 25-27.
---
Send kommentar, email eller søg i Fredsakademiet.dk