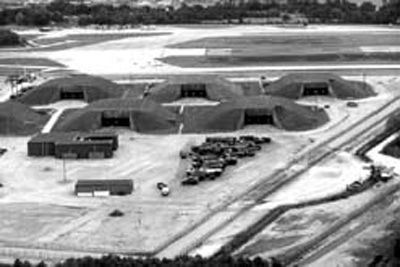 Oprindelig underjordisk kornkammer.


⚔

I militært sprogbrug brugt om de cylindiske beholdere, der - nedgravet i jorden - rummer atomraketter, her Greenham Common-basens siloer fra den kolde krig.
Silo Pruning Hooks
November 12, 1984 Carl Kabat, of the Plowshares Eight and Plowshares Number Seven; Paul Kabat, an Oblate priest from Minnesota; Larry Cloud Morgan, Native American and mental health care worker from Minneapolis, MN; Helen Woodson, mother of eleven children and founder of the Gaudete Peace and Justice Center from Madison, WI; entered a Minuteman II missile silo controlled by Whiteman Air Force Base in Knob Noster, Missouri. Once inside the silo area, they used a jackhammer and air compressor to damage the silo cover lid. They then offered a Eucharist and left at the silo a Biblical and Native American indictment of the U.S. government and the institutional church for their complicity in the pending omnicide of nuclear holocaust. They were arrested close to an hour after their action by armed military guards authorized to use "deadly force" against intruders. Following their arrest, they were declared by the court to be a "threat to the community" and were thus held on "preventive detention" and denied bond.
---
Send kommentar, email eller søg i Fredsakademiet.dk