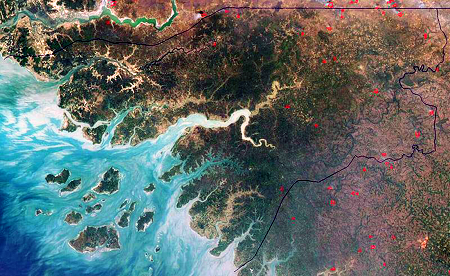 Geografi ; natur ; demografi ; historie ; kultur ; musik ; politik ; forsvar ; fredsbevægelser ; religion ; sociale forhold ; uddannelse ; økonomi.
Geography; nature; demographics; history, culture, music, politics, defense, peace movements, religion, social issues, education, economy.
Géographie, la nature, la démographie, histoire, la culture, la politique, la défense, les mouvements pacifistes, la religion, les questions sociales, l'éducation, économie.
Geografía, naturaleza, demografía, historia, cultura, política, defensa, movimientos por la paz, la religión, las cuestiones sociales, la educación, la economía.
Geografia; natureza; demografia, história, cultura, política, defesa, movimentos de paz, religião, problemas sociais, educação, economia.
Geographie, Natur, Demographie, Geschichte, Kultur, Politik, Verteidigung, Friedensbewegungen, Religion, Soziales, Bildung, Wirtschaft.
Geografi: Vestafrikansk republik med grænser til Guinea og Senegal og med kystlinje til Atlanterhavet. Geografihistoriske primærkilder: Relaçaõ e descripçaõ de Guiné : na qual se trata das varias naçoens de negros, que a povoaõ, dos seus costumes, leys, ritos, ceremonias, guerras, armas, trajos, da qualidade dos portos, e do commercio, que nelles se faz (1733).
http://www.archive.org/details/relaaedescri00alma
Natur, klima. Fauna og flora: Fisk. Fugle. Koralrev. Vådområder.
Flora and fauna: Fish. Birds. Coral reefs. Wetlands
Flore et faune: Poissons. Oiseaux. Les récifs coralliens. Les zones humides.
Flora y fauna: Fish. Pájaros. Los arrecifes de coral. Los humedales.
Flora und Fauna: Fisch. Vögeln. Korallenriffe. Feuchtgebiet, Feuchtbiotop.

Geologi: Bjerge, vulkaner, jordskælv og ørkenområder:
Geology: Mountains, volcanoes, earthquakes and desert areas
Géologie: Montagnes, volcans, tremblements de terre et les zones désertiques
Geología: Montañas, volcanes, terremotos y zonas desérticas
Geologie: Berge, Vulkane, Erdbeben und Wüstengebiete
Demografi: The International Bank for Reconstruction and Development / The World Bank: Migration and Remittances Factbook 2011.
: Europæisk slavehandel
Indvandring: Kinesere, portugesere.
Udvandring: Portugal.
Minoritetsgrupper: Fulanifolket.
Historie: Kongeriget Gabu. Mali imperiet. Guinea-Bissau var koloniseret af Portugal.
Deltagelse i krige / Participation in wars / Participation à des guerres / La participación en las guerras / Beteiligung an Kriegen
Tekst:
TV
Tekst:
Aviser / Newspapers / journaux / Prensa / Tageszeitungen
Tidsskrifter, periodica / Journals, periodicals / Revues spécialisées, périodiques / Revistas, publicaciones periódicas / Zeitschriften, Periodika
Kunst / Art
Film:
Musikhistorie ; Aktuelle og historiske musikorganisationer ; Pladeselskaber ; Komponister ; Musikgrupper - og solister ; Folkemusik ; Jazz ; Klassisk musik ; Opera ; Pop ; Rock ; Arkiver ; Litteratur
Music history; Current and historical music organizations; Record companies; Composers; Music groups - and soloists; Folk music; Jazz; Classical music; Opera; Pop; Rock; Archives; Literature
Musikundervisning og pædagogik / Music Education and Pedagogy:
Aktuelle og historiske musikorganisationer
Historiske pladeselskaber:
Tekst:
Aktuelle pladeselskaber:
Country & Western
Tekst:
Folkemusik, spillemandsmusik og -viser.
Musikeksempler
Aktuelle og historiske politiske partier / Current and historical political parties / Actuelles et historiques des partis politiques / Los partidos políticos actuales e históricos / Aktuelle und historische politische Parteien
Partido Africano da Independência da Guiné e Cabo Verde 1956-. herunder Titina Ernestina Silá
Aliança Popular Unida
Fórum Cívico Guineense-Social Democracia
Movimento Democrático Guineens
Partido Democrático Socialista
Partido do Manifesto do Povo
Partido Popular Guineense
Partido para a Renovação Social
Partido Socialista da Guiné-Bissau
Partido dos Trabalhadores
Partido da Unidade Nacional
Partido Unido Social Democrático
Plataforma Unida
Resistência da Guiné-Bissau-Movimento Bafatá
União Eleitoral
União para a Mudança
União Nacional para a Democracia e o Progresso
Guinea-Bissau er medlem af Alliancen af Små Østater, De vestafrikanske staters økonomiske fællesskab / the Economic Community Of West African States ECOWAS, FN, Fællesskabet for portugisisktalende lande, Sydatlantens freds- og samarbejdszone / South Atlantic Peace and Cooperation Zone.
Forsvar / militær: SIPRI: Militærudgifter / Military expenditure of Guinea-Bissau.
Værnepligt: WRI: Country report and updates: Guinea-Bissau.
Paramilitære styrker: Armed and Aimless: Armed Groups, Guns, and Human Security in the ECOWAS Region / Edited by Nicolas Florquin and Eric G. Berman. A Small Arms Survey Publication, May 2005. - 410 s.
- http://www.smallarmssurvey.org/publications/by-type/book-series/armed-and-aimless.html
Sociale bevægelser, herunder miljøorganisationer / Social movements, including environmental organizations:
Økonomi: Den Internationale Bank for Genopbygning og Udvikling, Verdensbanken /
International Bank for Reconstruction and Development: Country at a Glance, 2011.
- http://go.worldbank.org/YB2ATM3HY0

Naturresourcer:
---
Send kommentar, email eller søg i Fredsakademiet.dk