Geografi ; natur ; demografi ; historie ; kultur ; politik ; forsvar ; fredsbevægelser ; religion ; sociale forhold ; uddannelse ; økonomi.
Geography; nature; demographics; history, culture, politics, defense, peace movements, religion, social issues, education, economy.
Géographie, la nature, la démographie, histoire, la culture, la politique, la défense, les mouvements pacifistes, la religion, les questions sociales, l'éducation, économie.
Geografía, naturaleza, demografía, historia, cultura, política, defensa, movimientos por la paz, la religión, las cuestiones sociales, la educación, la economía.
Geographie, Natur, Demographie, Geschichte, Kultur, Politik, Verteidigung, Friedensbewegungen, Religion, Soziales, Bildung, Wirtschaft.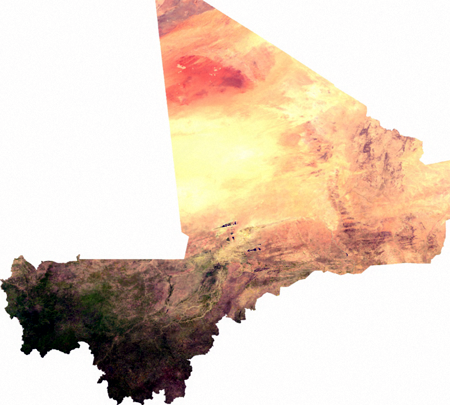 Geografi: Vestafrikansk republik i Sahelregionen med grænser til Algeriet, Burkina Faso, Guinea, Elfenbenskysten, Mauretanien, Niger og Senegal. Provinsen Azawad i Det nordlige Mali er fra april 2012 en ikke anerkendt selvstændig islamisk stat.
Geografihistoriske primærkilder:
/ Geography: West African republic in the Sahel region with borders to Algeria, Burkina Faso, Guinea, Ivory Coast, Mauritania, Niger and Senegal. Geography historical primary sources:
/ Géographie: Afrique de l'Ouest république dans la région du Sahel avec des frontières de l'Algérie, Burkina Faso, Guinée, Côte-d'Ivoire, la Mauritanie, le Niger et le Sénégal. Géographie des sources historiques primaires:
Travels in the interior districts of Africa: performed under the direction and patronage of the African Association, in the years 1795, 1796, and 1797. / : Mungo Park og James Rennell. - London: printed by W. Bulmer and Co. for the author, 1799. - 528 s.
- http://archive.org/details/travelsininterio00park
Natur: Niger-floden. Saharaørkenen. World Database on Protected Areas: Beskyttede områder og nationalparker.
Demografi: The International Bank for Reconstruction and Development / The World Bank: Migration and Remittances Factbook 2011.

Indvandring: Franskmænd
Udvandring: Algeriet, Burkina Faso, Frankrig, Gabon, Niger.
Minoritetsgrupper: Arabere, Bozo, Bobo og Dogons, Fulani-folket, Peulhs, Sarakolés, Sénoufos, Tuaregfolket.
Historie: Mali imperiet eller Mandingo imperiet 1230-1600. Songhai Imperiet, c. 1340–1591. Kongeriget Dendi 1591–1901. Mali var koloniseret af Frankrig som en del af Fransk Sudan til 1960.
/ History: Mali Empire or Mandingo Empire 1230-1600. Songhai Empire, c 1340-1591. Kingdom of Dendi 1591-1901. Mali was colonized by France as a part of French Sudan to 1960.
/ Histoire: L'Empire du Mali ou mandingue Empire 1230-1600. Empire Songhaï, c 1340-1591. Royaume du Dendi 1591-1901. Le Mali a été colonisé par la France comme une partie du Soudan français à 1960.
Militærkup: 1968, 1991, 2012.
Mali hærges af plyndringer efter statskup.
I: Kristeligt Dagblad, 03/24/2012.
Amnesty International: Mali: Urgent action needed to protect civilians, April 2, 2012.
'The Tuareg and Islamist armed groups who have taken the northern cities of Kidal, Gao and Timbuktu must protect the civilian population in areas under their control, Amnesty International said today. In Gao, the organisation received reports of armed men firing into the air and looting public and private buildings, including the hospital. '
Human Rights Watch : Mali: Coup Leaders Must Respect Rights Treatment of Minorities a Source of Special Concern, March 23, 2012 The political and social upheaval created by the coup must not lead to a vacuum in the protection of basic rights. The military officers who took over 'Mali's government must not only maintain discipline within the security forces, but should also ensure that the human rights of all Malians are respected. Corinne Dufka, senior Africa researcher at Human Rights Watch. (Nairobi) – Military officers responsible for a coup in Mali should restore basic human rights protections, ensure the humane treatment of everyone in custody, and protect the lives and property of all Malians, Human Rights Watch said today. The security of the ethnic Tuareg, Arab populations, and other minorities is of particular concern.
On March 21, 2012, young military officers protesting the government's handling of a Tuareg-led rebellion staged a coup against President Amadou Toumani Touré. After taking over the state television and radio station, a spokesman for the officers announced the suspension of the constitution and "all institutions," as well as the closure of all borders and the main airport in the capital, Bamako, and imposed a nationwide curfew. Since the outbreak of armed conflict in northern Mali in mid-January 2012, some 200,000 Malians have fled their homes, most to neighboring Algeria, Burkina Faso, and Niger.'
Timbuktu Manuscripts Threatened by Conflict in Mali
Submitted by George Eberhart on Wed, 04/11/2012 - 09:45
Medieval manuscript in Timbuktu, Mali, one of approximately 1,000 imaged by the Northwestern University Advanced Media Production Studio. 'Jennifer J. Yanco, director of the West African Research Association (WARA) in Boston, recently alerted ALA's International Relations Office (IRO) and other organizations of the volatile military and political situation in Mali, which could threaten the safety of hundreds of thousands of ancient and medieval manuscripts in the city of Timbuktu.
On April 6, Tuareg rebels from the National Movement for the Liberation of Azawad declared the northern part of Mali (which includes Timbuktu) independent. This followed a March 22 military coup that overthrew President Amadou Toumani Toure for not providing enough troops to suppress the rebels in the north.'
Deltagelse i krige / Participation in wars / Participation à des guerres / La participación en las guerras / Beteiligung an Kriegen
Marokko, slaget ved Jenné, 1599
Amadu's Jihad, 1810–1818
Tuareg oprøret, 1962–1964
Burkina Faso, Agacher krigen, 1974
Burkina Faso, Agacher krigen, 1985
Borgerkrig, 1990-.
Tuareg oprøret, 1990–1995
Azawad oprøret, 2012–2013
CRS: Crisis in Mali. / : Alexis Arieff. 2013. - 21 s.

That desert is our country: Tuareg rebellions and competing nationalisms in contemporary Mali (1946-1996). / Jean Sebastian Lecocq. PhD thesis Defended at Amsterdam University, November 6, 2002. - Universiteit van Amsterdam, 2002 - 338 s.
Burkina Faso and Mali, Agacher Strip War, 1985. / Tom Cooper. Jul 31, 2004. Western & Northern Africa Database
- http://www.acig.org/artman/publish/article_460.shtml
Conflict and Conflict Resolution in the Sahel: The Tuareg insurgency in Mali. / Lieutenant Colonel Kalifa Keita Army of the Republic of Mali Colonel Dan Henk Project Adviser. Strategic Studies Institute (SSI, May 1, 1998. - 48 s.
Sankore universitetet eller Sankore Masjid.
Biblioteksvæsen. Bogvæsen:
Tekst:
Aviser / Newspapers / journaux / Prensa / Tageszeitungen
Tekst:
Tidsskrifter, periodica / Journals, periodicals / Revues spécialisées, périodiques / Revistas, publicaciones periódicas / Zeitschriften, Periodika
Kunst / Art
Litteratur:
Musik:
Teater:
Film:
Mali: making peace while preparing for war. ECOWAS Peace and Security Report ; 1.
- Dakar, Senegal : Institute for Security Studies, 2012.- 8 s.
Aktuelle og historiske politiske partier / Current and historical political parties
African Solidarity for Democracy and Independence / Solidarité Africaine pour la Démocratie et l'Indépendance
Alliance for Democracy in Mali / Alliance pour la Démocratie en Mali-Parti Pan-Africain pour la Liberté, la Solidarité et la Justice
Block of Alternative for the Renewal of Africa
Convergence for Alternance and Change / Convergence pour l'Alternance et changement
Convergence for Alternance and Change alliance.
Democratic and Social Convention
Democratic Union of the Malian People
Hope 2002 / Espoir 2002
Movement for Environmental Education and Sustainable Development
Movement for the Independence, Renaissance, and Integration of Africa
National Congress for Democratic Initiative / Congres Nationale pour la Initiative Démocratie
Party for Democracy and Progress
Party for National Renewal
Party for National Renewal / Parti pour la renaissance nationale
Patriotic Movement for Renewal / Mouvement Patriotique pour le Renouveau
Rally for Democracy and Labor
Rally for Democracy and Progress
Rally for Labour Democracy / Rassemblement pour la Démocratie du Travail
Rally for Mali / Rassemblement pour le Mali
Rally for National Democracy
Sudanese Union-African Democratic Rally / Union Soudanaise-Rassemblement Démocratique Africain
Union for Democracy and Development
Union for the Republic and Democracy
Union of Democratic Forces for Progress
Mali er medlem af De vestafrikanske staters økonomiske fællesskab / the Economic Community Of West African States ECOWAS, FN og deltager i det amerikanske udenrigsministrielle, U.S. Africa Command (AFRICOM): Trans Sahara Counter-Terrorism Partnership 2005-., tidligere the Pan Sahel Initiative.
Forsvar / militær: SIPRI: Militærudgifter / Military expenditure of Mali.
Værnepligt: WRI: Country report and updates: Mali.
Paramilitære styrker: Armed and Aimless: Armed Groups, Guns, and Human Security in the ECOWAS Region / Edited by Nicolas Florquin and Eric G. Berman. A Small Arms Survey Publication, May 2005. - 410 s.
- http://www.smallarmssurvey.org/publications/by-type/book-series/armed-and-aimless.html
Armée Revolutionnaire de Libération de l'Azawad
Front Populaire de Libération de l'Azawad
Fredsbevægelser: PACIFIC-2000 Association pour la Paix et l'Integration, BAMAKO.
Sociale bevægelser, herunder miljøorganisationer: Association des ressortissants et amis de la Commune de Faléa (ARACF)
- http://www.falea21.org/
National Union of Students and Pupils of Mali / Union Nationale
des Etudiants et des Elèves du Mali, 1979-1980
Timbuktu Educational Foundation, Inc.
Timbuktu Universities of Mali
Økonomi: Den Internationale Bank for Genopbygning og Udvikling, Verdensbanken /
International Bank for Reconstruction and Development: Country at a Glance, 2011.
- http://go.worldbank.org/YB2ATM3HY0

Naturresourcer: Bly og zink, brunkul, diamanter, diatomit eller kiselgur, guld, gypsum, kalksten, kaolin, kobber, lithium, marmor, salt, skifer asfalt, sølv, uran.
/ Natural resources: Lead and zinc, lignite, diamonds, diatomite or kieselguhr, gold, gypsum, limestone, kaolin, copper, lithium, marble, salt, shale asphalt, silver, uranium.
/ Ressources naturelles: Le plomb et le zinc, le lignite, le diamant, la diatomite ou le kieselguhr, l'or, le gypse, le calcaire, le kaolin, le cuivre, le lithium, le marbre, le sel, le schiste bitumineux, de l'argent, de l'uranium..
/ Recursos naturales: Plomo y zinc, el lignito, diamantes, diatomita o tierra de diatomeas, oro, yeso, caliza, caolín, cobre, litio, mármol, sal, asfalto esquisto, plata, uranio.
/ Natürliche Ressourcen: Blei und Zink, Braunkohle, Diamanten, Diatomit oder Kieselgur, Gold, Gips, Kalkstein, Kaolin, Kupfer, Lithium, Marmor, Salz, Schiefer Asphalt, Silber und Uran.
Mines et pétrole au Mali : Le secteur minier du Mali, un potentiel riche mais inexploité.
L'Or: Mali: Le troisième plus grand producteur d'or de l'Afrique avec une exploration à grande échelle en cours.
- http://www.jmpmali.com/html/fourpagefive.html
Faléa uranium/silver project An Independent Technical Report on the Mineral Resources Falea, Mali, Minxcon (Pty) Ltd, 2012.- 108 s.
Prior ownership and ownership changes
'In 1977, Cogema, a French atomic energy company discovered mineralisation in the Falea area. Mapping and geochemical exploration progressed from 1978 through to 1980. Eighty six (86) diamond drill holes were drilled during the early 1980's by Cogema over an approximate area of 100 km2. Approximately 24 000 metres of drilling was completed on a grid spacing varying from 200 m to 800 m. Cogema ceased exploration in 1982 due primarily to the falling price of uranium.'
Våbenfabrikker, våbenhandel og våbentransporter / Weapon Factories, arms trade and -transport / Les fabriques d'armes, trafic d'armes / et de transport: Import af våben fra Bulgarien, Frankrig, Schweiz, Spanien, Storbritannien, USA.
Arms Exports and Transfers: Europe to Africa, by Country. December 2010. - 37 s. Study realized by Africa Europe Faith and Justice Network – AEFJN. ; AEFJN Report Arms exports from Europe to Africa 1/37.
U.S. Arms Exports and Military Assistance in the "Global War on Terror" : 25 Country Profiles. / Project Director: Rachel Stohl, Senior Analyst Contributing Authors: Sarah Chankin-Gould et al. Center for Defense Information at the World Security Institute, 2007. - 149 s. Online.

---
Send kommentar, email eller søg i Fredsakademiet.dk