Geografi ; natur ; demografi ; historie ; kultur ; politik ; forsvar ; fredsbevægelser ; religion ; sociale forhold ; uddannelse ; økonomi.
Geography; nature; demographics; history, culture, politics, defense, peace movements, religion, social issues, education, economy.
Géographie, la nature, la démographie, histoire, la culture, la politique, la défense, les mouvements pacifistes, la religion, les questions sociales, l'éducation, économie.
Geografía, naturaleza, demografía, historia, cultura, política, defensa, movimientos por la paz, la religión, las cuestiones sociales, la educación, la economía.
Geographie, Natur, Demographie, Geschichte, Kultur, Politik, Verteidigung, Friedensbewegungen, Religion, Soziales, Bildung, Wirtschaft.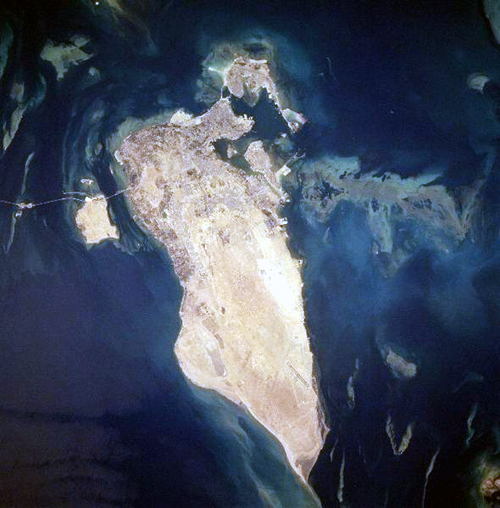 Geografi: Mellemøstlig, asiatisk enevældigt kongerige og østat på størrelse med Falster beliggende mellem Qatar og Saudi Arabien. Geografihistoriske primærkilder og fremstillinger: Carsten Niebuhr ekspeditionen. Stig T. Rasmussen [red]: Den arabiske rejse 1761-1767: En dansk ekpedition set i videnskabs­historisk perspektiv. Rosinante, 1990. Historic Maps Of Bahrain 1817-1970. Cambridge Archive Editions Ltd.
Natur: Koral rev. World Atlas of Coral Reefs / Mark Spalding, Corinna Ravilious, Edmund Peter Green. University of California Press, 2001 - 432 s.
- http://archive.org/details/worldatlasofcora01spal
World Database on Protected Areas: Beskyttede områder og nationalparker.
Demografi: The International Bank for Reconstruction and Development / The World Bank: Migration and Remittances Factbook 2011.

Historie: Det persiske rige. Bahrain var koloniseret af Portugal (1521-1602) og Storbritannien (1820-1971).
Records of Bahrain 1820-1960, Records Of Bahrain 1961-1965. Cambridge Archive Editions Ltd.,
http://www.archiveeditions.co.uk/titledetails.asp?tid=85
P. V. Glob : Al-Bahrain. De danske ekspeditioner til old-tidens Dilmun. Gyldendal, 1968. Anmeldelse i Historisk Tidsskrift, Bind 12. række, 5 (1971):1.
Deltagelse i krige
Det ottomanske rige (1800?)
Saudi Arabien (1801?)
Qatar (1978, 1982, 1986, 1991)
Golfkrigen (1990-1991)
Irakkrigen (2001-)
Afghanistan (2001-)
During the 1991 Persian Gulf War DSP played a key role in providing warning of Iraqi Scud missile launches (of which there 88)-whose targets were in Bahrain, Israel, and Saudi Arabia. This heavily redacted briefing provides some details of DSP capabilities and performance during the war- including why DSP failed to provide warning of the Scud that fragmented above Dhahran and whose warhead fell onto a warehouse that was housing American soldiers, killing 28 and wounding about 100.
Air Force Space Systems Division, DSP Desert Storm Summary Briefing, June 1991. Secret. Citeret fra: National Security Archive: Space-Based Early Warning: From MIDAS to DSP to SBIRS : Last DSP satellite to be launched tomorrow. National Security Archive Electronic Briefing Book No. 235.
http://www.gwu.edu/~nsarchiv/NSAEBB/NSAEBB235/index.htm
Biblioteksvæsen. Bogvæsen:
Tekst:
Aviser / Newspapers / journaux / Prensa / Tageszeitungen
Tidsskrifter, periodica / Journals, periodicals / Revues spécialisées, périodiques / Revistas, publicaciones periódicas / Zeitschriften, Periodika
Kunst / Art
Litteratur:
Musik:
Teater:
Politik: Forfatning 2002.
Bahrains falske facade: Manipulation af søgemaskiner, falske artikler og trusler er blandt de metoder, der er blevet anvendt af pr-bureauer til at påvirke meningsdannelsen uden for Bahrain. / : Tobias Havmand. Lagt på information.dk 9. oktober 2012 . Bragt i den trykte udgave 10. oktober 2012 på side 11 i 1. sektion.
'Bahrain er et af de lande, hvor der er kommet relativt meget frem om pr-kampagnernes karakter. Men også her er mange ting, der stadig står uklart, understreger John Horne fra organisationen Bahrain Watch, der søger at øge opmærksomheden om oprøret i landet. »Bahrians pr-arbejde blev varetaget af firmaet Bell-Pottinger, men efter at der er rettet et kritisk lys på dem, har de valgt at uddelegere opgaven til en række mindre selskaber, som er sværere at følge,« forklarer han.'
Sultestrejke kan antænde nyt oprør i Bahrain: Menneskerettighedsorganisationer opfordrer sportsfolk og medier til at aflyse det kommende Formel 1-show i Bahrain i protest mod den fortsatte undertrykkelse af oppositionen [Abdulhadi Al-Khawaji-sagen]. / Charlotte Aagaard. Lagt på information.dk 10. april 2012. Bragt i den trykte udgave 11. april 2012 på side 10 i 1. sektion.
Amnesty International: Folkelige oprør spreder sig overalt i Mellemøsten og Nordafrika. I Bahrain samlede over 10.000 mennesker sig d. 15 februar 2011 i et sørgeoptog for en ung mand, Ali 'Abdulhadi Mushaima', der blev dræbt af politiet ved en demonstration dagen før. De blev mødt af kampklædt politi, der brugte tåregas og geværer til at opløse optoget. Øjenvidner fortalte Amnesty, at politiet skød ind i mængden uden varsel:
"Vi gik fredeligt afsted i optoget og sang 'Khalifa leave', men efter få minutter blev vi angrebet af politiet. Der var kugleregn og tåregas overalt. Sårede blev båret mod hospitalet, og folk skreg," fortæller Maryam Al-Khawaja fra Bahrain Center for Human Rights.
Nielsen, Jørgen Steen: I Bahrain tåler regimet ikke ægyptiske tilstande. I: Inforrmation, 02/18/2011.
Aktuelle og historiske politiske partier / Current and historical political parties: Nej. Ikke tilladte i forfatningen.
Al Asalah
Al-Ekha National Society
Al Meethaq
Al Menbar
al-Minbar ad-Dimokrati at-Taqadumi - Bahrain
Al Wafa Islamic Party
al-Wefaq 2001-.
Bahrains nationale befrielsesfront 1965-.?
Bahrain Freedom Movement, London
Economists Bloc
February 14 Youth Coalition
Haq Bevægelsen
Islamic Action Party
Islamic Front for the Liberation of Bahrain
Khalas Bevægelsen
National Democratic Action
National Union Committee 1954-?. - The Bahraini three on St. Helena, 1956-1961. / Miriam Joyce. The Middle East Journal. Washington: Autumn 2000.Vol.54, Iss. 4; pg. 613, 11 pgs
- http://bahrain.wikia.com/wiki/The_Bahraini_three_on_St._Helena%2C_1956-1961
'Until 1971, Britain remained a presence in the Persian/Arab Gulf, defending the small Shaykhdoms of the region, at the same time, of course, protecting British economic and political interests. It was inevitable, therefore, that as the Shaykhdoms developed and their populations benefited from education, conflicts between competing interests occurred, conflicts that led to perplexing problems for the Rulers of these small states and for the British Government. Such was the case in Bahrain, where in the decade of the 1950s, Bahraini nationalists seeking modernization collided with their Ruler. As a result, three Bahrainis were imprisoned on the British Island of St. Helena. The British role in the exile of the Bahraini three embarrassed Her Majesty's Government and served to illustrate the archaic nature of Britain's role in the Gulf. '
HANSARD 1803–2005: Search: bahrain helena - http://hansard.millbanksystems.com/search/bahrain%20helena
Nationalist Democratic Rally Society (Jami'at al-Tajammu' al-Qawmi al-Dimuqrati)
National Justice Movement
Popular Front for the Liberation of Bahrain
Shabeeba Society of Bahrain
Bahrain er medlem af Den arabiske liga, FN, Samarbejdsrådet for De Arabiske Golfstater / Cooperation Council for the Arab States of the Gulf.
Forsvar / militær: SIPRI: Militærudgifter / Military expenditure of Bahrain.
Værnepligt: Nej. WRI: Country report and updates: Bahrain.
Der er amerikanske baser i Bahrain fra 1947-: NSA Bahrain, Mina Sulman, Muharraq Airfield, NCTS Bahrain.
Formaliseret militært samarbejde med USA / Defense Cooperative Agreements og USCENTCOM, 1990 .
Kenneth Katzman: Bahrain: Key Issues for U.S. Policy, 2005.
- http://www.au.af.mil/au/awc/awcgate/crs/95-1013.pdf
'The cornerstone of U.S.-Bahrain defense relations is U.S. access to Bahrain's naval facilities. February 2008 marked the 60th anniversary of a U.S. naval command presence in Bahrain; MIDEASTFOR (U.S. Middle East Force), its successor, NAVCENT (naval component of U.S. Central Command), as well as the Fifth Fleet (reconstituted in June 1995) are headquartered there, at a sprawling facility called "Naval Support Activity-Bahrain." The facility now covers over 100 acres, and about 5,000 U.S. personnel, mostly Navy, are deployed in Bahrain...
The bulk of the construction program is to expand the naval facility, but $45 million of the funds is to be used to expand an apron at Shaykh Isa Air Base, where a variety of U.S. aircraft are stationed, including F-16s, F-18s, and P-3 surveillance aircraft, and $19 million is to be used for a Special Operations Forces facility'.
CRS: Bahrain: Reform, Security, and U.S. Policy. / : Kenneth Katzman. November 6, 2012. - 40 s.
Sociale bevægelser, herunder miljøorganisationer:
Bahrain Center for Human Rights
National Committee for Martyrs and Victims of Torture
The Movement of Liberties and Democracy in Bahrain
http://www.archive.org/details/MiddleEastPanorama_1
Religion: Overvejende Shiitisk islam.
Sociale forhold:: Nasra M Shah: Recent labour immigration policies in the oil-rich gulf: How effective are they likely to be?
- ILO Regional Office for Asia and the Pacific, 2008. 40 p.
http://www.ilo.org/asia/whatwedo/publications/lang--en/docName--WCMS_099165/index.htm
Økonomi: Den Internationale Bank for Genopbygning og Udvikling, Verdensbanken /
International Bank for Reconstruction and Development: Country at a Glance, 2011.
- http://go.worldbank.org/YB2ATM3HY0
Landet beskrives aktuelt af den amerikanske kongres forskningstjeneste som værende et skattely.
/ The country is currently described by the U.S. Congress Research Service as a tax haven.
/ Le pays est actuellement décrit par le Service de recherche du Congrès américain comme un paradis fiscal.
/ El país está descrito por los EE.UU. Servicio de Investigación del Congreso como un paraíso fiscal.
/ Das Land wird derzeit von der US-Kongress Forschungsdienst als Steueroase beschrieben.
Bankvæsen. Bahrain modtager militærrelateret økonomisk støtte fra USAs International Military Education and Training Funds.
Naturresourcer: Aluminium, olie, naturgas, perler.
Våbenfabrikker, våbenhandel og våbentransporter / Weapon Factories, arms trade and -transport: Import af store våben fra USA.
U.S. Arms Exports and Military Assistance in the "Global War on Terror" : 25 Country Profiles. / Project Director: Rachel Stohl, Senior Analyst Contributing Authors: Sarah Chankin-Gould et al. Center for Defense Information at the World Security Institute, 2007. - 149 s. Online.

---
Send kommentar, email eller søg i Fredsakademiet.dk