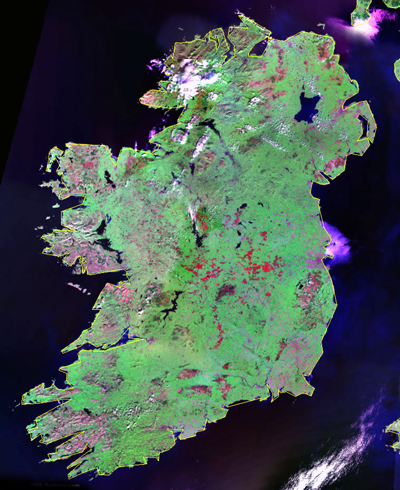 Geografi ; natur ; demografi ; historie ; kultur ; musik ; politik ; forsvar ; fredsbevægelser ; religion ; sociale forhold ; uddannelse ; økonomi.
Geography; nature; demographics; history, culture, music, politics, defense, peace movements, religion, social issues, education, economy.
Géographie, la nature, la démographie, histoire, la culture, la politique, la défense, les mouvements pacifistes, la religion, les questions sociales, l'éducation, économie.
Geografía, naturaleza, demografía, historia, cultura, política, defensa, movimientos por la paz, la religión, las cuestiones sociales, la educación, la economía.
Geographie, Natur, Demographie, Geschichte, Kultur, Politik, Verteidigung, Friedensbewegungen, Religion, Soziales, Bildung, Wirtschaft.
Geografi: Nordeuropæisk østat, delt i Republikken Irland og Nordirland med kystlinjer til Atlanterhavet og Det irske hav.
Demografi: The International Bank for Reconstruction and Development / The World Bank: Migration and Remittances Factbook 2011.
: Hungersnød: 1740-1741, 1845-1851.
Indvandring: Britter, Bruneiere, chilenere, cogolesere, franskmænd, jøder (Little Jerusalem Portobello, Dublin), pakistanere, tyskere.
Udvandring / diaspora: Argentina, Australien, Belgien, Bermuda, Canada, Chile, Colombia, El Salvador, Holland, Mexico, New Zealand, Puerto Rico, Storbritannien, Sydafrika, USA.
Minoritetsgrupper

Healy, Claire: "Foreigners of this Kind": Chilean Refugees in Ireland, 1973-1990' in "Irish Migration Studies in Latin America" 4:4 (October 2006).
(www.irlandeses.org), accessed 27 December 2010.
The Irish Language in the United States edited by Thomas W. Ihde (Westport: Bergin and Garvey, 1994).
Go Meiriceá Siar, edited by Stiofán Ó hAnnracháin (An Clóchomhar Tta, 1979).
Kerby Miller, Emigrants and Exiles (New York: Oxford University Press, 1985).
Historie: Oldtiden. Newgrange / Dún Fhearghusa, stenalderkomplekset Brú na Bóinne. Helleristninger / petroglyph. Kelterne eller gallerne / Celts, i bronze- og jernalderen. Vikingetiden.
The Oxford Companion to Irish History (2 ed.) / : Edited by S. J. Connolly.
- : Oxford University Press: 2011.
Abercromby, John: A study of the bronze age pottery of Great Britain & Ireland, and its associated grave-goods, ... with 1611 illustrations of pottery, 155 examples of grave-goods, and 10 plates showing ornamentation I-II (1912). 300+240 s.
- http://archive.org/details/studyofbronzeage01aberuoft , og
- http://archive.org/details/studyofbronzeage02aberuoft
Coffey, George: The bronze age in Ireland.
- Dublin, Hodges, Figgis, & co., limited; [etc., etc. ]. 1913. - 154 s.
- http://archive.org/details/bronzeageinirela00coffuoft
Vikingetiden: Worsaae, Jens Jakob Asmussen: Minder om Danske og Nordmændene i England, Skotland og Irland. - Kjøbenhavn : C. A. Reitzel, 1851. - 468 s.
- http://archive.org/details/minderomdanskeo00worsgoog
'De Danske i England.--Nord-mændene i Skotland.--Nordmændene i Irland.'
Middelalderen. Irland blev angrebet af vikingerne og Normannerne. Storbritanniens erobring af Irland 1172. Protestanternes magtdominans / Protestant Ascendancy 1691-1801. Det Forenede Kongerige Storbritannien / United Kingdom og Irland 1801-1922. Annie Besant. Boycott.
Deltagelse i krige / Participation in wars / Participation à des guerres / La participación en las guerras / Beteiligung an Kriegen
Irske oprørsforsøg mod Storbritannien (1534, 1569–1573, 1579–1583, 1594–1603, 1641–1652, 1798, 1799-1804, 1848, 1866–1871, 1867, 1867-1885, 1916)
Den irske uafhængighedskrig (1919-1922)
Den irske borgerkrig (1922-1923)

Definitive treaty [microfilm] : the articles of the definitive treaty of peace, between His Majesty the King of the United Kingdom of Great Britain and Ireland, (on the one part), and the French republic, His Majesty the King of Spain and the Indies, and the Batvian republic, (on the other part); signed at Amiens, March 27, 1802 by Cornwallis, Buonaparte, Azara, Schimmelpenninck; a correct copy, J. Buonaparte (1802)
http://www.archive.org/details/cihm_20867
The principles of peace, exemplified in the conduct of the Society of Friends in Ireland, during the rebellion of the year 1798, with some preliminary and concluding observations (1843).
http://www.archive.org/details/principlespeace00socigoog
Some ethical questions of peace and war, with special reference to Ireland (1920).
http://www.archive.org/details/someethicalquest00mcdouoft
Kultur: The encyclopaedia of Ireland. / : Brian Lalor, General Editor. Gill & Macmillan, 2003 - 1218 s.
Encyclopaedia of Ireland. - Dublin, A. Figgis; New York, McGraw-Hill, 1968.
Myth, Legend, and Romance: An Encyclopaedia of Irish Folk Tradition.
Compendium
- http://www.culturalpolicies.net/web/compendium.php og
- http://www.culturalpolicies.net/web/profiles-download.php?pcid=1010

Biblioteksvæsen. Bogvæsen: National Library of Ireland, Dublin.
A Catalogue of the Bradshaw Collection of Irish Books in the University Library, Cambridge (1916).
- https://archive.org/details/catalogueofbrads01cambuoft
- https://archive.org/details/catalogueofbrads02camb
- https://archive.org/details/catalogueofbrads03camb
'v.1. nos. 1-4087. Books printed in Dublin by known printers, 1602-1882. List of printers and booksellers in Dublin.- v.2. nos. 4088-8743. Books printed in Dublin without printer's name. Provincial towns. The works of Irish authors printed elsewhere, arranged alphabetically. Books printed elsewhere which relate to Ireland, arranged chronologically. App. I. Books and documents relating to the papacy. Deposited in the University library by the Rev. Robert James M'Ghee, A. M., A. D. 1840. App. II. List of books added during the compilation of the catalogue. Addenda. Notes and corrigenda.- v.3. Index'
Tekst:
TV
Aviser / Newspapers / journaux / Prensa / Tageszeitungen
Tidsskrifter, periodica / Journals, periodicals / Revues spécialisées, périodiques / Revistas, publicaciones periódicas / Zeitschriften, Periodika
A Handbook of Irish Folklore, with an introductory note by introductory note by Séamus Ó Duilearga (Dublin: Educational Company of Ireland for Folklore of Ireland Society 1942), xxxi, 699pp.; contains sections: Settlement and Dwelling; Livelihood and Household Support; Communications and Trade; The Community; Human Life; Nature; Folk-Medicine; Time; Principles and Rules of Popular Belief and Practice; Mythological Tradition; Historical Tradition; Religious Tradition; Popular Oral Literature; Sports and Pastimes. [Cited in Francis Shaw, S.J., 'The Irish Folklore Commission', in Studies (March 1944), pp.30-36.]
Kunst / Art: Albert Kahn: Claddagh, Ireland 1913 by Marguerite Mespoulet & Madeleine Mignon-Alba
Film:
Musikundervisning og pædagogik:
Musikhistorie:
Keening. Riverdance.
Ancient Irish Music (1873)
- https://archive.org/details/AncientIrishMusic
Annals of the Irish harpers (1911)
- https://archive.org/details/annalsofirishhar00foxcuoft
British music publishers, printers and engravers: London, Provincial, Scottish, and Irish (1900)
- https://archive.org/details/cu31924021638402
Broad-sheet ballads; being a collection of Irish popular songs. / Padraic Colum.
- Baltimore : N. Remington, 1914.
- https://archive.org/details/cu31924013512672
Graves, Alfred Perceval: Irish literary and musical studies (1913).
- http://www.archive.org/details/irishliterarymus00gravrich
Old Irish folk music and songs : a collection of 842 Irish airs and songs, hitherto unpublished. / : Royal Society of Antiquaries of Ireland.
- London : Longmans, Green, 1909. - 464 s.
- http://archive.org/details/oldirishfolkmusi00royauoft
'Preface -- Index -- pt. I. The Joyce collection -- pt. II. Continuation of the Joyce collection -- pt. III. The Forde collection --pt. IV. The Pigot collection'.
William Allingham, - http://www.ricorso.net/rx/az-data/authors/a/Allingham_W/life.htm
'Tennyson in Ireland -- The English spoken in Ireland -- James Clarence Mangan -- Sir Samuel Ferguson -- Joseph Sheridan Le Fanu -- William Allingham -- Early Irish religious poetry -- The religious songs of Connacht -- Celtic nature poetry -- The preternatural in early Irish poetry -- Dr. Joyce's Irish wonder book -- Folk song -- Edward Bunting -- George Petrie as an artist and man of letters -- George Petrie as an antiquary -- George Petrie as a musician and amongst his friends'.
William Allingham: Irish Songs and Poems (1887).
- http://www.archive.org/details/irishsongsandpo00alligoog
William Allingham: Songs, ballads and stories: Including Many Now First Collected;the Rest Revised and Rearranged (1877).
- http://www.archive.org/details/songsballadsand00alligoog
A General Collection of the Ancient Music of Ireland, Arranged for the Piano Forte. some of the most admired Melodies are adapted for the Voice To Poetry chiefly translated from the Original Irish Songs by Thomas Campbell Esq. and other Eminent Poets: To which is prefixed a Historical & Critical Dissertation on The Egyptian, British and Irish Harp ... Vol. 1st [sic]. - London: (engraved by Williamson), n.d. [1809].
- https://archive.org/details/generalcollectio00bunt_0
Oral and Print Cultures in Ireland, 1600-1900. Edited by Marc Caball and Andrew Carpenter. 2010. Dublin: Four Courts Press. 256 pp. - ISBN: 978-1-84682-195-0

Aktuelle og historiske musikorganisationer
Derek Bell 1935-2002. Harpenist og komponist / harpist and composer
Turloch O'Carolan 1670-1738, harpenist og sanger
- https://archive.org/search.php?query=Turlough%20Carolan
- http://www.discogs.com/artist/348871-Turlough-OCarolan
Irish minstrelsy, or, Bardic remains of Ireland: with English poetical translations. / : J. Robins, 1831.
- https://archive.org/details/irishminstrelsyo01hard
- https://archive.org/details/irishminstrelsyo02hard
Complete Works of Turlough O'Carolan
- http://www.oldmusicproject.com/OCC.html
Musikeksempler: John Renbourn: Three Pieces By O'Carolan
- https://www.youtube.com/watch?v=SQl_Nmpq_vA

Irske pladeselskaber / discographical listings of Irish-based record labels
Historiske pladeselskaber:
Tekst:
Aktuelle pladeselskaber:
Musikgrupper - og solister
Alexander Prince
Derek Bell 1935-2002 Harpenist og komponist / harpist and composer. The Chieftains Dublin City Ramblers
Felix Mendelssohn and his Hawaiian Serenaders
The Dubliners
The Chieftains
Flanagan Brothers
His Majesty's Irish Guards Band
John J. Kimmel
John McCormack
Leo Rowsome
Mary Dear
Packie Dolan
Paddy Cronin
Patrick Fitzpatrick
Royal Irish Rangers
Tom Ennis
Tom Ennis and John Gerrity

Folkemusik, spillemandsmusik og -viser
The Singers and Songs of County Clare project
- http://www.clarelibrary.ie/eolas/coclare/songs/cmc/index.htm
'The public library service in County Clare offers a wide range of music for lending throughout the county, and we have had a very strong traditional music collection in our branch library in Miltown Malbay for many years. In September 2012, Clare County Library launched the first part of its online "Music of Clare" project, featuring a selection of traditional Irish tunes commonly associated with County Clare. We wanted people to be able to listen to traditional tunes associated with County Clare, played by musicians who are from the county or who have lived in it for many years. We also included transcriptions of the featured tunes, to help anyone who wishes to learn the basic notes of the featured tunes.
Shortly after launching the traditional Irish music project, we received a phone call from Jim Carroll and Pat Mackenzie offering us a collection of recordings they had made of Irish singers from the early 1970s to the present day. Of course we had no idea of the huge extent of their collection, begun in the pubs of London and continued in the cottages of west Clare. From the enormous collection of files covering songs, music and folklore we present here a selection of songs sung by Clare singers, with transcriptions of song lyrics accompanying each recording, and various playlists for easy listening.'
Dublin City Ramblers 1970-.
- http://www.discogs.com/artist/616541-Dublin-City-Ramblers-The
The Dubliners. Barney McKenna, Bobby Lynch, Ciáran Bourke, Eamonn Campbell, Jim McCann, John Sheahan, Luke Kelly, Paddy Reilly, Patsy Watchorn, Ronnie Drew og Seán Cannon. 1962-.
- http://www.discogs.com/artist/274143-Dubliners-The
The Chieftains 1962-.
- http://www.discogs.com/artist/281041-Chieftains-The
James Galway 1939-. fløjtenist
- http://www.discogs.com/artist/325672-James-Galway
Musikeksempler
John Francis Count McCormack, 1884-1945.
John McCormack: Collected Works of John McCormack, eksempelvis Keep the Home-Fires Burning
- http://archive.org/details/JohnMcCormack
Pop
Rose Brennan (born 1 January 1931) is an Irish singer. She is best known for a long spell with the Joe Loss orchestra in the 1950s and 1960s.
- http://www.discogs.com/artist/1228219-Rose-Brennan
Musikeksempler: Irish Pub Favourites. Wing Records WL1128 1963
Rock, herunder Celtic Rock
IrishRock.org - http://www.irishRock.org/
'We are attempting to document as many Irish Rock bands as possible, concentrating on the period 1966-1991'.
Politik: Government of Ireland Act 1920. Pan-Celticism.
Aktuelle og historiske politiske partier / Current and historical political parties / Actuelles et historiques des partis politiques / Los partidos políticos actuales e históricos / Aktuelle und historische politische Parteien
Ailtirí na hAiséirghe
All-for-Ireland League
Aontacht Éireann
British and Irish Communist Organisation
Business and Professional Group
Catholic Union
Christian Centrist Party
Christian Democrats (The National Party)
Christian Solidarity Party
Clann Éireann
Clann na Poblachta
Clann na Talmhan ·Córas na Poblachta
Cork Socialist Party
Cumann na nGaedheal
Cumann na Poblachta
Cumann Poblachta na hÉireann
Democratic Left
Democratic Socialist Party
Donegal Progressive Party
Éirígí (Local elections only)
Farmers' Party
Fathers Rights-Responsibility Party
Fianna Fáil
Fine Gael
Fís Nua
Green Party
Home Government Association
Home Rule League
Independent Fianna Fáil
Independent Health Alliance
Independent Irish Party I
rish Anti-Partition League
Irish Conservative Party
Irish Independence Party
Irish Liberal Party
Irish Metropolitan Conservative Society
Irish National Federation
Irish National League
Irish Parliamentary Party 1883-?
Irish Patriot Party
Irish Reform Association
Irish Republican Socialist Party
Irish Socialist Network
Irish Socialist Republican Party
Irish Unionist Alliance
Irish Worker League
Irish Workers' Group
Irlands Piratparti / Pirate Party Ireland / Páirtí Foghlaithe na hÉireann
Labour Party
League for a Workers Republic
Letterkenny Residents Party
Libertas ·Monetary Reform Party
Muintir na hÉireann
National Association
National Centre Party
National Corporate Party
National Labour Party
National League Party
National Party (1924)
National Party (1995)
National Progressive Democrats
People Before Profit Alliance
Poblacht Chríostúil
Progressive Democrats
Repeal Association
Republican Congress
Republican Sinn Féin
Republican Sinn Féin
Saor Éire
Seniors Solidarity Party
Sinn Féin
Sligo/Leitrim Independent Socialist Organisation
Socialist Labour Party
Socialist Party
Socialist Party of Ireland Workers League
Socialist Workers Party
South Kerry Independent Alliance
United Irish League
United Left Alliance
Workers and Unemployed Action Group
Workers' Party
Irland er medlem af EU, Europarådet, FN, det internationale energiagentur, det internationale havundersøgelsesråd ICES, NATO, the "New Agenda" Coalition, OSCE.
Regering: Westminster regerings systemet.
Forsvar / militær: SIPRI: Militærudgifter / Military expenditure of Ireland.
Værnepligt: Nej. WRI: Country report and updates: Ireland.
Anti-Conscription League, Dublin, 1918?-?
Co-operation Ireland
The Corrymeela Community
Dublin Olive Leaf Circle, 1854?
The Glencree Centre for Peace and Reconciliation
Innate, Irish Network for Nonviolent Action Training and Education
Irish Anti-War Movement
Irish Peace Society
The Peace & Neutrality Alliance, Dublin, 1996 - The Peace & Neutrality Alliance was established to advocate an independent Irish foreign policy, maintain Irish neutrality and promote a transformed United Nations as the organisation through which Ireland should pursue its security concerns.
Tipperary Peace Concention & Tipperary International Peace Award
- http://www.tipperarypeace.ie/
'The name Tipperary, because of the song "It's a long way to Tipperary", was internationally associated with war. The founding committee of the Tipperary Peace Convention felt it was time that our town should be known for peace. To this end, the Peace Convention was instituted in 1983 by a group of enthusiastic people, Tim Ryan, Joe Quinn, Maureen Walsh and Noel McInerney. The original aims were to promote the concept of peace through music and discussion, to provide an Open Forum for the discussion of current peace-related issues with contributions from leading spokespeople of various and diverse viewpoints and to select and reward, annually, a person who has made a particularly noteworthy contribution to the peace-making process.'
Sociale forhold: Lismore Poor Law Union
Until the introduction of the Poor Law in 1838 the poor in Ireland were provided for on an ad hoc basis by private charities and miscellaneous government schemes. The poor law was introduced in Ireland in 1838 and operated until 1923. The country was divided into poor law unions each of which had a Workhouse run by elected and ex-officio guardians. These guardians were supervised by the Poor Law Commissioners and after 1872, the Local Government Board.
Sociale bevægelser, herunder miljøorganisationer:
Veronica Guerin ; Concerned Parents Against Drugs 1996-
Religion: The Book of Kells. Overvejende romersk katolsk.
Miraculous Plenty. / [translater] Caulfield & O'Suilleabhain. Translation of Scéalta Cráibhtheacha / Irish Religious Folktales and Legends. Baile Átha Cliath : Cumann le Béaloideas Éireann, 1952.
Herrnhuterne også kaldet Den mähriske eller den Herrnhutiske Brødremenighed
Free University of Ireland, Center for the Study of Peace
Irish School of Ecumenics, International Peace Studies and Reconciliation Studies
University of Limerick, Centre for Peace and Development Studies
Økonomi: Den Internationale Bank for Genopbygning og Udvikling, Verdensbanken /
International Bank for Reconstruction and Development: Country at a Glance, 2011.
- http://go.worldbank.org/YB2ATM3HY0
Landet beskrives aktuelt af den amerikanske kongres forskningstjeneste som værende et skattely.
/ The country is currently described by the U.S. Congress Research Service as a tax haven.
/ Le pays est actuellement décrit par le Service de recherche du Congrès américain comme un paradis fiscal.
/ El país está descrito por los EE.UU. Servicio de Investigación del Congreso como un paraíso fiscal.
/ Das Land wird derzeit von der US-Kongress Forschungsdienst als Steueroase beschrieben.
Økonomiske kriser: 2008-. Bankkrisen.
Handelshistorie: Macpherson, David. Annals of Commerce, Manufactures, Fisheries, and Navigation: With Brief Notices of the Arts and Sciences Connected with Them: Containing the Commercial Transactions of the British Empire and Other Countries, from the Earliest Accounts to the Meeting of the Union Parliament in January 1801: And Comprehending the Most Valuable Part of the Late Mr. Andersen's History of Commerce with a Large Appendix, containing chronological tables of the sovereigns of Europe, tables of the alterations of money in England and Scotland, a chronological table of the prices of corn, and a commercial and manufactural gazetteer of the United Kingdom of Great Britain and Ireland; with a general chronological index and a commercial and manufactural gazetteer of the United Kingdom of Great Britain and Ireland; with a general chronological index. The Ancient Part composed from the most authentic Original Historians and Public Records, printed and in Manuscript ; and the modern Part from Materials of unquestionable Authenticity (mostly unpublished) extracted from the Records of Parliament, the Accounts of the Custom-house, the Mint, the Board of Trade, the Post- office, the East-India Company, the Bank of England, &c. &c., I-IV.
- London: Nichols and Son etc., 1805.- 772+758+748+764 s.
- http://archive.org/details/cihm_64173
- http://archive.org/details/annalsofcommerce02macp
- http://archive.org/details/annalsofcommerce03macpuoft
- http://archive.org/details/annalsofcommerc04macp
'For the first volume, up to the discovery of America, Macpherson is wholly responsible. In the second and part of the third volumes (1492-1760) he merely edits and alters Adam Anderson's History of commerce. The remainder of the work, bringing the history down to 1801, was compiled by Macpherson from official records'.
Naturresourcer: Olie og zink.
Våbenfabrikker, våbenhandel og våbentransporter / Weapon Factories, arms trade and -transport:
---
Send kommentar, email eller søg i Fredsakademiet.dk