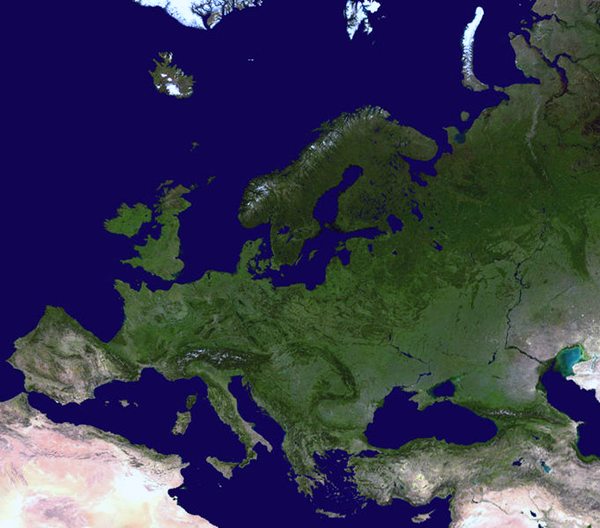 Geografi: Kontinent med grænser til Asien og med kystlinjer til Atlanterhavet - herunder GIUK-passagen, Middelhavet, Sortehavet og Østersøen.
Geography; Continent with borders to Asia and with shorelines to the Atlantic - in-cluding the GIUK passage, the Mediter-ranean, the Black Sea and the Baltic Sea.
Se også: Balkan ; Baltikum ; Benelux ; enevælde ; Euasien ; den gregorianske kalender ; imperialisme ; middelalderen ; Norden / Skandinavien ; oplysningstiden ; reformationen ; romantikken ; Sammenslutningen af uafhængige stater (SNG (fra det forhenværende Sovietunionen)).
Natur: The Peace Palace Library: Bibliography on Water Resources and International Law.
The European Green Party - http://europeangreens.eu/
Natura 2000 - Sammenlæggende europæisk netværk af beskyttelsesområder. Består af områder af særlig betydning for Fællesskabet (SCI) i henhold til EU's Habitantdirektiv og særlige beskyttelsesområder i henhold til EU's Fuglebeskyttelsesdirektiv, herunder Natura 2000 data - the European network of protected sites
- http://www.eea.europa.eu/data-and-maps/data/natura-1 og
- http://miljoegis.mim.dk/cbkort?profile=miljoegis-natura2000

Demografi: The Association of European Migration Institutions.
Historie: EuroDocs: Online Sources for European History : Selected Transcriptions, Facsimiles and Translations.
The map of Europe by Treaty ; showing the various political and territorial changes which have taken place since the general peace of 1814 (1875). - http://www.archive.org/details/mapeuropebytrea01hertgoog
Handbuch der historischen Buchbestände in Deutschland, Österreich und Europa. / : Hrsg. von Bernhard Fabian. Digitalisiert von Günter Kükenshöner. Hildesheim: Olms Neue Medien 2003. - http://fabian.sub.uni-goettingen.de/

Kultur: Compendium.
- http://www.culturalpolicies.net/
'The Council of Europe/ERICarts "Com-pendium of Cultural Policies and Trends in Europe, 13th edition", 2012 is a web-based and permanently updated information and monitoring system of national cultural policies in Europe. It is a long term project which aims to include all 50 member states co-operating within the context of the European Cultural Convention'.
Kunst / Art, herunder art nouveau, 1890-1910
Quaker Council for European Affairs: European Peace Directory.
- http://www.quaker.org/qcea/qcea/peacedirectory/topic/nationalgroups.htm
Ziemann, Benjamin: A Quantum of Solace? European Peace Movements during the Cold War and their Elective Affinities. In: Archiv für Sozialgeschichte. 49, 2009. pp. 351-289.
Amnesty International: Årsrapporter, eksempelvis 2010.
http://thereport.amnesty.org/regions/europe-central-asia
Den Europæiske Kommission mod Racisme og Intolerance
- http://www.coe.int/t/dghl/monitoring/ecri/Country-by-country
10 millioner europæere er nu langtidsledige
- http://www.ae.dk/files/AE_krise-i-Europa-10-millioner-europaere-er-nu-langtidsledige.pdf
'11. juni 2012 ANALYSE Nye tal fra Eurostat, som Arbejderbevægelsens Erhvervsråd har analyseret, viser, at knapt 10 millioner arbejdsløse i EU-27 nu har været ledige i et år eller mere - det svarer til, at mere end fire ud af ti af de arbejdsløse er langtidsledige - den høje langtidsledighed er et symptom på, at arbejdsløsheden i Europa er ved at bide sig fast. '
Eurozone risks losing a further 4.5 million jobs
A report by the ILO's International Institute for Labour Studies says a concerted policy shift towards job creation is needed in order to reverse the heavy unemployment crisis affecting the single-currency area.
GENEVA (ILO News) – Unemployment in the Eurozone could reach almost 22 million over the next four years, up from 17.4 million, unless policies change course in a concerted manner, the ILO says in a report entitled "Eurozone job crisis: trends and policy responses" , 2012. - 56 s.
FN advarer: EU's krisestrategi gør millioner arbejdsløse: Nedskæringspolitikken i eurozonen har slået fejl og må droppes, siger FN's arbejdsorganisation, ILO, der venter 4,5 mio. flere arbejdsløse, hvis ikke linjen lægges om. / : Jørgen Steen Nielsen. Lagt på information.dk 12. juli 2012. Bragt i den trykte udgave 13. juli 2012 på side 1 i 1. sektion.

Erhverv, handel og industri:
Handelshistorie: Macpherson, David. Annals of Commerce, Manufactures, Fisheries, and Navigation: With Brief Notices of the Arts and Sciences Connected with Them: Containing the Commercial Transactions of the British Empire and Other Countries, from the Earliest Accounts to the Meeting of the Union Parliament in January 1801: And Comprehending the Most Valuable Part of the Late Mr. Andersen's History of Commerce with a Large Appendix, containing chronological tables of the sovereigns of Europe, tables of the alterations of money in England and Scotland, a chronological table of the prices of corn, and a commercial and manufactural gazetteer of the United Kingdom of Great Britain and Ireland; with a general chronological index and a commercial and manufactural gazetteer of the United Kingdom of Great Britain and Ireland; with a general chronological index. The Ancient Part composed from the most authentic Original Historians and Public Records, printed and in Manuscript ; and the modern Part from Materials of unquestionable Authenticity (mostly unpublished) extracted from the Records of Parliament, the Accounts of the Custom-house, the Mint, the Board of Trade, the Post- office, the East-India Company, the Bank of England, &c. &c., I-IV.
- London: Nichols and Son etc., 1805.- 772+758+748+764 s.
- http://archive.org/details/cihm_64173
- http://archive.org/details/annalsofcommerce02macp
- http://archive.org/details/annalsofcommerce03macpuoft
- http://archive.org/details/annalsofcommerc04macp
'For the first volume, up to the discovery of America, Macpherson is wholly responsible. In the second and part of the third volumes (1492-1760) he merely edits and alters Adam Anderson's History of commerce. The remainder of the work, bringing the history down to 1801, was compiled by Macpherson from official records'.
EU: Notices from European Union institutions and bodies council tenth annual report according to operative provision 8 of the European Union code of conduct on arms exports (2008/C 300. http://www.enaat.org/eu/2008-EU-Report-Eng.pdf
The European Network Against Arms Trade ENAAT 1984-.
US tactical nuclear weapons in Europe, 2011. / : Robert S. Norris ; Hans M. Kristensen.
I: Bulletin of the Atomic Scientists January/February 2011 vol. 67 no. 1 64-73.
- http://bos.sagepub.com/content/67/1/64.full
Hans M. Kristensen: U.S. Nuclear Weapons in Europe : A Review of Post-Cold War Policy, Force Levels, and War Planning.
Natural Resources Defense Council, 2005.
- http://nukestrat.com/pubs/EuroBombs.pdf

---
Send kommentar, email eller søg i Fredsakademiet.dk