Geografi ; natur ; demografi ; historie ; kultur ; politik ; forsvar ; fredsbevægelser ; religion ; sociale forhold ; uddannelse ; økonomi.
Geography; nature; demographics; history, culture, politics, defense, peace movements, religion, social issues, education, economy.
Géographie, la nature, la démographie, histoire, la culture, la politique, la défense, les mouvements pacifistes, la religion, les questions sociales, l'éducation, économie.
Geografía, naturaleza, demografía, historia, cultura, política, defensa, movimientos por la paz, la religión, las cuestiones sociales, la educación, la economía.
Geographie, Natur, Demographie, Geschichte, Kultur, Politik, Verteidigung, Friedensbewegungen, Religion, Soziales, Bildung, Wirtschaft.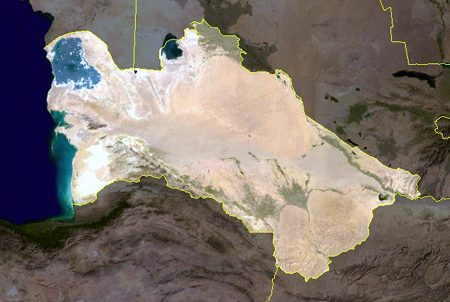 Geografi: Asiatisk, mellemøstlig republik med grænser til Afghanistan, Iran, Kasakhstan og Usbekistan og med kystlinje til Det Kaspiske Hav.
Demografi: The International Bank for Reconstruction and Development / The World Bank: Migration and Remittances Factbook 2011.

Indvandring
Minoritetsgrupper
Turkmenistan var en del af Sovietunionen.
Deltagelse i krige / Participation in wars / Participation à des guerres / La participación en las guerras / Beteiligung an Kriegen
Tekst:
TV
Tekst:
Aviser / Newspapers / journaux / Prensa / Tageszeitungen
Tidsskrifter, periodica / Journals, periodicals / Revues spécialisées, périodiques / Revistas, publicaciones periódicas / Zeitschriften, Periodika
Kunst / Art
Film:
Musikundervisning og pædagogik:
Musikhistorie:
Aktuelle og historiske musikorganisationer
Historiske pladeselskaber:
Tekst:
Aktuelle pladeselskaber:
Musikgrupper - og solister
Country & Western
Tekst:
Folkemusik, spillemandsmusik og -viser
Musikeksempler
Pop
Politik: Politiske partier: Nej.
Turkmenistan er medlem af FN, Sammenslutningen af Uafhængige Stater (SNG).
Forsvar / militær
Sociale bevægelser, herunder miljøorganisationer:
Økonomi: Den Internationale Bank for Genopbygning og Udvikling, Verdensbanken /
International Bank for Reconstruction and Development: Country at a Glance, 2011.
- http://go.worldbank.org/YB2ATM3HY0

Naturresourcer: Naturgas.
CRS: Europe's Energy Security: Options and Challenges to Natural Gas Supply Diversification. / Michael Ratner et al. 2012. - 32 s.
Våbenfabrikker, våbenhandel og våbentransporter: Import af våben fra USA.
U.S. Arms Exports and Military Assistance in the "Global War on Terror" : 25 Country Profiles. / Project Director: Rachel Stohl, Senior Analyst Contributing Authors: Sarah Chankin-Gould et al. Center for Defense Information at the World Security Institute, 2007. - 149 s. Online.

---
Send kommentar, email eller søg i Fredsakademiet.dk