Geografi ; natur ; demografi ; historie ; kultur ; politik ; forsvar ; fredsbevægelser ; religion ; sociale forhold ; uddannelse ; økonomi.
Geography; nature; demographics; history, culture, politics, defense, peace movements, religion, social issues, education, economy.
Géographie, la nature, la démographie, histoire, la culture, la politique, la défense, les mouvements pacifistes, la religion, les questions sociales, l'éducation, économie.
Geografía, naturaleza, demografía, historia, cultura, política, defensa, movimientos por la paz, la religión, las cuestiones sociales, la educación, la economía.
Geographie, Natur, Demographie, Geschichte, Kultur, Politik, Verteidigung, Friedensbewegungen, Religion, Soziales, Bildung, Wirtschaft.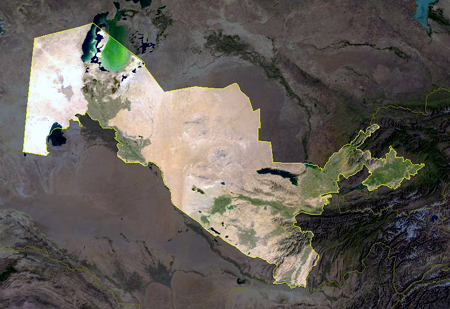 Geografi: Asiatisk, mellemøstlig republik med grænser til Afghanistan, Kasakhstan, Kirgisistan og Tadsjikistan. Del af Transoxiana-området.
Geografihistoriske fremstillinger: Abbott, James, Sir: Narrative of a journey from Heraut to Khiva, Moscow, and St. Petersburgh, during the late Russian invasion of Khiva; with some account of the court of Khiva and the Kingdom of Khaurism (1867).
- http://www.archive.org/details/narrativeofjourn01abbo
Natur: Amu Darja eller Oxus floden.
Demografi: The International Bank for Reconstruction and Development / The World Bank: Migration and Remittances Factbook 2011.

Indvandring
Udvandring: Rusland.
Minoritetsgrupper
Historie: Usbekistan var en del af Seljuk Sultanatet 1037-1194 og senere en del af Sovietunionen.
Deltagelse i krige
Kultur:: National Bibliography of Uzbekistan.
- http://www.library.illinois.edu/spx/webct/nationalbib/natbibuzbek.html, herunder
Alisher Navoiy Nomidagi O'zbekiston Milliy Kutubxonasi / National Library of Uzbekistan named after Alisher Navoi.
- http://www.natlib.uz/
'The National Library of Uzbekistan, named after Alisher Navoi, is a national repository of home and foreign publications, methodic, research and is a coordinating center in sphere of library science, bibliography and the Republic's librarianship history. The library is one of the most important and oldest repositories in the Central Asia region. It was founded in 1870 as the Tashkent Public Library.'
Uzbekistan Instruments & Music
- http://www.archive.org/details/Globalcafe-UzbekistanInstrumentsMusic901-2
Biblioteksvæsen. Bogvæsen:
Tekst:
Aviser / Newspapers / journaux / Prensa / Tageszeitungen
Tidsskrifter, periodica / Journals, periodicals / Revues spécialisées, périodiques / Revistas, publicaciones periódicas / Zeitschriften, Periodika
Kunst / Art
Film:
Aktuelle og historiske politiske partier / Current and historical political parties
Usbekistan var medlem af the Collective Security Treaty Organization / Den Kollektive Sikkerhedstraktat Organisation 1994-2012 og er medlem af FN, Sammenslutningen af Uafhængige Stater (SNG) ; Shanghai Cooperation Organisation eller Shanghai 6 tidligere Shanghai 5.
Efterretningstjenester: Svensk TV: Uppdrag granskning: Teliasonera cooperates with oppressive regimes, 04/18/2012
Sociale bevægelser, herunder miljøorganisationer:
Sociale forhold:: Slave Nation: State Sponsored Forced Child Labour in Uzbekistan's Cotton Fields. Environmental Justice Foundation, February 2010. - 21 s. - http://www.ejfoundation.org/pdf/slave_nation.pdf
Økonomi: Den Internationale Bank for Genopbygning og Udvikling, Verdensbanken /
International Bank for Reconstruction and Development: Country at a Glance, 2011.
- http://go.worldbank.org/YB2ATM3HY0

Våbenfabrikker, våbenhandel og våbentransporter: Import af våben fra USA.
U.S. Arms Exports and Military Assistance in the "Global War on Terror" : 25 Country Profiles. / Project Director: Rachel Stohl, Senior Analyst Contributing Authors: Sarah Chankin-Gould et al. Center for Defense Information at the World Security Institute, 2007. - 149 s. Online.

---
Send kommentar, email eller søg i Fredsakademiet.dk