Geografi ; natur og klima ; demografi ; historie ; krige ; kultur ; kunst ; film ; musik ; politik ; politiske partier ; forsvar ; fredsbevægelser ; religion ; sociale forhold ; uddannelse ; økonomi og våbenhandel.
Geography, nature and climate, demographics, history, wars, culture, film, music, politics, defense, peace movements, religion, social issues, education, economy and arms trade.
Géographie, la nature, la démographie, histoire, la culture, la politique, la défense, les mouvements pacifistes, la religion, les questions sociales, l'éducation, économie.
Geografía, naturaleza, demografía, historia, cultura, política, defensa, movimientos por la paz, la religión, las cuestiones sociales, la educación, la economía.
Geographie, Natur, Demographie, Geschichte, Kultur, Politik, Verteidigung, Friedensbewegungen, Religion, Soziales, Bildung, Wirtschaft.
Geografi: Iran er en mellemøstlig, islamisk republik og teokrati med grænser til Afghanistan, Aserbajdsjan, Irak, Pakistan, Turkmenistan og Tyrkiet og med kystlinjer til Det kaspiske hav, Omanbugten og Den persiske bugt.

Irans kultur: Encyclopædia Iranica - http://www.iranica.com/

Massemedier og pressefrihed / Mass media and freedom of the press:
Internet enemies. Reporters Without Borders (Paris), 2009.
- http://www.rsf.org/IMG/pdf/Internet_enemies_2009_2_.pdf
Tekst:
TV
Biblioteksvæsen / Libraries. Bogvæsen / Books:
The National Library and Archives Organisation of Iran
- http://old.nlai.ir/Default.aspx?alias=old.nlai.ir/en
'NLAI is an educational, research, and service institution whose statute has been ratified by the Islamic Consultative Assembly (Parliament). At the highest level, it is chaired by the President of the nation. The National Library of Iran was established in 1937. In 1979, the Tehran Book Processing Centre (TEBROC), and in 1999, the Islamic Revolution Cultural Documentation Organisation (IRCDO) were merged into the National Library. Thus, National Library and Documentation Organisation was created. Finally, in 2002 the latter was joined by the National Iranian Archives to make NLAI.'
Iranian International Standard Identifier of Libraries. / : The National Library and Archives Organisation of Iran, 2007.
Aviser / Newspapers / journaux / Prensa / Tageszeitungen
Iranian Newspapers. / : The National Library and Archives Organisation of Iran.
- http://old.nlai.ir/Default.aspx?tabid=502
Tidsskrifter, periodica / Journals, periodicals / Revues spécialisées, périodiques / Revistas, publicaciones periódicas / Zeitschriften, Periodika
Catalogue of Books on Iranian Literature published in Europe and India, 1900
- http://www.archive.org/details/CatalogueOfBooksOnIranianLiteraturePublishedInEuropeAndIndia
Kunst / Art
Kunstakademier
Kunsthistorie
Bibliography for the Art of Ancient Iran. / : Edith Porada.
- https://archive.org/details/BibliographyForTheArtOfAncientIran
This bibliography which appeared in the Journal of the Ancient Near Eastern Society 9(1977) pp. 67-84 was created by the renowned art historian Edith Porada and consists of a selection of books, articles, archaeological reports, and even reviews which contain valuable information on the art of Iran. Included is a second bibliography of Additions prepared by Susan Jaye Pattulo at Porada's request which appeared in JANES 10(1978) pp. 109-111.
Edith Porada - A Centenary Volume / Edith Porada zum 100. Geburtstag. / : Erika Bleibtreu (Author, Editor), Hans Ulrich Steymans (Editor). Orbis Biblicus et Orientalis (Book 268), 2015.
- https://archive.org/details/BleibtreuSteymans2014EdithPorada
Iran : den førislamiske kunst. / : Edith Porada, oversat af Erik Brinch Petersen ; gennemset af Peder Mortensen. Hassing, 1963.
Kunstmuseer
Malere
Film / Movies / cinéma / Cine / Filme:
Filmhistorie:
Undervisning i film:
Producentselskaber:
Filmografier:
Tekst:
Iran var medlem af Folkeforbundet og var senere medlem af CENTO under den kolde krig og er aktuelt medlem af FN, Forum for gaseksporterende lande / Gas Exporting Countries Forum, Den Islamiske konference organisation / Organization of the Islamic Conference, OPEC.
Forsvar / militær: SIPRI: Militærudgifter / Military expenditure of Iran.
Værnepligt: WRI: Country report and updates: Iran.
CRS: Interim Agreement on Iran's Nuclear Program / : Kenneth Katzman ; Paul K. Kerr, 2013.
CRS Israel: Possible Military Strike Against Iran's Nuclear Facilities. / : Jim Zanotti et al. September 28, 2012. - 61 s.
CRS: Iran's Nuclear Program: Status. / : Paul K. Kerr. September 26, 2012. - 54 s.
CRS: Iran's Nuclear Program: Tehran's Compliance with International Obligations. / : Paul K. Kerr. September 18, 2012. - 21 s.

Efterretningstjenester: Heeger, Troels: Vestlige firmaer hjælper Syrien og Iran med overvågning: Diktatoriske regimer som Syrien og Iran anvender i stor stil vestlig overvågningsteknologi til at slå ned på de spirende demokratiske bevægelser. Den direkte konsekvens er henrettelse og tortur af pro-demokratiske demonstranter. Det er brud på menneskerettigheder, siger ekspert. Lagt på information.dk 10. november 2011 kl. 22:16. Bragt i den trykte udgave 11. november 2011 på side 8 i 1. sektion. Senest opdateret 10. november 2011 kl. 22:52
Sociale bevægelser, herunder miljøorganisationer:
Coordinating Council of the Green Path of Hope
Universiteter: Shahid Beheshti University, UNESCO Chair for Human Rights, Peace and Democracy.
Private organisationer:
Økonomipolitik:
CRS: Iran's Central Bank Asks Supreme Court to Consider Whether the Bank's Assets Abroad are Immune from Attachment to Satisfy Terror Judgments. / : Jennifer K. Elsea, 2018.
Central Bank of Iran. Official Journal of the European Union: COUNCIL REGULATION (EU) No 56/2012 of 23 January 2012 amending Regulation (EU) No 961/2010 on restrictive measures against Iran.
Handel med Iran er underlagt visse begrænsninger afledt af de sanktioner, som De Forenede Nationers Sikkerhedsråd (UNSC) har vedtaget om Iran: Sikkerhedsrådets resolution 1737 af 23. december 2006 UNSCR 1747 af marts 2007, resolution 1803 af marts 2008 og UNSCR 1929 af juni 2010 . EU-handelsrestriktioner med Iran er reguleret ved Rådets forordning 423/2007, 618/2007 og 1110/2008, som indeholder en liste over produkter som er forbudt eksport til Iran.
European Union: Restrictive measures (sanctions) in force (measures adopted in the framework of the Common Foreign and Security Policy) This list has been updated on 6.3.2012.- 83 s. - http://www.eeas.europa.eu/cfsp/sanctions/docs/measures_en.pdf
BNP - FN data, landbrug, fiskeri, industri: EU: Iran - Trade Statistics, 2012. - 11 s.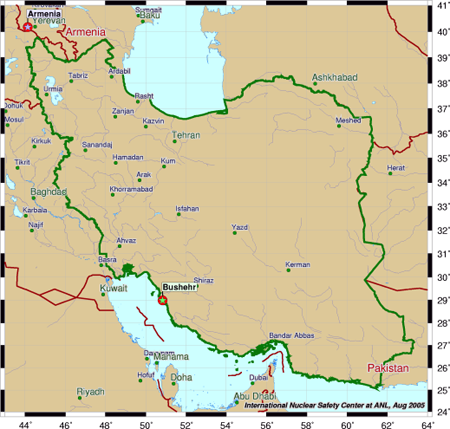 Naturressourcer og energi: Aluminium, bly, jernmalm, kopper, krom, kul, mangan, olie og naturgas, svovl, uran og zink.
National Iranian Oil Company 1948-.
Olieeksport bl.a. til Indien, Italien, Japan, Kina og Sydkorea.
U.S. Energy Information Administration: Country Analyses Briefs, Iran, 2012.
- http://www.eia.gov/emeu/cabs/Iran/pdf.pdf
'Iran holds the world's fourth-largest proven oil reserves and the world's secondlargest natural gas reserves'.
EU imposes Iran oil embargo : The European Union's oil boycott is part of a U.S.-led campaign of sanctions to pressure Iran to return to talks over its nuclear enrichment program. / Henry Chu and Paul Richter, Los Angeles Times, January 24, 2012.
'Reporting from London and Washington — Europe slapped a boy-cott on Iranian oil Monday, signaling that the Islamic Republic's second-largest market is likely to dry up as part of a U.S.-led sanctions campaign that has already inflicted serious damage on Iran's economy and sharply increased tensions'.
Udenrigsministeriet: Søvndal om styrkede Iran sanktioner: EU mener dét her alvorlig, 23.01.2012.
EU's udenrigsministre har i dag besluttet en markant stramning af EU's sanktioner over for Iran. De blev ligeledes enige om at skærpe sanktionerne overfor Syrien samt at lempe sanktionerne over for Burma, der igennem den seneste tid har gennemgået en positiv udvikling i retning af demokrati og national forsoning. EU's udenrigsministre mødtes i dag i Bruxelles. Her vedtog de bl.a. en markant stramning af sanktionerne over for Iran.'Dagens beslutning sker i lyset af den foruroligende udvikling i landets atomprogram.
De nye sanktioner medfører blandt andet et EU-forbud mod køb, import og transport af iransk olie, tiltag rettet mod den petrokemiske industri i Iran, samt stærke restriktioner over for den finansielle sektor i Iran. Det blev ligeledes besluttet at indefryse den iranske centralbanks midler i EU. Fra dansk side har man aktivt støttet udformningen af de nye sanktioner ud fra et ønske om at lægge pres på regimet i Iran. Fra dansk side støttes fortsat den såkaldte to-sporstilgang, hvor EU gennem sanktioner søger at få Iran tilbage til forhandlingsbordet.'
CRS: Europe's Energy Security: Options and Challenges to Natural Gas Supply Diversification. / Michael Ratner et al. 2012. - 32 s.
Die Bodenkultur in Persien und ihre Ausfuhrerzeugnisse von Hans Heinrich Beuek. Druck und Verlag von Äug, Redding, Hamburg 1919.
Udenrigshandel / Foreign trade / Commerce extérieur / Außenhandel
Erhverv, handel og industri: Atomkraftværker. Kendte atomkraft-værker i: Anarak, Arak, Ardakan, Bonab, Bushehr, Chalus, Darkovin, Fordow, Isfahan, Karaj, Lashkar Abad, Lavizan, Natanz, Parchin, Saghand, Tehran og i Yazd. Bilproduktion.
---
Send kommentar, email eller søg i Fredsakademiet.dk