Geografi ; natur ; demografi ; historie ; kultur ; politik ; forsvar ; fredsbevægelser ; religion ; sociale forhold ; uddannelse ; økonomi.
Geography; nature; demographics; history, culture, politics, defense, peace movements, religion, social issues, education, economy.
Géographie, la nature, la démographie, histoire, la culture, la politique, la défense, les mouvements pacifistes, la religion, les questions sociales, l'éducation, économie.
Geografía, naturaleza, demografía, historia, cultura, política, defensa, movimientos por la paz, la religión, las cuestiones sociales, la educación, la economía.
Geographie, Natur, Demographie, Geschichte, Kultur, Politik, Verteidigung, Friedensbewegungen, Religion, Soziales, Bildung, Wirtschaft.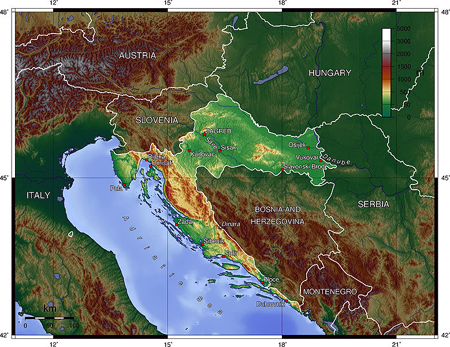 Geografi: Sydvesteuropæisk republik beliggende på Balkan med grænser til Bosnien-Hercegovina, Serbien, Slovenien og Ungarn og med kystlinje til Middelhavet. Geografihistoriske fremstillinger: Tabula Peutingeriana
- http://www.euratlas.net/cartogra/peutinger/index.html
Tabula Hungariae - László Irmédi-Molnár: The Earliest Known Map of Hungary. I: Imago Mundi. 18. 1964 53-59. s. Lazarus secretarius. The First Hungarian Mapmaker and His Work. / Lajos Stegena. Budapest, 1982. -114. s.
Natur: Dunaufloden. World Database on Protected Areas: Beskyttede områder og nationalparker. The Peace Palace Library: Bibliography on Water Resources and International Law. . Donaukonventionen, Donaus miljøforum. Den Internationale Kommission for Be-skyttelse af Donau. Konventionen om samarbejde om beskyttelse og bæredygtig udnyttelse af Donau. Parisersøretsdeklarationen af 1856. Litteratur: Meddelelse fra EU Kommissionen - Miljø-samarbejde i Donau-Sortehavsregionen, 2001.
Demografi: The International Bank for Reconstruction and Development / The World Bank: Migration and Remittances Factbook 2011.

Historie: Oldtiden. Middelalderen. Venedi. Republikken Ragusa 1358-1808. Det ottomanske rige. Kroatien har været medlem af Kongeriget Jugoslavien eller Kongeriget af serbere, kroater og slovenere. Den uafhængige stat Kroatien 1941-1945 og Den føderative folkerepublik Jugoslavien, Den socialistiske føderative republik Jugoslavien og forbundsrepublikken Jugoslavien 1945-2003.
Deltagelse i krige
Mongoliet 1241-1242
Tredveårskrigen 1618-1648

Final report of the Select Subcommittee to Investigate the United States Role in Iranian Arms Transfers to Croatia and Bosnia "the Iranian Green Light Subcommittee", with minority views : report prepared for the Committee on International Relations, U.S. House of Representatives 1997.
- http://www.archive.org/details/finalreportofsel00unit
Kultur: Compendium
- http://www.culturalpolicies.net/web/compendium.php og
- http://www.culturalpolicies.net/web/profiles-download.php?pcid=1010
Biblioteksvæsen. Bogvæsen:
Tekst:
Aviser / Newspapers / journaux / Prensa / Tageszeitungen
Tidsskrifter, periodica / Journals, periodicals / Revues spécialisées, périodiques / Revistas, publicaciones periódicas / Zeitschriften, Periodika
Kunst / Art
Litteratur:
Musik:
Teater:
Aktuelle og historiske politiske partier / Current and historical political parties
Kroatien er medlem af FN.
Forsvar / militær: SIPRI: Militærudgifter / Military expenditure of Croatia.
Værnepligt: Nej. WRI: Country report and updates: Croatia.
Fredsbevægelser: Centar za mir, Nenasilje i Ljudska Prava, Osijek
Sociale bevægelser, herunder miljøorganisationer:
Universiteter: Hrvatska Akademija Znanosti i Umjetnosti, Znanstveno Vijece za Mir i Prava Covjeka, Zagreb
Økonomi: Den Internationale Bank for Genopbygning og Udvikling, Verdensbanken /
International Bank for Reconstruction and Development: Country at a Glance, 2011.
- http://go.worldbank.org/YB2ATM3HY0

Naturresourcer: Aluminium.
---
Send kommentar, email eller søg i Fredsakademiet.dk


© The Danish Peace Academy