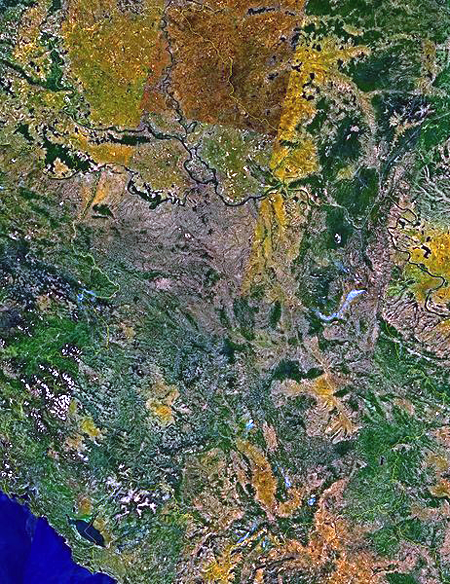 Geografi ; natur ; demografi ; historie ; kultur ; musik ; politik ; forsvar ; fredsbevægelser ; religion ; sociale forhold ; uddannelse ; økonomi.
Geography; nature; demographics; history, culture, music, politics, defense, peace movements, religion, social issues, education, economy.
Géographie, la nature, la démographie, histoire, la culture, la politique, la défense, les mouvements pacifistes, la religion, les questions sociales, l'éducation, économie.
Geografía, naturaleza, demografía, historia, cultura, política, defensa, movimientos por la paz, la religión, las cuestiones sociales, la educación, la economía.
Geographie, Natur, Demographie, Geschichte, Kultur, Politik, Verteidigung, Friedensbewegungen, Religion, Soziales, Bildung, Wirtschaft.
Geografi: Sydøsteuropæisk republik beliggende på Balkan med grænser til Albanien, Bosnien-Hercegovina, Bulgarien Kosovo, Kroatien, Makedonien, Rumænien og Ungarn.
Natur: Fisk. Fugle. Dunaufloden. World Database on Protected Areas: Beskyttede områder og nationalparker. Donaukonventionen, Donaus miljøforum. Den Internationale Kommission for Beskyttelse af Donau. Konven-tionen om samarbejde om beskyttelse og bæredygtig udnyttelse af Donau. Parisersøretsdeklarationen af 1856. Litteratur: Meddelelse fra EU Kommissionen - Miljøsamarbejde i Donau-Sortehavs-regionen, 2001. The Peace Palace Library: Bibliography on Water Resources and International Law. .
Demografi: The International Bank for Reconstruction and Development / The World Bank: Migration and Remittances Factbook 2011.

Historie: Oldtiden. Møsien (Moesia). Middelalderen. Det autonome fyrstedømme Bulgarien 1878-1908.
Østrumelien eller den »autonome provins« Østrumelien / Rumelien / romerlandet eller [tyrkisk] Balkan og Anatolien.
De sidste Kampe i Bulgarien. Historisk Arkiv, 1886.
Kongeriget Serbien. Serbien har været medlem af Kongeriget Jugoslavien eller Kongeriget af serbere, kroater og slovenere , Den føderative folkerepublik Jugoslavien, Den socialistiske føderative republik Jugoslavien og Forbundsrepublikken Jugoslavien 1945-2003 og Serbien og Montenegro.
The history of Servia, and the Servian revolution. With a sketch of the insurrection in Bosnia (1853).
http://www.archive.org/details/historyofservias00rankrich
Deltagelse i krige / Participation in wars / Participation à des guerres / La participación en las guerras / Beteiligung an Kriegen
The American Relief Administration: Final report of the work in kingdom S.H.S. .. (1920).
- http://www.archive.org/details/finalreportofwor00unitrich
Kultur: Compendium
- http://www.culturalpolicies.net/web/compendium.php og
- http://www.culturalpolicies.net/web/profiles-download.php?pcid=1010
Tekst:
TV
Tekst:
Aviser / Newspapers / journaux / Prensa / Tageszeitungen
Tidsskrifter, periodica / Journals, periodicals / Revues spécialisées, périodiques / Revistas, publicaciones periódicas / Zeitschriften, Periodika
Kunst / Art
Film: Jugoslovenska Kinoteka (Belgrade) 1949 ff
- www.kinoteka.org.rs
Musikhistorie ; Aktuelle og historiske musikorganisationer ; Pladeselskaber ; Komponister ; Musikgrupper - og solister ; Country & Western ; Folkemusik ; Jazz ; Klassisk musik ; Opera ; Pop ; Rock ; Arkiver ; Litteratur
Music history; Current and historical music organizations; Record companies; Composers; Music groups - and soloists; Country & Western; Folk music; Jazz; Classical music; Opera; Pop; Rock; Archives; Literature
Musikundervisning og pædagogik / Music Education and Pedagogy:
Aktuelle og historiske musikorganisationer
Historiske pladeselskaber:
Tekst:
Aktuelle pladeselskaber:
Tekst:
Folkemusik, spillemandsmusik og -viser.
Musikeksempler
Politik: http://www.politicalresources.net/serbia-montenegro4.htm
Aktuelle og historiske politiske partier / Current and historical political parties
Serbien er medlem af FN.
Forsvar / militær: SIPRI: Militærudgifter / Military expenditure of Serbia.
Værnepligt: WRI: Country report and updates: Serbia.
Sociale bevægelser, herunder miljøorganisationer:
Helsinki Committee For Human Rights in Serbia
Sports and Youth Humanitarian Organization "PLAY", Novi Sad
Otpor!
Universiteter: Institut za Medjunarodnu Politiku i Privredu.
Økonomi: Den Internationale Bank for Genopbygning og Udvikling, Verdensbanken /
International Bank for Reconstruction and Development: Country at a Glance, 2011.
- http://go.worldbank.org/YB2ATM3HY0

Naturresserver: Aluminium.
---
Send kommentar, email eller søg i Fredsakademiet.dk