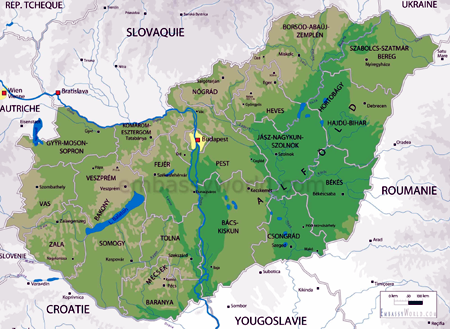 Geografi ; natur ; demografi ; historie ; kultur ; musik ; politik ; forsvar ; fredsbevægelser ; religion ; sociale forhold ; uddannelse ; økonomi.
Geography; nature; demographics; history, culture, music, politics, defense, peace movements, religion, social issues, education, economy.
Géographie, la nature, la démographie, histoire, la culture, la politique, la défense, les mouvements pacifistes, la religion, les questions sociales, l'éducation, économie.
Geografía, naturaleza, demografía, historia, cultura, política, defensa, movimientos por la paz, la religión, las cuestiones sociales, la educación, la economía.
Geographie, Natur, Demographie, Geschichte, Kultur, Politik, Verteidigung, Friedensbewegungen, Religion, Soziales, Bildung, Wirtschaft.
Geografi: Mellemeuropæisk republik med grænser til Kroatien, Rumænien, Serbien, Slovakiet, Slovenien, Ukraine og Østrig. Transsylvanien. Geografihistoriske fremstillinger: Tabula Peutingeriana
- http://www.euratlas.net/cartogra/peutinger/index.html
Tabula Hungariae - László Irmédi-Molnár: The Earliest Known Map of Hungary. I: Imago Mundi. 18. 1964 53-59. s. Lazarus secretarius. The First Hungarian Mapmaker and His Work. / Lajos Stegena. Budapest, 1982. -114. s. Geographisch-historisches und Produkten Lexikon von Ungarn 1786.
http://www.archive.org/details/geographischhis00koragoog
Das Königreich Ungarn: Ein topographisch-historisch-statistisches Rundgemälde, das ganze dieses ... 1833.
http://www.archive.org/details/dasknigreichung00thiegoog
Natur: Fisk. Fugle. Dunaufloden. World Database on Protected Areas: Beskyttede områder og nationalparker. The Peace Palace Library: Bibliography on Water Resources and International Law. .
Donaukonventionen, Donaus miljøforum. Den Internationale Kommission for Beskyttelse af Donau. Konventionen om samarbejde om beskyttelse og bæredygtig udnyttelse af Donau. Parisersøretsdeklarationen af 1856. Litteratur: Meddelelse fra EU Kommissionen - Miljø-samarbejde i Donau-Sortehavsregionen, 2001.
Demografi: The International Bank for Reconstruction and Development / The World Bank: Migration and Remittances Factbook 2011.

Geyer, Arthur: A Bibliography of persecution of Jews in Hungary, 1945-1958. 1958.
- http://www.archive.org/details/ABibliographyOfPersecutionOfJewsInHungary
Seton-Watson, Robert William: Racial problems in Hungary 1908.
- http://archive.org/details/racialproblemsin00setouoft
Die Rumänen in Ungarn, Siebenbürgen und der Bukowina 1881.
- http://www.archive.org/details/dierumneninung00slavuoft

Tekst.
Deltagelse i krige / Participation in wars / Participation à des guerres / La participación en las guerras / Beteiligung an Kriegen
Mongoliet 1241
Mongoliet 1284-1285
Serbien 1354
Bulgarien 1365
Hussitterkrigen 1419-1434 i Bøhmen
Det osmanniske rige 1421-1451
Det osmanniske rige 1532
Tredveårskrigen 1618-1648
borgerkrig 1848-1849
Anden slesvigske krig mod Danmark 1864
Rumænien 1919
Slovakiet 1939
Golfkrigen 1990-1991
Slovakiet 2010

Alfred-Maurice de Zayas: A Terrible Revenge: The Ethnic Cleansing of the East European Germans, 1944-1950, 1992.
http://www.archive.org/details/A-Terrible-Revenge
Kultur: Compendium
- http://www.culturalpolicies.net/web/compendium.php og
- http://www.culturalpolicies.net/web/profiles-download.php?pcid=1010
Tekst:
TV
Tekst:
Aviser / Newspapers / journaux / Prensa / Tageszeitungen
Tidsskrifter, periodica / Journals, periodicals / Revues spécialisées, périodiques / Revistas, publicaciones periódicas / Zeitschriften, Periodika
Kunst / Art
Film: Magyar Nemzeti Digitális Archívum és Filmintézet (Budapest) 1957 ff
- http://mandarchiv.hu/
Musik: Anton Kontra.
Musikhistorie ; Aktuelle og historiske musikorganisationer ; Pladeselskaber ; Komponister ; Musikgrupper - og solister ; Country & Western ; Folkemusik ; Jazz ; Klassisk musik ; Opera ; Pop ; Rock ; Arkiver ; Litteratur
Music history; Current and historical music organizations; Record companies; Composers; Music groups - and soloists; Country & Western; Folk music; Jazz; Classical music; Opera; Pop; Rock; Archives; Literature
Musikundervisning og pædagogik / Music Education and Pedagogy:
Verbunkos, dans ved militære hvervninger i middelalderen.
Klassiske Komponister: Béla Bartók, Zoltán Kodály og Franz Liszt.
Musikeksempler: Treasury of the 78's: Early Recordings of Music by Béla Bartók (June 25, 1962).
- https://archive.org/details/TRE_1962_06_25
Music from Hungary. / : Victor M. Virreira, 2005.
- https://archive.org/details/VictorMVirreiraMusicfromHungary
Liszt: Hungarian Rhapsody No. 2. - Transfer and restoration by Bob Varney.
- https://archive.org/details/LisztHungarianRhapsodyNo.2_689
Béla Bartók; a memorial review including articles on his life and works, reprinted from Tempo, the quarterly review of contemporary music; a chronological listing of works [and] Bartók on records (1950).
- https://archive.org/details/blabartkmemo00newy
Brief History of Music in Hungary /: Szalipszki, Endre, ed. Ministry of Foreign Affairs Budapest. 2007.
Szabolcsi, Bence: A Concise History of Hungarian music, 1974.
- http://mek.oszk.hu/02100/02172/html/index.html
Aktuelle og historiske musikorganisationer
Historiske pladeselskaber:
Tekst:
Aktuelle pladeselskaber:
Tekst:
Folkemusik, spillemandsmusik og -viser.
Musikeksempler
Budapest String Quartet 1917-1967
- http://fischer.hosting.paran.com/music/Budapest/discography-budapestsq.htm
Politik: Acton Collection : Class 34: Germany, Austria, and Hungary 1908. - 468 s. / Cambridge University Library; Acton, John Emerich Edward Dalberg Acton, Baron, 1834-1902.
- http://archive.org/details/a544738500actouoft
Aktuelle og historiske politiske partier / Current and historical political parties
Alliancen af frie demokrater / Szabad Demokraták Szövetsége
Bevægelsen for et bedre Ungarn / Jobbik Magyarországért Mozgalom
Független Kisgazda, Földmunkás és Polgári Párt
Humanist Partiet / Humanista Párt
Det kristent demokratiske folkeparti / Kereszténydemokrata Néppárt
Lehet Más a Politika
Magyar Igazság és Élet Pártja
Det nationaltdemokratiske parti / Nemzeti Demokrata Párt
Partiet for national Vilje 1935-?
Pilekorspartiet - ungarske bevægelse / Nyilaskeresztes Párt – Hungarista Mozgalom 1939-1945
Szabad Emberek Magyarországért
Ungarns Arbejderparti 2006 / Magyarországi Munkáspárt 2006
Ungarns Demokratisk Forum / Magyar Demokrata Fórum
Ungarns Demokratiske Folkeparti / Magyar Demokrata Néppárt
Ungarns Kommunistiske Arbejderparti / Magyar Kommunista Munkáspárt
Ungarns Socialdemokrati / Szociáldemokrata Párt
Ungarns socialistiske Arbejderparti / Magyar Szocialista Munkáspárt
Ungarns Socialistparti / Magyar Szocialista Párt
Ungarns socialt grønne parti / Magyar Szociális Zöld Párt
Ungarske arbejderes folkeparti / Magyar Dolgozók Pártja
Den ungarske medborgerunion / Fidesz - Magyar Polgári Szövetség Fiatal Demokraták Szövetsége / alliancen af unge demokrater 1988-.
Ungarn var medlem af Folkeforbundet og er medlem af EU, Europarådet, FN, det internationale energiagentur, NATO, OSCE.
Forsvar / militær: SIPRI: Militærudgifter / Military expenditure of Hungary.
Værnepligt: Nej, ikke i fredstid. WRI: Country report and updates: Hungary.
Paramilitære styrker: Det Kongelige Ungarske Gendarmeri 1881-?
Fredsbevægelser, herunder Rosika Schwimmer:
Sociale bevægelser, herunder miljøorganisationer:
Fonden for unge demokrater
Fonden til udvikling af det civile samfund
Religion: Ungarn er nede på 14 anerkendte trossamfund. / Ota Tiefenböck |I: Kristeligt Dagblad, 13. januar 2012 'Ungarsk religionslov, som er trådt i kraft ved årsskiftet, anerkender kun 14 trossamfund. Mens nogle mener, at loven er diskriminerende og en trussel mod religionsfrihed, tager andre det med ro. I 2011 havde Ungarn 362 registrerede og statsanerkendte kirke- og trossamfund. Ved årsskiftet, hvor Ungarns nye religionslov trådte i kraft,blev antallet reduceret til kun 14. '
Uddannelse: Lászlo Németh Central-European Folk Academy, Sopron.
Økonomi: Den Internationale Bank for Genopbygning og Udvikling, Verdensbanken /
International Bank for Reconstruction and Development: Country at a Glance, 2011.
- http://go.worldbank.org/YB2ATM3HY0

Økonomiske kriser: inflationen Kipper- og Wippertiden / Kipper-und-Wipperzeit 1621-1623.
E. Ladewig Petersen: Nyt fra trediveårskrigen:
3. Materielle omkostninger, nedtælling til freden og den westfalske fred. Historisk tidssrkift: 1999:2.
http://www.historisktidsskrift.dk/pdf_histtid/99_2/99_2_446.pdf
Naturresourcer: Aluminium.
Erhverv, handel og industri: Atomkraftværker.
Våbenfabrikker, våbenhandel og våbentransporter: Import af våben fra Italien i mellemkrigsårene.
---
Send kommentar, email eller søg i Fredsakademiet.dk