Operation Upshot-Knothole 1953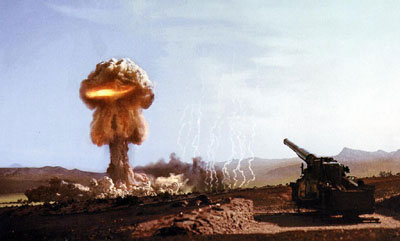 Serie på 11 Amerikanske atomvåbenforsøg i Nevada forsøgsområdet i den første del af den kolde krig. Oplysninger om operationen er stadig skjulte som klassificeret eller maskeret information også selv om at forsøget er beskrevet detaljeret i Nuclear Weapons Testing at the Nevada Test Site, 2011..
Operationen kom efter Operation Ivy og før Operation Castle.
Functioning between marts 17 and June 4, 1953, this operation involved the testing of new theories, using both fission and fusion "boosted" devices -- boosted devices are not multistage thermonuclear operation devices. A new and revolutionary method of producing deliverable nuclear weapons for use in a potential nuclear battlefield in Europe was successfully tested with the atomic cannon. Approximately 21,000 Department of Defense military and civilian personnel participated in Operation Upshot-Knothole as part of the Desert Rock V exercise. Unfortunately, Operation UPSHOT-KNOTHOLE, particularly the HARRY tower test, drew a great deal of public criticism as resultant fallout levels produced increased offsite radiation exposures, as would be expected for much greater yields and numbers of devices tested in the continental United States over those of the previous two years. / Fungerende mellem marts 17 og 4 juni 1953 indebar denne operation afprøvning af nye teorier, ved hjælp af både fission og fusionforstærkede enheder - forstærket enheder er ikke flertrins termonuklear enhed. En ny og revolutionerende metode til fremstilling af atomvåben til brug i en potentiel nuklear slagmark i Europa blev med succes testet med atomare kanoner. Ca. 21.000 forsvarsministerelle militært og civilt personel har deltaget i Operation Upshot-Knothole som en del af Desert Rock V øvelsen. Desværre tiltrak Operation Upshot-Knothole, og især Harry testen, en stor del offentlige kritik på grund af forøgets eksterne strålingseksponeringer som det ellers ville være forventet for langt større forsøg og fra antallet af forsøg i det kontinentale USA i de foregående to år Arkiv: National Archives: Records of the Defense Threat Reduction Agency, (Record Group 374), 1943-73.
Atomvåbenforsøgene omfattede
Annie, 17. marts 16 kilotons (kt)
Nancy, 24. marts 24 kt
Ruth, 31. marts 200 tons
Dixie, 6. april 11 kt
Ray, 11. april 200 tons
Badger, 18. april 23 kt
Simon, 25. april 43 kt
Encore, 8. maj 27 kt
Harry, 19. maj 32 kt
Grable, 25. maj 15 kt
Climax, 4. juni 61 kt
Se tillige: Operation Anvil ; Aqueduct ; Arbor ; Argus ; Bedrock ; Bowline ; Buster-Jangle ; Castle ; Chariot ; Charioteer ; Cornerstone ; Cresset ; Crossroads ; Crosstie ; Cue ; Dominic ; Dominic II ; Dugout ; Emery ; Fishbowl ; Flintlock ; Fulcrum ; Fusileer ; Greenhouse ; Grenadier ; Grommet ; Guardian ; Hardtack I ; Hardtack II ; Ivy ; Julin ; Latchkey ; Little Feller ; Mandrel ; Musketeer ; Newsreel ; Niblick ; Nougat ; Phalanx ; Plowshare ; Plumbbob ; Praetorian ; Project 56 ; Project 57 ; Project 58 ; Project 58A ; Quicksilver ; Ranger ; Redwing ; Roller Coaster ; Sandstone ; Sculpin ; Storax ; Sunbeam ; Teapot ; Tinderbox ; Toggle ; Touchstone ; Trinity ; Tumbler-Snapper ; Upshot-Knothole ; Whetstone ; Wigwam.
Se også: Camp Desert Rock , Desert Rock Exercise V, Nevada Proving Grounds
Hacker, Barton C.: Elements of controversy: the Atomic Energy Commission and radiation safety in nuclear weapons testing, 1947-1974. University of California Press, 1994 - 614 pp.
Lookout Mountain Laboratory:The 280 mm Gun at the Nevada Proving Ground, 1953.
http://www.archive.org/details/The280mmGunattheNevadaProvingGround1953
Lookout Mountain Laboratory: Operation Upshot-Knothole.
http://www.archive.org/details/OperationUPSHOT_KNOTHOLE1953
Nuclear Weapons Testing at the Nevada Test Site: The First Decade. / John C. Hopkins and Barbara Killian. Defense Threat Reduction Agency, 2011. - 662 s.
- http://www.dtic.mil/dtic/tr/fulltext/u2/a552638.pdf
United States Nuclear Tests, July 1945 through September 1992.
U.S. Department of Energy Nevada Operations Office, DOE/NV--209-REV 15, December 2000.
---
Send kommentar, email eller søg i Fredsakademiet.dk