Geografi ; natur ; demografi ; historie ; kultur ; politik ; forsvar ; fredsbevægelser ; religion ; sociale forhold ; uddannelse ; økonomi.
Geography; nature; demographics; history, culture, politics, defense, peace movements, religion, social issues, education, economy.
Géographie, la nature, la démographie, histoire, la culture, la politique, la défense, les mouvements pacifistes, la religion, les questions sociales, l'éducation, économie.
Geografía, naturaleza, demografía, historia, cultura, política, defensa, movimientos por la paz, la religión, las cuestiones sociales, la educación, la economía.
Geographie, Natur, Demographie, Geschichte, Kultur, Politik, Verteidigung, Friedensbewegungen, Religion, Soziales, Bildung, Wirtschaft.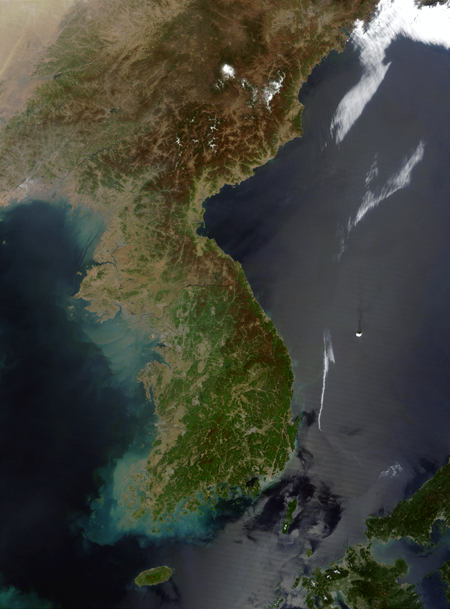 Geografi: Østasiatisk republik med grænse til Nordkorea.
Jeju øen, herunder Peace Park Museum and Memorial.
Natur: World Database on Protected Areas: Beskyttede områder og nationalparker. Christine Ahn and Gwyn Kirk, "Agent Orange in Korea" (Washington, DC: Foreign Policy In Focus, July 7, 2011).
US Department of Veterans Affairs: Information from Department of Defense (DoD) on Herbicide Tests and Storage outside of Vietnam. 2010. - 10 s.

Demografi: The International Bank for Reconstruction and Development / The World Bank: Migration and Remittances Factbook 2011.
Se også: Statistics Korea
- http://kostat.go.kr/portal/english/index.action
Historie: Oldtiden. Helleristninger / petroglyph.
Korea var besat af Japan, 1910-1945 og Sydkorea var besat af USA 1945-1948 og i den første del af den kolde krig, 1950-1951 og der er stadig amerikanske tropper og baser i Sydkorea. Tropperne kaldes United States Forces Korea.
Geer, Andrew : The New Breed : The History Of The U S Marines In Korea (1952).
- http://archive.org/details/newbreedthehisto011735mbp
Lee, Steven: "The United States, the United Nations, and the Second Occupation of Korea, 1950-1951," The Asia-Pacific Journal: Vol 8 Issue 50 No 3 - December 13, 2010.
Der var amerikanske kernevåben i Sydkorea frem til 1991.
...
Militærkup 1960 (samt 19. april oprøret), 1979.
Braun, Henry.: Behind the Korean revolt (1961). - 34 s.
-: [Berkeley, Calif.?] : East Bay Socialist Party-SDF : Young Peoples Socialist League.
- http://archive.org/details/BehindTheKoreanRevolt
Deltagelse i krige
Koreakrigen (1950-1953), herunder FN's Korea Kommando / United Nations Command (Korea)
Vietnamkrigen
Golfkrigen (1990-1991)
Irakkrigen
No gun ri massakren 1950: Amerikanske militære beskrivelser:
- http://purl.access.gpo.gov/GPO/LPS13786
Kultur::
Biblioteksvæsen. Bogvæsen:
Tekst:
Aviser / Newspapers / journaux / Prensa / Tageszeitungen
Tidsskrifter, periodica / Journals, periodicals / Revues spécialisées, périodiques / Revistas, publicaciones periódicas / Zeitschriften, Periodika
Kunst / Art
Litteratur:
Musik:
Teater:
Aktuelle og historiske politiske partier / Current and historical political parties - http://korea.assembly.go.kr/mem/mem_04.jsp
Det demokratiske enhedsparti 2011-.
Det Demokratiske Parti
Det Forenede Folks Parti, Minjung
De Grønne 2012-.
Det Liberalt Demokratiske Parti
Partiet for National Genforening
Det revolutionære genforeningparti eller Den anti-imperialistiske Nationale Demokratiske Front 1969-.
Sydkorea er medlem af Antarktis traktatsystemet / Antarctic Treaty System, FN, det internationale energiagentur.
Forsvar / militær: SIPRI: Militærudgifter / Military expenditure of South Korea.
Værnepligt: WRI: Country report and updates: South Korea.
Revisions to the U.S. global defense footprint : Committee on Armed Services, House of Representatives, One Hundred Eighth Congress, second session, hearings held June 15, and 23, 2004 (2006). - 142 s.
- http://archive.org/details/revisionstousglo00unit
Den sydkoreanske avis Chosun Ilbo rapporterede den 22. december 2010, at værnepligten i landet vil blive fastfrosset til 21 måneder, og den vil ikke blive reduceret til 18 måneder, som oprindeligt planlagt. Det skridt, som er en reaktion på de voksende spændinger på den koreanske halvø, sætter bremserne i på en gradvis reduktion af værnepligten fra 24 måneder til 18 måneder for hæren, 20 måneder for søværnet og 21 måneder for luftvåbnet, som ellers blev annonceret i september 2007.
South Korea: Military service frozen at 21 months.
http://www.wri-irg.org/node/11946
No Gun Ri International Peace Foundation - The No Gun Ri International Peace Foundation has been established based on the No Gun Ri Special Act (by the Korean National Assembly) to remember the victims of the No Gun Ri Massacre. Its goals include not only remembering the victims, but also planning and carrying out various projects for enhancing human rights and peace. - tilsyneladende ingen hjemmeside.
Peacemuseum, Korea - hjemmeside på koreansk
Save Jeju Island - http://www.savejejuisland.org/Save_Jeju_Island/Welcome.html
Women Making Peace
Sociale bevægelser, herunder miljøorganisationer:
Busan Counseling Center Against Sexual Violence
Busan Women's Association United,
Chungbuk Women's Association
Daegu Women's Association
Daegu-Kyungbuk Women's Association United,
Daejun Women's Association
Gwangju-Jonnam Women's Association United,
Jeju Women's Association
Jeju Women's Human Rights Solidarity
Korea Sexual Violence Relief Center
Korea Women Migrants' Human Rights Center
Korea Women Workers Association
Korea Women's Associations United
Korea Women's Hotline
Korea Women's Studies Institute
Korean Association of Christian Women for Women Minjung
Korean Womenlink
Kyunggi Women's Association United,
Kyungnam Women's Association
National Solidarity for the Solution for Sexual Trafficking
Pohang Women's Association
Suwon Women's Association
The Korean Catholic Women's Community for a New World
The National Association of Parents for Charm/education
Ulsan Women's Association
Women' Social Education Center
Religion: Buddhisme. Kristendom, herunder Holy Spirit Association for the Unification of World Christianity, Unification Church eller Moon-bevægelsen 1954-.. Mugyo. Lembaerne (jøder)., hvilket skyldes amerikansk-jødiske soldater under Koreakrigen.
Starr, Frederick: Korean Buddhism : history, condition, art : three lectures (1918).
- http://archive.org/details/koreanbuddhism00star
Korean Atomic Energy Research Institute
IAEA: Implementation of the NPT Safeguards Agreement in the Republic of Korea / Report by the Director General. 2004.- 8 s.
- http://www.iaea.org/Publications/Documents/Board/2004/gov2004-84.pdf
Økonomi: Den Internationale Bank for Genopbygning og Udvikling, Verdensbanken /
International Bank for Reconstruction and Development: Country at a Glance, 2011.
- http://go.worldbank.org/YB2ATM3HY0

Naturresourcer: , Vanadium.
Erhverv, handel og industri: Atomkraftværker - http://pris.iaea.org/public/CountryStatistics/CountryDetails.aspx?current=KR.
Import af olie fra Iran. U.S. Energy Information Administration: Country Analyses Briefs, Iran, 2012. - 13 s.
- http://www.eia.gov/emeu/cabs/Iran/pdf.pdf

Våbenfabrikker, våbenhandel og våbentransporter / Weapon Factories, arms trade and -transport: Eksport af store våbensystemer: Bangladesh.
SIPRI Arms Transfers Database:
- http://www.sipri.org/research/armaments/transfers/databases/armstransfers
Balleny, Luke: South Korean govt targets corruption in the arms trade.
LONDON (TrustLaw) - The South Korean legislature is debating a bill that would force the arms sector to publish its costs. 'The bill is aimed at increasing transparency in South Korea's notoriously corrupt arms sector where defence spending makes up 6 percent of the national budget.' Import af våben fra Danmark. Justitsministeriets våbenudførselstilladelser i 2009. I: Udenrigsministeriet: Udførsel af våben og produkter med dobbelt anvendelse fra Danmark for 2009. 2010. - 100 s. . 2010. - 100 s.

---
Send kommentar, email eller søg i Fredsakademiet.dk