Det danske Fredsakademi
Sangbog - Indholdsfortegnelse / Online Songbook
Som et led i FN's kulturtiår 2000-2010 publicerer Fredsakademiet en række sange om krig og fred fra forskellige kulturer. Hovedvægten af sangene er dog skrevet og komponeret efter første verdenskrig. Der er enkelte faktuelle oplysninger og kilder til sangenene og viserne, men ikke litterære analyser. Ydereligere oplysninger om sangenene, forfatterne, komponister og indspilninger modtages med tak. Det samme gælder for forslag til nye sange i sangbogen.
As part of the UN Peace Culture Decade 2000-2010 the Peace Academy, publishes a series of songs about war and peace from different cultures. The main focus of the songs is written and composed after the First World War. There are some factual information and sources to the songs, but not literary analysis. Provisions of additional information about songs, sources, authors, composers and recordings are received with thanks. The same applies to proposals for new songs in the songbook.
Art in Resistance - Resistance in Art
Voices from a workshop at the World Social Forum 2004
Kunstnere for Fred / Artists for Peace, Danish PAND International
Kampagnen mod Atomvåben: Kampagnen mod Atomvåben / Danish CND, 1962
A Dear John Letter eller Dear John - Tekst og musik: Billy Barton, Fuzzy Owen & Lewis Talley, 1953.
Jean Shepard, Ferlin Husky - A Dear John Letter, 1953.
- http://archive.org/details/JeanShepardFerlinHusky-ADearJohnLetter1953
Indspillet på dansk af Jørgen Ingmann og Birthe Buch på 78'er som Kære John (Talley -- Owen -- Knud Pheiffer) / Indiana (James F. Hanley -- Otto Leisner). 1954, Metronome B 1077. En af de få fredssange med afsæt i Koreakrigen. / One of the few peace songs based on the the Korean War.
Ain't Gonna Study War - Musik: Hackney Songworks - Hackney Songworks Christmas Concert 2009 (December 19, 2009) - http://archive.org/details/jamendo-057481
Ain't gonna study war no more - tekst: Ukendt
En variant af sangen fra slutningen af anden verdenskrig er There'll Be A Jubilee med Selah Jubilee Quartet, 1945. - http://archive.org/details/SelahJubileeQuartet-TherellBeAJubilee1945
Aldrig vil vi Krig mod Brødre mere - tekst: Ukendt
Alice's Restaurant Massacree. Tekst og musik: Arlo Guthrie, 1969
All Over The World. Tekst og musik: Arlo Guthrie
Alverden i matrende fængsel - tekst: Axel Juel
And The Band Played Waltzing Matilda - Tekst og musik: Eric Bogle, 1971. Sunget i marts 1975 af June Tabor i BBCs Radio 1 John Peel session - udgivet på Airs and Graces, 1976. Året før havde den irske folkesanger John Currie udgivet sangen på en singelplade. Senere indspilninger: The Bushwackers Band, the Dubliners 1979 , the Skids 1981, Doug Ashdown 1981, the Pogues 1984, John McDermott 1992, Joan Baez 1995, Ethan Daniel Davidson 2002 og Johnny Logan & Friends. Oversat til dansk som: De Spillede "Waltzing Mathilda". Indspillet af Jens Memphis på Ingenmandsland, 1983.
The Armed Man - A Mass For Peace - Musik: Karl Jenkins
Arthur McBride eller Arthur McBride and the Sergeant - tekst og musik ukendt. Før 1867. Roud #2355.
Indspillet af Martin Carthy på Prince Heathen, 1969.
- http://www.chivalry.com/cantaria/lyrics/arthur-mcbride.html ; og
- http://archive.org/details/20071101dj_D3 , og
- http://www.informatik.uni-hamburg.de/~zierke/martin.carthy/songs/arthurmcbride.html
At fred og frihed er den bedste jord - Tekst Fredrik Bajer
At Route 1 Box 144. Tekst og musik Johnny Cash. Hello, I'm Johnny Cash, 1969.
Atomic Blues - tekst: Vern Partlow
Ballad Of The Unknown Soldier - Tekst: Rod Shearman. Musik: Barbara Dane 1969
- http://www.mudcat.org/@displaysong.cfm?SongID=459
Billy Boy - Tekst: the Almanac Singers. Musik: Child #12. Indspillet på Songs for John Doe, 1941. Også indspillet instrumentalt på dansk af Raageleje Jazz i 1960 på en postkort grammofonplade udgivet af Danmarks Socialdemokratiske Ungdom / Also recorded instrumental in Danish by Raageleje Jazz in 1960 on a now rare postcard phonograph record released by the Danish Social Democratic Youth.
Blood on Your Hands - Tekst og musik: Charlie & Craig Reid. Indspillet af The Proclaimers på Born Innocent, 2003.
Brev til Bulganin. - Tekst og musik af østrigeren Gerhard Bronner (f. 1922). Oversat af Arvid Müller (1906-1964). Sunget af Osvald Helmuth i Tivoli Revyen sommeren 1957
Break the News to Mother - Words and Music by Charles K. Harris, 1904?
Brintbomben - Tekst: John Brunner
Brother, Did You Weep? Tekst og musik: Ewan MacColl 1967
Bruden var Lilli Marleen, 1949
Children Of Abraham. Tekst og musik: Arlo Guthrie, 1974
Da Krigens Kanoner med Død og Had - tekst: Harald Bergstedt
Danmarks børn lad sangen klinge - tekst: Harald Bergstedt
De gamle Kongekriges Tid - Tekst: Alfred Ipsen
De siger, at vi elsker ej mer vort gamle Land - tekst: Uffe Birkedal
Den danske Brigades slagsang - tekst: Arne Herløv Petersen
Der er mange børn i verden - Tekst: Georgjedde
Der er sunget om Krigerens Mod - Tekst: Ukendt
Der gaar en Lysning over Jordens Lande - Tekst: Johan Skjoldborg
Deserteurlied - Tekst: Peter Schilling
Dona nobis pacem - Tekst: Ukendt
Det bruser frem som Tordenrøst - Tekst: Ukendt
Do As the Doukhobors Do - Tekst og musik Malvina Reynolds, 1962. Indspillet af Pete Seeger på The Best of Broadside 1962–88. - http://people.wku.edu/charles.smith/MALVINA/mr213.htm
En drøm - Tekst: Hjørdis Varmer
The Elephant Song / Elefantsangen - Tekst og musik: Hans van Hemert. Sang: Kandiah Kamalesvaran, 1975.
Dansk indspilning Henning Vilén samme år.
...Listen, please listen, said the elephant
if we want the world we know, to stay alife
Then man and beast, we must work together
And together we will survive
Listen said the elephant
It is conservation time
So take the warning when we trumpet
For the future of mankind
Flyv højt, vor Sang, paa stærke Vinger - tekst: A. C. Meyer
Flyv min due - tekst og musik: Ia Klindt
Follow the money - Rochester Raging Grannies, 2004 - http://www.archive.org/details/raging
Fra de Millioner, som i Døden led - tekst: Ella Mathiasen
Fred - Tekst: Bjørnstjerne Brorson
Fred hviler over Land og By - tekst: B. S. Ingemann
Fred på jord - tekst: Elisabeth Boisen, 1905
Fred på jord - for damekor - tekst: Elisabeth Boisen, 1905
Fred på jord - tekst: Rudolf Nilsen
Fredens duva / Fredens Hvide Due - Tekst og musik: J. C. Ericsson.
Indspillet på svensk af Lasse Stefanz 1985 og på dansk af Jodle Birge 1989
Fredens Daad skal Frugter bære - tekst: Frederik Bajer
Freds Hymne - Tekst: Ukendt, 1916
Fredshymne - Tekst: Ukendt, 1983
Fredssang - tekst: Ebbe Kløvedal Reich
Fredssangen - Tekst: Axel Marchner, 1945
Fremtidens Land - tekst: Bjørnstjerne Bjørnson
Frifødt Folk i Danehaven - tekst: Louise von Westen
Den første maj og brintbomben - tekst: Otto Gelsted
Give Peace a Chance - Tekst og musik: John Lennon, 1969 - http://www.antiwarsongs.org/canzone.php?id=99〈=it
Go Go Johnny Rambo - Tekst og musik: Country Joe McDonald. Welcome to Country Joe McDonald 1968-2005
- http://archive.org/details/CountryJoeMcDonald
Der gaar et stille Tog - tekst: Bjørnstjerne Bjørnson
The H-Bomb's Thunder - Text: John Brunner
Happy Xmas (War Is Over) - Tekst og musik: John Lennon, 1971. Indspillet af by John & Yoko/Plastic Ono Band med the Harlem Community Choir.
Herald Of Peace March, 1914 - Musik: E.T. Paull - http://archive.org/details/HeraldOfPeaceMarch1914
High Germanie [Germany]. Sang: Ewan MacColl. Tekst: William Motherwell (1797-1835), and probably inspired by the traditional song 'High Germanie' (Roud Folk Song Index no. 904).
- http://www.tobarandualchais.co.uk/fullrecord/61818/1
Motherwell, William: O WAE be to the orders / The Wars o' Germanie. I: Poems, Narrative and Lyrical.
- Boston, W. D. Ticknor & Company, 1844. - s. [171]-172.
- http://archive.org/details/poemsnarratively00mothrich
Hiroshimadagen - tekst: Inger Bjørn Andersen
Hustru, datter mor - tekst: Judy Small
Hvad fik soldaterkonen sendt? - tekst: Berthold Brecht
Hvad har de gjort ved vores regn - tekst: Malvina Reynolds
Hvem øver vold? - tekst: Halfdan Rasmussen
Hvis krigen kommer - tekst: Jesper Jensen
Hymne for fred - Tekst: Ukendt
Hører du nogen kalde - tekst: Carl Scharnberg
Håb for alle gode kræfter - tekst: Bjarne Jes Hansen
I Ain't Marching Anymore - tekst og musik: Phil Ochs
I Come And Stand At Every Door - tekst: Pete Seeger ; Nâzim Hikmet. Musik: James Waters, The Great Silkie Of Sule Skerrie (Child #113)
I come and stand at every door
Tho none can hear my silent tread
I come and knock yet remain unheard
For I am dead, for I am dead...
I Feel Like Im Fixin To Die Rag. - Tekst og musik: Country Joe McDonald.
Welcome to Country Joe McDonald 1968-2005.
- http://archive.org/details/CountryJoeMcDonald
I Would that the Wars Were All Done - tekst og musik: ukendt. Recorded by Roy Harris on "The Rambling Soldier" (1979)
International Song on Peace and Progress - tekst: Fredrik Bajer
I Vaarens rene Farver ligger Landet - tekst: Svend Hoffmeyer
La java des bombes atomiques. - Tekst: Boris Vian. Musik: Alain Goraguer 1955
Jeg drømt mig en drøm i nat - tekst: Ed McCurdy
Jeg rutter med Glædens og Haabets Ord - tekst: C. Hostrup
Johnny, I Hardly Knew Ye
Jord i hvis Favn der hades og der myrdes - tekst: Christian Richardt
Jubilæumshymne - tekst: Geert Grønnegaard
Jul i Ingenmandsland - tekst: Lars Lilholt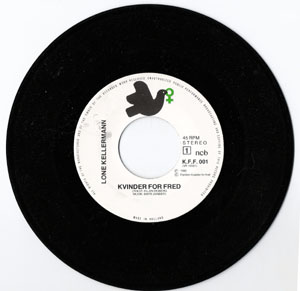 Fredsakademiets database over indekserede danske sange / Danish songs.
Fredsakademiets database over indekserede udenlandske sange / Songs in languages other than Danish.
Sangbøger / songbooks:
Arbejdersangbogen / AOF, 1926 ; 1982 ; 1992
Bajer, Fredrik. Syv sange ved skolemøder, 1872 - 8 s.
Campaign for Nuclear Disarmament: Songs for peace, nd.
Dansk Fredsforening: Fredsvennernes Sanghæfte.
- København : Rasmussen & Olsens Bogtrykkeri, 1896 ; 1904. - 32 s.
Fairweather, H. F. Peace Songs


- Berkeley: Own Publishing, 1917. - 16 pp.
Ford, S. Gertrude: A Fight to a Finish & other Songs of Peace Sung in War Time


- London: C. W. Daniel, Limited, 1917. - 30 pp.
Freds-sångboken / red. Råland Ginsburg.
- Stockholm : Sveriges Utbildningsradio, 1982. - 96 s.
Fredsmusik / Bibliotekarer for fred, 1986
Les gloires de la paix. Chants destinés aux écoles. Publié avec l'approbation du Bureau international de la paix. / par Nicolo Ansaldi et par Mme. Albertine Ansaldi. - Genève : Impr. W. Kündig, 1903. - 31 s.
Künstler für den Frieden: Lieder gegen den Krieg, 1983
McVicar, Ewan: The Eskimo Republic : Scots political folk song in action 1951 to 1999.
- Linlithgow, Gallus Publishing, 2010. - 343 s. - ISBN 978-0-9565990-4-9
'Ewan McVicar's book investigates the historical roots of Scots political song, and considers the role of key activists and songmakers, and how new and old Scottish songs fuelled and reported on political actions and campaigns, from the 1950 reiving of the Stane of Destiny through the growth of the SNP to the 1999 reopening of the Scottish Parliament, and on peace campaigns and protests from the 1960s to the 1990s. The work of Hamish Henderson, Matt McGinn, Thurso Berwick, Hamish Imlach, Ewan MacColl and Dick Gaughan is descriped.'
Norsk fredssangbog. Et udvalg af sange til brug ved møder for fredssagen. Samlet og udgit af Peder Christensen.Udateret. 46 s.
Oak Archives: Songs for Peace
/ Jeff Harris (Compiler), Cliff Metzler (Compiler), Pete Seeger (Compiler) 2007, - 112 s.
Peace bells. Songs for the peace bands. Undated.
Peace People (Belfast): Songs of peace, 1978
Ravnstrup kvindefredslejrens sangbog / The Women's Peace Camp at Ravnstrup Songbook

.
Sangbog for fredsfolk / Albertslund fredsråd, 1983
Sange. 4. nordiske fredsmode Skien 23. -25. juli 1901. Kra. 1901. 16 s.
Sange / Kampagnen mod Atomvåben. [uå], 1961?
Sange / Kvindernes Internationale Liga for Fred og Frihed, 1949.
Sanghefte / Fredsvennernes Hjælpearbejde / Peace Friends Relief Work. [uå], 19??
Sange for fred / Danmarks Skoleradio, 1986. Bestillingsnummer: 66-86 06 62
Seeger, Pete: Songs for peace, 1966
Student Peace Union: Songs for peace : 100 songs of the peace movement. 1966.
Stinus, Erik: Jordens sange. Exlibris, 2001. - ISBN 87-7957-034-8
Terp, Holger: Første verdenskrigs sange: Samlet og dokumenteret af Holger Terp, Det danske Fredsakademi. Juni 2014

Terp, Holger: Indledning til Fredssange : En dokumenteret spilleliste over 100 års musik: Samlet og dokumenteret af Holger Terp, Det danske Fredsakademi Juli 2014.

Terp, Holger: Introduction to Peace Songs: A documented playlist over 100 years of music: Collected and documented by Holger Terp, The Danish Peace Academy July 2014

Terp, Holger: Lili Marleens historie. Det danske Fredsakademi, 2014. - 17 s.

Terp, Holger: Skjalden sang fredssangen.

Terp, Holger: World War One Songs: Collected and documented by Holger Terp, The Danish Peace Academy. July 2014.

Links til sange og sangbøger, musik for fred, på Internettet / Links to songs and songbooks online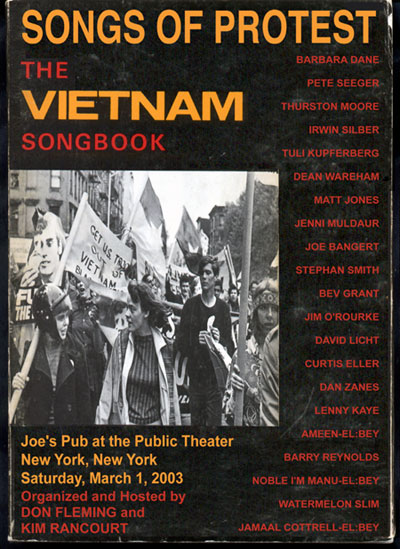 Un grande archivio di canzoni contro la guerra / A Great Archive of Songs Against War .
http://www.prato.linux.it/~lmasetti/antiwarsongs/
Den formodentlig største samling af pacifistiske sangtekster på nettet.
Codepink songbook. - http://www.codepink4peace.org/article.php?id=105
Amerikansk kvindefredsgruppes sangbog.
David Rovics: Live at Rocky Mountain Peace & Justice Center on 2004-01-24
http://www.archive.org/details/dr2004-01-24.flac16
Public domain CD med sange om Irakkrigen.
David Rovics: Live at University of Connecticut on April 2, 2006.
- http://archive.org/details/dr2006-04-02.flac16
Granny Peace Brigade: Songs
http://www.grannypeacebrigade.org/songs.html
Malvina Reynolds: Song Lyrics and Poems
http://www.wku.edu/%7Esmithch/MALVINA/songmenu.htm
Die Moorsoldaten
http://www.ushmm.org/museum/exhibit/online/music/detail.php?content=moor
Discos de las Brigadas Internacionales Espana;
reissued Music Room International Series/Keynote Records, New York, 1940/USHMM
Movement for the Abolition of War: Songs with 'an attitude' about war and injustice
- http://www.abolishwar.org.uk/discography.shtml
A list of recommended songs with discography compiled by Tony Kempster and Sue Gilmurray for use in education and campaigning
New songs for peace - http://www.newsongsforpeace.org
Pacifica Radio Archives and The Polemic Consortium: Say It LOUD: New Songs For Peace.
'The Polemic Consortium is Mark Torres, Gomez, Bulldog Music composed by Gomez and Bulldog Mixed and produced by Mark Torres'.
- http://archive.org/details/pra_sayitloud
Peace Not War Music Project - http://www.peace-not-war.org
Roberson, James E.: Songs of War and Peace: Music and Memory in Okinawa - http://japanfocus.org/-James_E_-Roberson/3394
Songs About Nuclear War from the Eighties -
http://www.inthe80s.com/nuclearwar/index.shtml
Songs for Change
http://www.songsforchange.com/thesongs.cfm
Songs of peace, protest, struggle and freedom - http://friendshipvillage.homestead.com/Music.html
Vian, Boris: Le deserteur- http://borisvian.free.fr
Tysk udgave: Der Deserteur
http://www.eak-online.de/fix/files/600/docs/infomaterial_multiplikatoren/material/D2DeserteurlieduFolgen.pdf
The Vietnam Songbook - http://www.vietnamsongbook.org/
Amerikanske protestsange mod Vietnamkrigen.
Wild Wimmin for Peace: [Music From] The Great Peace March, 1986.
- http://cdbaby.com/cd/wildwimmin
WW1 gave us some great poetic tributes.
Australsk militær hjemmeside. http://www.diggerhistory.info/pages-poetry/ww1/ww1-a.htm
Ewan MacColl and Peggy Seeger, with the London Youth Choir: Songs Against the Bomb, 1959 or 1960, LP. Topic, 12001.
Tracks:
1. Brother Won't You Join in The Line? - Ewan MacColl, Peggy Seeger and Jack Elliott
2. The Crooked Cross - Ewan MacColl & Peggy Seeger
3. Strontium 90 - Fred & Betty Dallas with Ron Fielder (banjo)
4. Hey Little Man (Sinner Man) - Fred & Betty Dallas
5. Doomsday Blues (St. James Infirmary Blues) - Fred Dallas
6. The Ballad of the Five Fingers - Ewan MacColl & Peggy Seeger
7. There are Better Things to Do - Peggy Seeger (banjo) with Jack Elliott (guitar)
8. The H-Bomb's Thunder - The London Youth Choir, soloists Wendy Edwards & Ron Fielder (banjo) with Leon Rosselson (guitar)
9. Song of Hiroshima - The London Youth Choir, soloist Wendy Edwards
10. Hoist the Window - The London Youth Choir, soloist Marlene Tallman with Leon Rosselson (guitar) and Ron Fielder (banjo)
11. That Bomb Has Got to Go - Ron Fielder, Ray Edwards and members of the Robin Hood Singers
12. The Dove - Margaret McKeown with Leon Rosselson (guitar)
13. The Family of Man - The London Youth Choir, soloist Ron Fielder (banjo), Margaret McKeown, Marlene Tallman and Ray Edwards, with Leon Rosselson (guitar)
Stamler, Paul J.: Tribute to Pete Seeger on his 90th birthday. No Time to Tarry Here, 2009.
- http://www.kdhx.org/index.php?option=com_kdhxradio&task=playlist&dothis=latest&show=No+Time+to+Tarry+Here&Itemid=268
Zpevy míru / Fredssange. Ceskoslovenský výbor obrancu míru / Den tjekkiske komite til forsvar af freden / The Czechoslovak Committee for the Defense of Peace. 1966. Supraphon SP 20403
---
Send kommentar, email eller søg i Fredsakademiet.dk