Bolivia ; Den flernationale stat Bolivia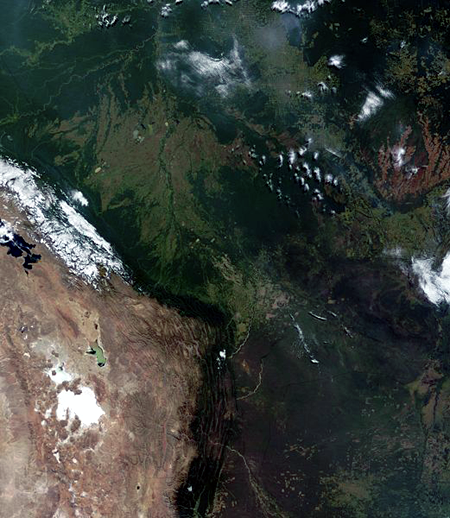 Geografi ; natur ; demografi ; historie ; krige ; kultur ; musik ; politik ; forsvar ; fredsbevægelser ; religion ; sociale forhold ; uddannelse ; økonomi.
Geography; nature; demographics; history, culture, music, politics, defense, peace movements, religion, social issues, education, economy.
Géographie, la nature, la démographie, histoire, la culture, la politique, la défense, les mouvements pacifistes, la religion, les questions sociales, l'éducation, économie.
Geografía, naturaleza, demografía, historia, cultura, política, defensa, movimientos por la paz, la religión, las cuestiones sociales, la educación, la economía.
Geographie, Natur, Demographie, Geschichte, Kultur, Politik, Verteidigung, Friedensbewegungen, Religion, Soziales, Bildung, Wirtschaft.
Geografi: Sydamerikansk republik med grænser til Argentina, Brasilien, Chile, Paraguay og Peru.
Geografihistoriske fremstillinger: Grann, David: Jagten på den forsvundne by. Gad, 2010.
'Om Oberst Percy Harrison Fawcetts sidste ekspedition i 1925 for at nå Mato Grosso - den sydlige del af Amazonjunglen og det fabelagtige kongerige El Dorado'.
Bolivia [a Handbook] / International Bureau of the American Republics, (1892).
- http://archive.org/details/boliviaahandboo00repugoog
Natur, klima. Fauna og flora: Fisk. Fugle. Koralrev. Vådområder.
Flora and fauna: Fish. Birds. Coral reefs. Wetlands
Flore et faune: Poissons. Oiseaux. Les récifs coralliens. Les zones humides.
Flora y fauna: Fish. Pájaros. Los arrecifes de coral. Los humedales.
Flora und Fauna: Fisch. Vögeln. Korallenriffe. Feuchtgebiet, Feuchtbiotop.

Vådområder: Amazonfloden.
Bolivia har stor biologisk mangfoldighed / megadiversity.
Naturhistorie: Ornithological gazetteer of Bolivia. / : Raymond A Paynter, 1992. - https://archive.org/details/ornithologicalga1992payn
Contribuciones a la flora de Bolivia. / : Otto Buchtien, ; Museo Nacional de Bolivia, 1910.
- https://archive.org/details/contribucionesla00buch
Geologi: Bjerge, vulkaner, jordskælv og ørkenområder:
Geology: Mountains, volcanoes, earthquakes and desert areas
Géologie: Montagnes, volcans, tremblements de terre et les zones désertiques
Geología: Montañas, volcanes, terremotos y zonas desérticas
Geologie: Berge, Vulkane, Erdbeben und Wüstengebiete
Andesbjergene
Gletsjerne i den tropiske del af Andes-området i Sydamerika smelter med stadigt større hast. Current state of glaciers in the tropical Andes: a multi-century perspective on glacier evolution and climate change. Press Release: Unprecedented glacier melting in the Andes blamed on climate change.

The geology of the Corocoro copper district of Bolivia, 1922.
- https://archive.org/details/geologyofcorocor00singrich
Demografi: The International Bank for Reconstruction and Development / The World Bank: Migration and Remittances Factbook 2011.

Indvandring: Japanere.
Minoritetsgrupper: Quichua indianerne.
Historie: Før Columbus, - Messoamerika.
Bolovia var koloniseret af Spanien som Alto Peru eller Det øvrePeru. Republikken Sydperu, Det Peru-bolivianske forbund.
Militærkup: 1899, 1930, 1934, 1936, 1937, 1943, 1946, 1951, 1952, 1964, 1969, 1971, 1980.
Deltagelse i krige / Participation in wars / Participation à des guerres / La participación en las guerras / Beteiligung an Kriegen
Den bolivianske uafhængighedskrig (1809-1825)
Peru (1828)
Forbundskrigen
Den bolivianske borgerkrig (1898-1899)
Chaco krigen Paraguay (1932-1935) - Hughes, Matthew: Logistics and Chaco War: Bolivia versus Paraguay, 1932-35. The Journal of Military History, Volume 69, Number 2, April 2005, pp. 411-437.
- http://bura.brunel.ac.uk/bitstream/2438/1251/3/Chaco+War+-+revised+version+1.pdf
Anden verdenskrig 1943-1945
Chile and Peru : the causes of the war of 1879 (1920).
http://www.archive.org/details/chileperucauseso00bulnuoft
Birkedal, Holger: Peru-Bolivia-Chile ... Krigen i Sydamerika paa kysten af det Stille Hav (1879-1881) (1884).
http://www.archive.org/details/peruboliviachil00birkgoog
Message from the President of the United States, transmitting papers relating to the war in South America, and attempts to bring about a peace : submitted to the Senate, January 26 and 27, 1882, and to the House of Representatives, January 26 and February 17, 1882 : in reply to resolutions of those bodies, calling for correspondence touching the efforts of this government to bring about peace between Chili, and Peru and Bolivia, and touching claims against or contracts respecting either of the belligerent governments (1882).
http://www.archive.org/details/cu31924021073212
Narracion historica de la guerra de Chile contra el Peru y Bolivia. Por Mariano Felipe Paz Soldan (1884).
http://www.archive.org/details/narracionhistri00soldgoog
Tekst:
TV
Tekst:
Aviser / Newspapers / journaux / Prensa / Tageszeitungen
Tidsskrifter, periodica / Journals, periodicals / Revues spécialisées, périodiques / Revistas, publicaciones periódicas / Zeitschriften, Periodika
Kunst / Art
Film:
Musikhistorie ; Aktuelle og historiske musikorganisationer ; Pladeselskaber ; Komponister ; Musikgrupper - og solister ; Folkemusik ; Jazz ; Klassisk musik ; Opera ; Pop ; Rock ; Arkiver ; Litteratur
Music history; Current and historical music organizations; Record companies; Composers; Music groups - and soloists; Folk music; Jazz; Classical music; Opera; Pop; Rock; Archives; Literature
Musikundervisning og pædagogik / Music Education and Pedagogy:
Den bolivianske musik er en del af Latinamerikansk musikkultur med rødder i oprindelig sydamerikansk og mellemamerikansk, afrikansk og europæisk musik. Den bolivianske musikhistorie kan opdeles i et par perioder: Før og efter Columbus.
Aktuelle og historiske musikorganisationer
Historiske pladeselskaber:
Tekst:
Aktuelle pladeselskaber:
Country & Western
Tekst:
Folkemusik, spillemandsmusik og -viser.
Musikeksempler
Aktuelle og historiske politiske partier / Current and historical political parties
Bolivia er medlem af ALBA-landene, Det Andinske Fællesskab eller Den andiske sammenslutning / Comunidad Andina de Naciones, FN, Forum for gaseksporterende lande / Gas Exporting Countries Forum, OAS, Riotraktaten.
Forsvar / militær: SIPRI: Militærudgifter / Military expenditure of Bolivia.
Værnepligt: WRI: Country report and updates: Bolivia.
Sociale bevægelser, herunder miljøorganisationer / Social movements, including environmental organizations / Los movimientos sociales, incluidas las organizaciones medioambientales: Alianza de Intelectuales Antifascistas
Foro Boliviano sobre Medio Ambiente y Desarrollo / Det bolivianske forum for miljø og udvikling
Mujeres Orlando
Økonomi: Den Internationale Bank for Genopbygning og Udvikling, Verdensbanken /
International Bank for Reconstruction and Development: Country at a Glance, 2011.
- http://go.worldbank.org/YB2ATM3HY0

Naturresserver: Guld, naturgas, sølv, tin og zink.
CRS: Europe's Energy Security: Options and Challenges to Natural Gas Supply Diversification. / Michael Ratner et al. 2012. - 32 s.
Phillips, Tom: Guldfeber truer Amazonas' folk: Den høje pris på guld har medført omfattende ulovlig minedrift og forøget vold i Sydamerikas regnskovsregioner. I: Information, 10/01/2011.

---
Send kommentar, email eller søg i Fredsakademiet.dk