Geografi ; natur ; demografi ; historie ; kultur ; politik ; forsvar ; fredsbevægelser ; religion ; sociale forhold ; uddannelse ; økonomi.
Geography; nature; demographics; history, culture, politics, defense, peace movements, religion, social issues, education, economy.
Géographie, la nature, la démographie, histoire, la culture, la politique, la défense, les mouvements pacifistes, la religion, les questions sociales, l'éducation, économie.
Geografía, naturaleza, demografía, historia, cultura, política, defensa, movimientos por la paz, la religión, las cuestiones sociales, la educación, la economía.
Geographie, Natur, Demographie, Geschichte, Kultur, Politik, Verteidigung, Friedensbewegungen, Religion, Soziales, Bildung, Wirtschaft.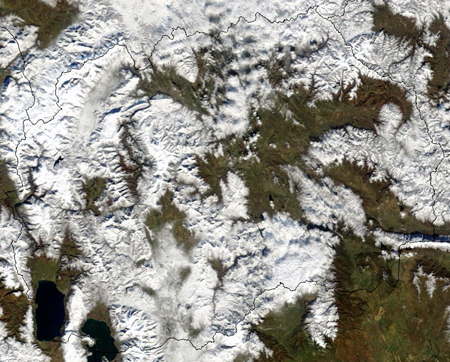 Geografi: Sydvesteuropæisk republik beliggende på Balkan med grænser til Albanien, Bulgarien, Grækenland, Kosovo og Serbien.
Demografi: The International Bank for Reconstruction and Development / The World Bank: Migration and Remittances Factbook 2011.

Indvandring: Bulgarer, russere - herunder Adyghefolket.
Minoritetsgrupper
Historie: Makedonien var medlem af Den føderative folkerepublik Jugoslavien, Den socialistiske føderative republik Jugoslavien og Forbundsrepublikken Jugoslavien 1945-2003.
Deltagelse i krige
Tekst.
Kultur: Compendium
- http://www.culturalpolicies.net/web/compendium.php og
- http://www.culturalpolicies.net/web/profiles-download.php?pcid=1010
Biblioteksvæsen. Bogvæsen:
Tekst:
Aviser / Newspapers / journaux / Prensa / Tageszeitungen
Tidsskrifter, periodica / Journals, periodicals / Revues spécialisées, périodiques / Revistas, publicaciones periódicas / Zeitschriften, Periodika
Kunst / Art
Film:
Aktuelle og historiske politiske partier / Current and historical political parties
Makadonien er medlem af FN.
Forsvar / militær: SIPRI: Militærudgifter / Military expenditure of Macedonia.
Værnepligt: Nej. WRI: Country report and updates: Macedonia.
Sociale bevægelser, herunder miljøorganisationer:
Økonomi: Den Internationale Bank for Genopbygning og Udvikling, Verdensbanken /
International Bank for Reconstruction and Development: Country at a Glance, 2011.
- http://go.worldbank.org/YB2ATM3HY0

Naturresourcer:
---
Send kommentar, email eller søg i Fredsakademiet.dk