Geografi ; natur ; demografi ; historie ; krige ; kultur ; musik ; politik ; forsvar ; fredsbevægelser ; religion ; sociale forhold ; uddannelse ; økonomi.
Geography; nature; demographics; history, culture, music, politics, defense, peace movements, religion, social issues, education, economy.
Géographie, la nature, la démographie, histoire, la culture, la politique, la défense, les mouvements pacifistes, la religion, les questions sociales, l'éducation, économie.
Geografía, naturaleza, demografía, historia, cultura, política, defensa, movimientos por la paz, la religión, las cuestiones sociales, la educación, la economía.
Geographie, Natur, Demographie, Geschichte, Kultur, Politik, Verteidigung, Friedensbewegungen, Religion, Soziales, Bildung, Wirtschaft.
Geografi: Europæisk, asiatisk og mellemøstlig republik med grænser til Armenien, Aserbajdsjan, Bulgarien, Georgien, Grækenland, Irak, og Syrien og med kystlinjer til Middel­havet og Sortehavet. Bosporusstrædet mellem Middelhavet og Sortehavet adskiller Europa fra Asien. Lilleasien. Republikken Hatay indlemmes i Tyrkiet i 1939.
Geografihistoriske fremstillinger: Tabula Peutingeriana
- http://www.euratlas.net/cartogra/peutinger/index.html
Demografi: The International Bank for Reconstruction and Development / The World Bank: Migration and Remittances Factbook 2011.

Indvandring: Afghanere, albanere, bosniere, cyprioter, japanere, kinesere, pakistanere, russere - herunder Adyghefolket, tyrkere fra Bulgarien, iranere, syrere.
Udvandring: Afghanistan, Albanien, Armenere, Aserbajdsjan, Australien, Belgien, Bosnien-Hercegovina, Brasilien, Bulgarien, Canada, Danmark, Frankrig, Irak, Israel, Italien, Japan, Kasakhstan, Kirgisistan, Kosovo, Libanon, Libyen, Norge, Rusland, Saudi Arabien, Schweiz, Spanien, Sverige, Sydafrika, Syrien, Tyskland, USA og Østrig.
Minoritetsgrupper: Grækere, kurdere.
Prolegomena to the Study of the Kurds. / : Garnik Asatrian.
Yerevan State University. 2009. - 57 s.
This scholarly study of the origin of the Kurds, their languages, religions, and centers, appeared in the journal Iran and the Caucasus 13 (2009) pp. 1-58. One of the best treatments of these topics available in English.
- http://archive.org/details/ProlegomenaToTheStudyOfTheKurds

Danmarks Statistik: Ind- og udvandringer 2000-2010. 2012. - 116 s.

Historie: Oldtiden. Helleristninger / petroglyph. Troja, hittitterne, ionerne, Frygien, Lydien, Perserriget, De hellenistiske riger, galaterne, Romerriget herunder Lykien. Palmyre imperiet 270–273. Middelalderen. Katakomber. Byzans, seldsjukkerne fra Seljuk Sultanatet 1037-1194.
A Rare Thirteenth Century History of the Seljuqs. / Edward Granville Browne.
'This article appeared in the Journal of the Royal Asiatic Society (1902) pp. 567-610 and 849-887. It is a translation and sometimes summary of the text of a rare or unique Persian manuscript which presents a history of the Seljuqs from the beginning of the dynasty down to the author's own time, around 1197. It was written in the year 1202-3. The manuscript itself is also 13th century, dated A.H. 635 (A.D. 1238). Based on oral traditions and state archives, it includes invaluable historical and anecdotal information about the Seljuq dynasty, and concludes with a variety of unusual entries on topics such as the different forms of chess, the ethics of wine-drinking, various sports notably riding and archery, the principles of writing, calligraphy, the keeping of state accounts, etc.'

World Heritage Sites in Turkey: Current Status and Problems of Conservation and Management Türkiyé deki Dünya Mirasi Alanlari: Koruma ve yönetimde güncel durum ve sorunlar Mehmet Somuncu ; Turgut Yigit. Cografi bilimler dergisi CBD 8 (1), 1-26 (2010).
- http://dergiler.ankara.edu.tr/dergiler/33/1339/15512.pdf
Danish National Research Foundation's Centre for Black Sea Studies 2002 - http://www.pontos.dk/
Eksempel: På randen af det ukendte. / Redigeret af Tønnes Bekker-Nielsen & George Hinge. Aarhus University Press 2003.
- http://www.pontos.dk/publications/books/Sortehavsstudier1
'Sortehavet lå ved den yderste rand af den græsk-romerske verden. Gennem det meste af oldtiden havde man kun uklare forestillinger om Pontos Euxeinos, "Det gæstmilde Hav", og om de folkeslag der boede omkring det. I denne bog fortæller fem antikforskere om hvordan Sortehavsregionens geografi og etnografi blev beskrevet hos fem antikke forfattere: Herodot ca. 484-425 f.Kr., Xenofon ca. 430-355 f.Kr., Strabon ca. 64 f.Kr.-24 e.Kr., Ptolemaios ca. 100-170 e.Kr. og Ammianus Marcellinus ca. 330-400 e.Kr..'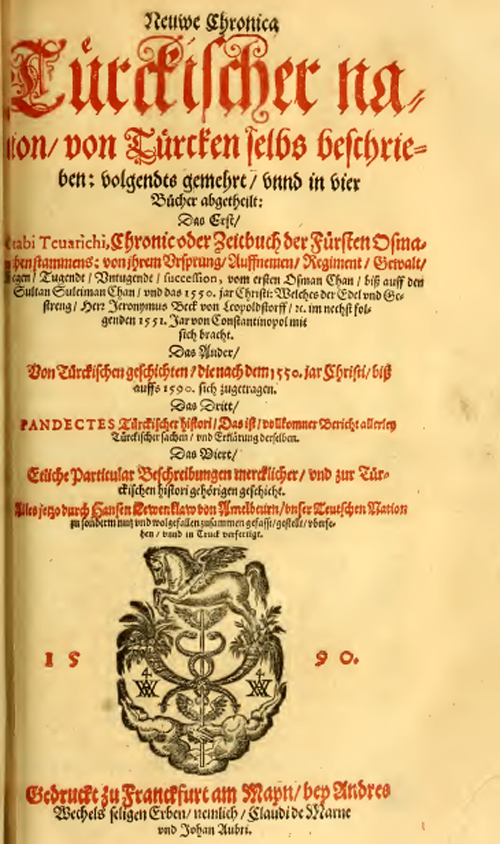 Tyrkiet var senere en del af Det ottomanske rige til og med første verdenskrig. Den kurdiske republik Ararat 1927-1931. The King-Crane Commission Report, August 28, 1919 : Report of [the] American section of Inter-allied Commission of mandates in Turkey. An official United States govern-ment report by the Inter-allied Commission on Mandates in Turkey. American Section.
- http://www.ipcri.org/files/kingcrane.html
Neuwe Chronica türckischer Nation von Türcken selbs beschrieben: volgendts gemehrt vnnd in vier Bücher ab-getheilt. Das erst, Gitabi Teuarichi, Chronic oder Zeitbuch der Fürsten osmanischen stammens, von ihrem Ursprung .. biss auff den Sultan Suleiman Chan vnd das 1550. Jar Christi: welches... Herr Jeronymus Beck von Leopoldstorff [et]c. im nechst folgenden 1551. Jar von Constantinopol mit sich bracht. Das ander, von türckischen Geschichten, die nach dem 1550. Jar Christi biss auffs 1590. sich zugetragen. Das dritt, Pandectes türckischer Histori, das ist, vollkomner Bericht allerley türckischer Sachen vnd Erklärung der-selben. Das viert, Etliche particular Beschreibungen merck-licher vnd zur türckischen Histori gehörigen Geschicht. Gedruckt zu Franckfurt am Mayn, Bey Andres Wechels seligen Erben, nemlich Claudi de Marne vnd Johan Aubri, 1590. - 574 s.
- http://archive.org/details/neuwechronicatrc00leun
'Enlarged German ed. of the author's Annales sultanorum Othomanidarum. Book 1 Gitabi teuarichi is H. Caudir's German translation of Muhiddin Mehmet's Tarih-i Al-i Osman Short text. Library's copy bound with: Erste Theil der Hoffhaltung des türckhischen Keysers.
- Basel : Sebastian Henrichpetri, 1578.'
Militærkup: 1960, 1971, 1980, 1997.
Deltagelse i krige / Participation in wars / Participation à des guerres / La participación en las guerras / Beteiligung an Kriegen
Grækenland mod Troja, den trojanske krig 1194–1184 f.kr - The Iliad of Homer (1898).
- http://archive.org/details/iliadofhomer00home
Wright, John: Essays on the Iliad : selected modern criticism. - Bloomington : Indiana University Press, 1978. - 172 s.
- http://archive.org/details/essaysoniliadsel00wrig
Mongoliet 1241-1242
Napoleonskrigene 1812, herunder den russisk-tyrkiske krig 1806-1812
Den anden russisk-tyrkiske krig 1828-1829
Den tredie russisk-tyrkiske krig 1877-1878
Den tyrkiske uafhængighedskrig 1919-1923
Armenien 1920
Interventionskrigen mod Sovietunionen (1918-1922), herunder Georgien 1921
Frankrig 1920-1921
Grækenland 1919-1922
Grækenland 1922-1923
Koreakrigen 1950-1953
Jugoslavien 1999
Irakkrigen 2001-

Green F.V. The Russian Army and Its Campaigns in Turkey in 1877–78 (New York 1879).
- https://archive.org/details/russianarmyitsca00greeuoft
Tyrkiet var medlem af CENTO. Trumandoktrinen. Treaty of Friendship and Collaboration Between the Federal People's Republic of Yugoslavia, the Kingdom of Greece and The Turkish Republic, Signed at Ankara, on 28 February 1953.
http://www.mtholyoke.edu/acad/intrel/firbalk.htm
Der er amerikanske flybaser og kernevåben i Tyrkiet ved Incirlik. De amerikanske Thor mellemdistaneraketter i Tyrkiet blev i 1960erneskiftet ud med Polaris ubåde der blev stationeret i Middelhavet. Nu er der, ifølge , U.S. Nuclear Weapons in Europe A Review of Post-Cold War Policy, Force Levels, and War Planning 2005, 90 amerikanske atombomber i Tyrkiet The status of U.S. nuclear weapons in Turkey. By Alexandra Bell and Benjamin Loehrke. Bulletin of the Atomic Scientists,november 2009.
- http://www.thebulletin.org/web-edition/features/the-status-of-us-nuclear-weapons-turkey og
- http://nukestrat.com/pubs/EuroBombs.pdf
Tekst:
TV
A hand-list, arranged alphabetically under the titles, of the Turkish and other printed an lithographed books presented by Mrs. E.J.W. Gibb to the Cambridge university library, comp. by Edward G. Browne. (1906).
- http://archive.org/details/ahandlistarrang00librgoog
Aviser / Newspapers / journaux / Prensa / Tageszeitungen
Tidsskrifter, periodica / Journals, periodicals / Revues spécialisées, périodiques / Revistas, publicaciones periódicas / Zeitschriften, Periodika
Film:
Aktuelle og historiske politiske partier / Current and historical political parties
Arbejderpartiet Emek Partisi, EMEP
Democratic Party Demokrat Parti, DP
Democratic Left Party Demokratik Sol Partisi, DSP
Democratic Left People's Party Demokratik Sol Halk Partisi, DSHP
Equality and Democracy Party Esitlik ve Demokrasi Partisi, EDP
Felicity Party Saadet Partisi, SP
Folkets arbejderparti / Halkin Emek Partisi, HEP
Folkets demokratiske parti / Halkin Demokrasi Partisi, HADEP
Freedom and Solidarity Party Özgürlük ve Dayanisma Partisi, ÖDP
Great Union Party Büyük Birlik Partisi, BBP
Greens of Turkey Yesiller Partisi
Homeland Party Yurt Partisi, YP
Independent Republic Party Bagimsiz Cumhuriyet Partisi, BCP
Independent Turkey Party Bagimsiz Türkiye Partisi, BTP
Kurdistan Workers' Party / Kurdistans Arbejderparti / Partîya Karkerên Kurdistan PKK - 1978.-. - The PKK and Revolutionary Nonviolence: Transforming Struggle for Kurdish Freedom in Turkey. / : Nicholas Patler. - Staunton, Virginia : Gandhi Center, ; Gandhi Center Working Paper 5). 2008. - 17 s.
- http://www.jmu.edu/gandhicenter/wm_library/workingpaper5.pdf
Labourer Movement Party Emekçi Hareket Partisi, EHP
Liberal Democratic Party Liberal Demokrat Parti, LDP
Marxist-Leninist Communist Party Turkey Marksist-Leninist Komünist Partisi
Motherland Party Anavatan Partisi, ANAP
Nation Party Millet Partisi, MP
National Party Ulusal Parti
New Party Yeni Parti
Peace and Democracy Party 2008-.
People's Ascent Party Halkin Yükselisi Partisi, HYP
People's Voice Party Halkin Sesi Partisi , HAS PARTI
Peykar / Partiet for Frit Liv for Kurdistan 2004-2011?, medlem af of Kurdistan Democratic Confederation
Revolutionary Socialist Workers' Party Devrimci Sosyalist Isçi Partisi, DSIP
Revolutionary Workers' Party Devrimci Isçi Partisi, DIP
Rights and Equality Party Hak ve Esitlik Partisi, HEPAR
Socialist Democratic Party Toplumcu Demokratik Parti, TDP
Social Democratic People's Party Sosyaldemokrat Halk Partisi, SHP
Socialist Democracy Party Sosyalist Demokrasi Partisi, SDP
Rights and Liberties Party Hak ve Özgürlükler Partisi, HAKPAR
Turkey's Change Movement Türkiye Degisim Hareketi, TDH
Turkey Party Türkiye Partisi, TP
Det tyrkiske kommunistparti Türkiye Komünist Partisi, TKP
Workers' Party Isçi Partisi, IP
Young Party Genç Parti, GP
Tyrkiet var medlem af Folkeforbundet og er er medlem af Europarådet, FN, NATO, OSCE.
Forsvar / militær: SIPRI: Militærudgifter / Military expenditure of Turkey.
Værnepligt: Turkey WRI: Country report and updates: Turkey.
Sociale bevægelser, herunder miljøorganisationer:
Toplum Sorunlarini Arastirma Merkezi.
Bilkent University, Department of International Relations
Hacettepe University, Department of International Relations, herunder The Master of Arts in Peace and Conflict Studies Program 2012
Økonomi: Den Internationale Bank for Genopbygning og Udvikling, Verdensbanken /
International Bank for Reconstruction and Development: Country at a Glance, 2011.
- http://go.worldbank.org/YB2ATM3HY0

Naturresourcer: Aluminium, kul, magnetjernsten eller magnetit, olie.
Erhverv, handel og industri: Atomkraftværker.
---
Send kommentar, email eller søg i Fredsakademiet.dk